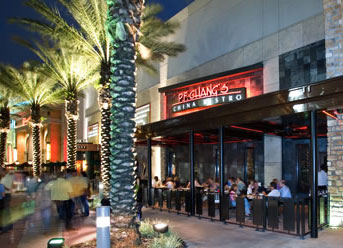 Shopping
More than just the ultimate shopping destination, The Mall at Millenia treats guests to a sensory experience. Breathtaking architecture creates a distinct environment that exceeds all expectations.
The latest runway fashions from NY, London, Paris and Milan are broadcast on LED screens atop 35-foot high masts. Amenities such as valet parking, multi-lingual guest services personnel, foreign currency exchange, and global shipping at a U.S. Post Office are offered to enhance the shopping experience.
The Mall at Millenia offers an extraordinary experience, whether visiting Orlando for business or pleasure. Visitors from around the globe are invited to add world-class shopping to the list of Orlando attractions. A dazzling selection of international stores makes The Mall at Millenia an essential shopping destination. This exceptional collection of retailers is presented in a distinctive environment designed with dramatic architecture and amenities.
Other luxury retailers at The Mall at Millenia include jewelers like Tiffany & Company as well as purveyors of accessories and leather goods Chanel, Coach, and Louis Vuitton. Timeless gifts and collectibles can be found at Lladró or Swarovski. For the strappy heels made famous by red-carpet celebrities, shop Jimmy Choo, and for the styles the stars can't live without, plan a stop at Juicy Couture.