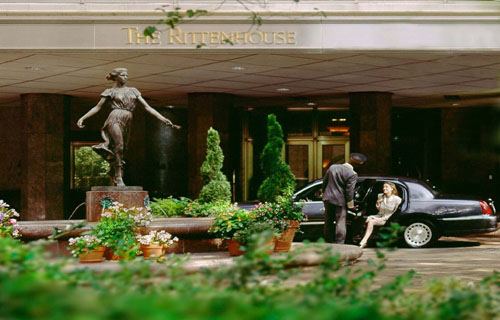 Hotels
The Rittenhouse Hotel is the most prestigious Philadelphia Pennsylvania hotel address. Consistently recognized not only as the premier choice of five-diamond Philadelphia luxury hotels, The Rittenhouse is also ranked among the world´s finest places to stay.
Featuring all of the unique historic charm and residential ambience of Rittenhouse Square, our Philadelphia luxury hotel is convenient walking distance from major museums, cultural attractions, world-class shopping, and the business district. For corporate and leisure travel, The Rittenhouse provides the definitive Philadelphia hotel destination:
Located in Center City´s most prestigious downtown area
Just 10 blocks from the Pennsylvania Convention Center
Five minutes by taxi to Amtrak´s 30th Street Station
Only 8 miles from Philadelphia International Airport
Soaring nine floors above downtown, our palatial Philadelphia accommodations offer 98 total guest rooms, including 11 suites. Beautifully appointed with rich mahogany furnishings and lush fabrics, these guest rooms maintain the same level of grandeur that distinguishes us as the Philadelphia lodging leader. The luxurious trademark features begin with an oversized bedroom and lavish marble bathroom
As should be expected from an award-winning five-diamond luxury hotel of its renown, The Rittenhouse offers a full complement of exquisite Philadelphia restaurants. By featuring magnificent views of Rittenhouse Square, these distinctive restaurants in Philadelphia are almost as much of a feast for the eyes as the palate. In addition to providing 24-hour room service, The Rittenhouse offers four onsite Philadelphia dining and lounge settings
Adolf Biecker Spa and Salon is an intimate Philadelphia spa located at the prestigious Rittenhouse Hotel. With a tradition of exceptional customer service that spans more than 60 years, this professionally designed Philadelphia spa has been chosen as one of the Top Five Salons and Spas in the United States by Intercoiffure Mondial, an international organization of beauty-salon owners. Adolf Biecker is also the recipient of the French government?s Laurier d¸Or de la Creation et de L?Elegance International Award for fashion excellence.