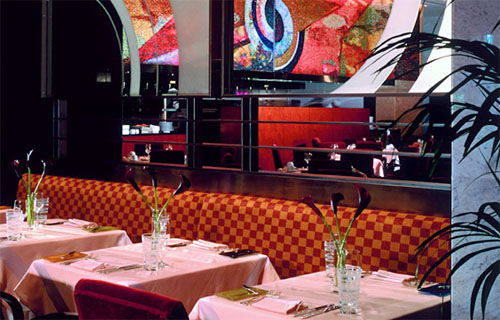 Hotels
The first skyscraper ever built in the City of Brotherly Love is home to Loews Philadelphia Hotel. Contemporary décor and gracious hospitality make Loews one of Philadelphia's most inviting luxury hotels. Enjoy supremely comfortable rooms and personalized service, as well as delicious cuisine from the hip Sole Food restaurant.
Accommodations
Feel the comforts of home in accommodations that perfectly balance the contemporary with the elegant. Where every detail from the lofty ten-foot ceilings to the miles of spectacular views is designed to serve one purpose - yours. Whether you're working hard or playing hard, you can always rest easy.
Dining
SoleFood is a fusion of seafood and cutting edge culinary expertise, offering seafood inspired dishes at breakfast, lunch and dinner. Guests can enjoy a cozy table for two or make new friends at one of the communal tables featuring a center display of river rocks and candles.
In order to create a memorable culinary experience in an upscale, hip environment which mixes eclectic cool with classic style, Solefood Restaurant continues to create exciting food and drinks that are mixed with just the right amount of attitude.
SoleFood has received local and regional accolades from the media including 2008 Best of Philadelphia Award, Philadelphia City Paper Best Bar and Best Seafood restaurant.
SoleFood features hard to find wines, served by the glass, bottle and half bottle for when a bottle is too much and a glass is too little.
Spa
Breathing is an essential element in living, relaxing and centering one's self to help guide individuals on their path to improving themselves and achieving their highest potential.
Golf
Open to all those who love the game, Scotland Run Golf Club offers a distinctive blend of wooded, quarry and links-style holes with expansive waste areas and an imposing display of cliffs. Rated 4½ stars by Golf Digest magazine and named the #1 course in the Philadelphia region, the par-71 course boasts a magnificent two-story clubhouse complete with a golf shop, restaurant, men's and ladies' locker rooms, a Grand Ballroom and an outdoor pavilion and garden.
Meetings & Events
Plan your next event with us: where the staff's commitment to excellence turns your vision into a reality. A brainstorming session for 12? A sweet sixteen for 160? A memorable wedding for a select group of guests? Within the 42,000 square feet of function space, history has not only been preserved, but continues to be made.
Looking for a unique meeting experience? Spa packages are available upon request to complement a variety of executive retreats.