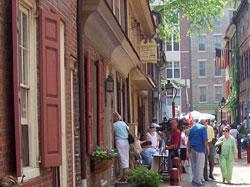 Things To Do
When people think of the quaint, cobblestone-lined streets of the East Coast's historic areas, they are usually thinking of Elfreth's Alley. This residential corridor is still inhabited by Philadephians today, who are known for the pristine upkeep of their homes.
Named for Jeremiah Elfreth, an 18th-century blacksmith who originally lived there, today the alley holds a Fete Day celebration in early June, allowing visitors to tour the homes. In December the residences become briefly open the public as well, while they are dripping with holiday decorations.
If you happen to be touring the area during any other time of year, the alley is still worth a stroll and naturally "America's Oldest Residential Neighborhood" boasts its own museum that is open year-round.