By Diane Sukiennik & Michael Reiss Nov. 18th, 2019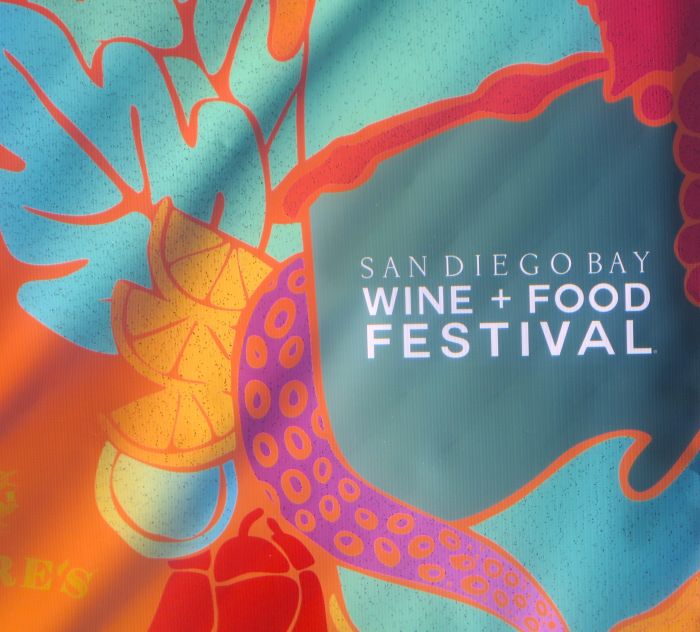 Photo by Michael Reiss
The West Coast's largest wine and food fest, the San Diego Bay Wine and Food Festival, ended its 16th annual celebration in grand style at the Saturday "Grand Tasting" and "After Party" and the Sunday "Taco TKO" event. Participants reveled in a weeklong series of food and wine seminars, demos, lunches, dinners and grand tastings designed for aspiring foodies and serious culinary and wine enthusiasts.
From ceviche and craft beer to elegant dinners with celebrated chefs and top-rated vintages, this festival offers something for every preference and pocketbook. Cooking classes and demonstrations were sprinkled throughout the week's activities.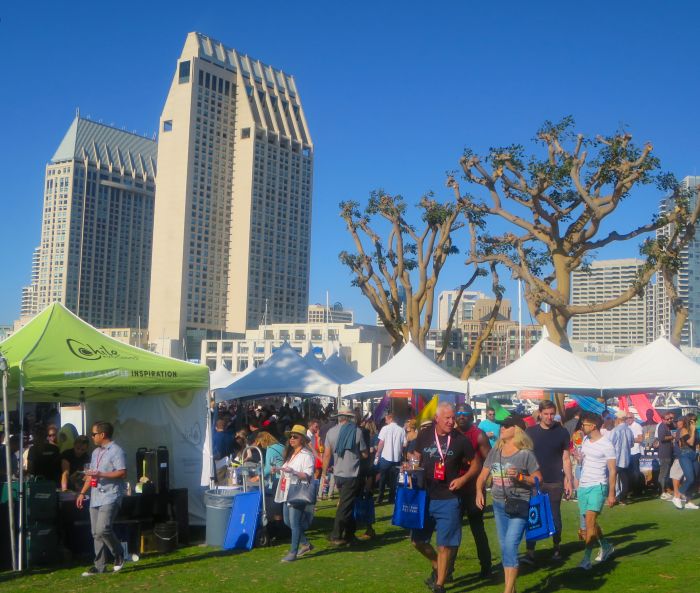 Photo by Michael Reiss
"The Grand Tasting," held at Embarcadero Marina Park North, was an extravaganza of sips and nibbles set against the brilliant blue skies and waters of the bay. Over 60 of the area's restaurants tempted us with a luscious array of tastes. More than 150 wineries, breweries and spirits purveyors paired their offerings with panache.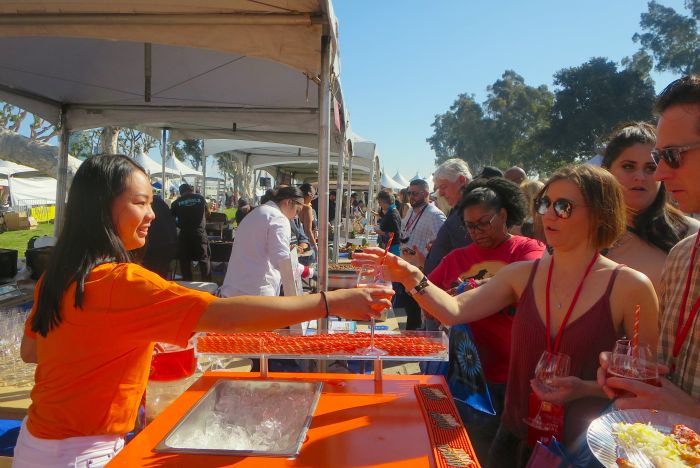 Photo by Michael Reiss
Aperol Spritz provided a refreshing welcome cocktail to toast the opening. Live music and the stunning vistas made for an unbeatable afternoon on the bay.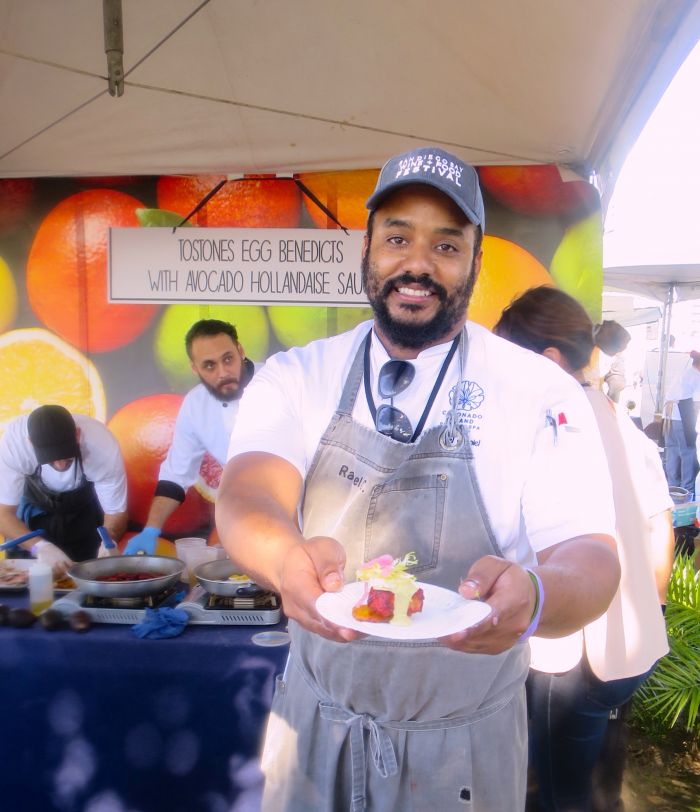 Photo by Michael Reiss
Some of the bites included the "Tostones Eggs Benedict with Avocado Hollandaise Sauce" from ALABACA at the Coronado Island Marriott Resort and Spa.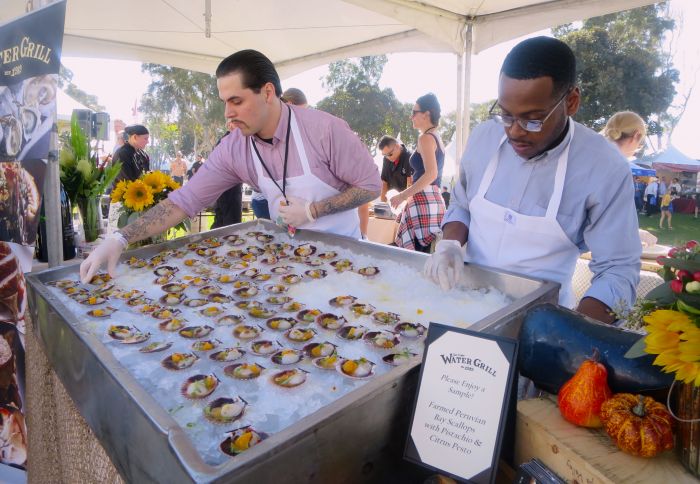 Photo by Michael Reiss
Another dish featured was the "Farmed Peruvian Bay Scallops with Pistachio and Citrus Pesto" from the Water Grill restaurant.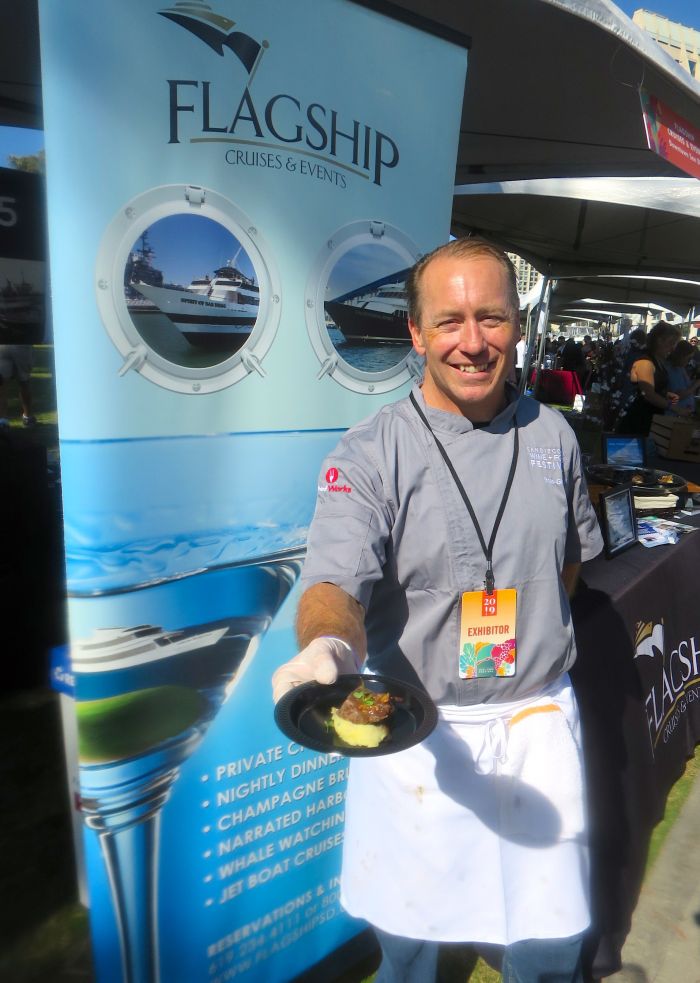 Photo by Michael Reiss
"Slow Braised Short Rib with Bacon Jam on Buttermilk/Chive Mashed Yukon Gold Potatoes" was offered by Flagship Cruises and Events.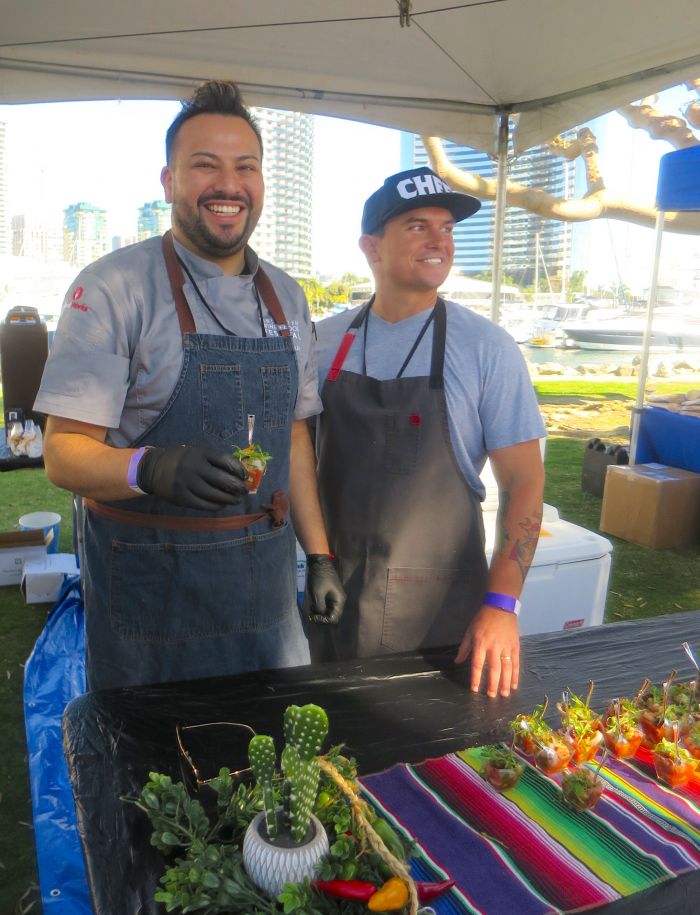 Photo by Michael Reiss
The "Seafood Cocktail" from Red O-Taste of Mexico, La Jolla, was another memorable dish enjoyed at "The Grand Tasting" event.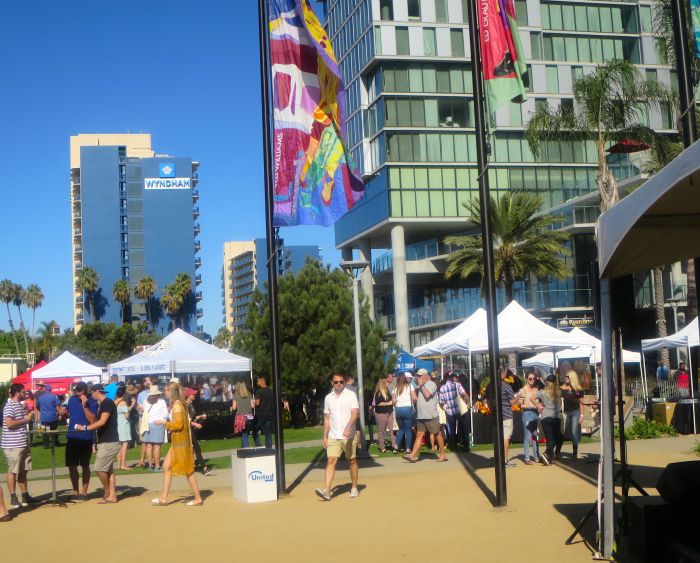 Photo by Michael Reiss
"Taco TKO" on Sunday put every other brunch option to shame. Each restaurant's version could have easily been voted the best. The variety of ingredients, sauces and wraps made our taste buds tingle. The Tequila cocktails and bevy of brews hit the spot, as we swayed to the live music and started planning for next year's events.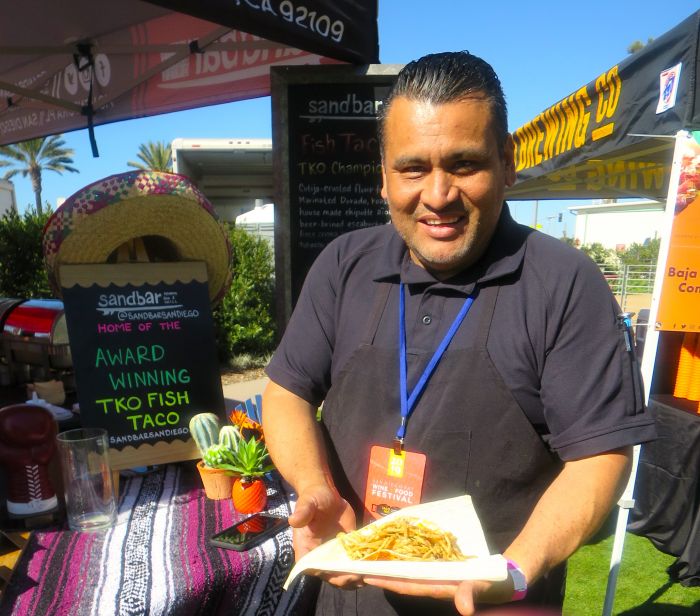 Photo by Michael Reiss
One of our favorites at the "Taco TKO" event was the "Fish Taco" from Sandbar. The ingredients included: "Cotija-crusted flour tortilla, marinated dorado, roasted house-made chipotle aioli, beer-brined escabeche slaw, lime crema, spicy guacamole, Tobasco onions and fried cilantro."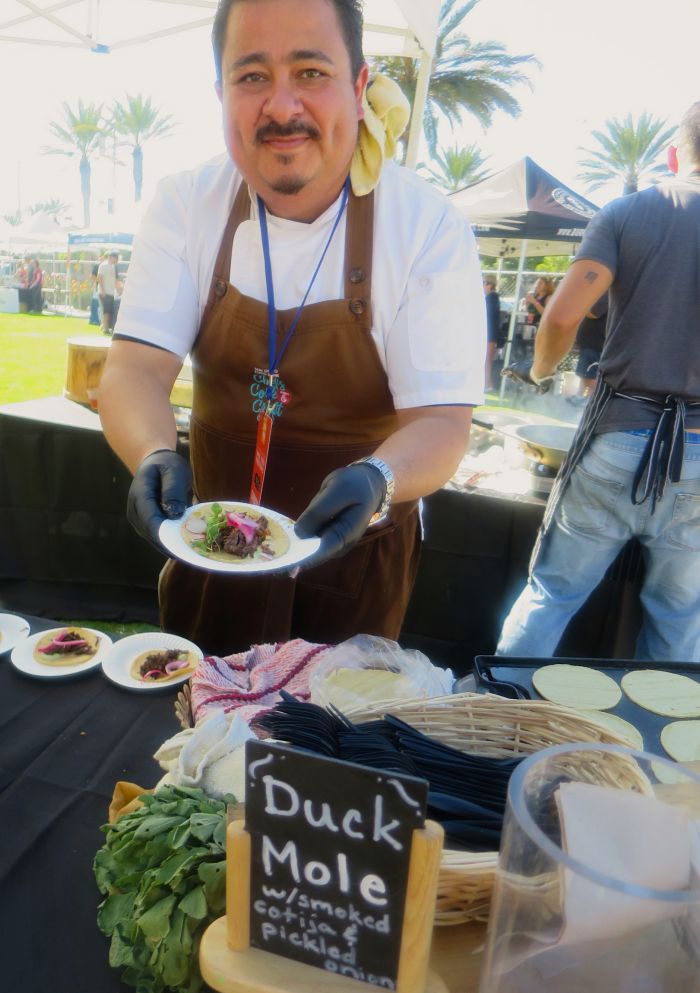 Photo by Michael Reiss
The "Duck Mole Taco" from Carte Blanche was another memorable bite.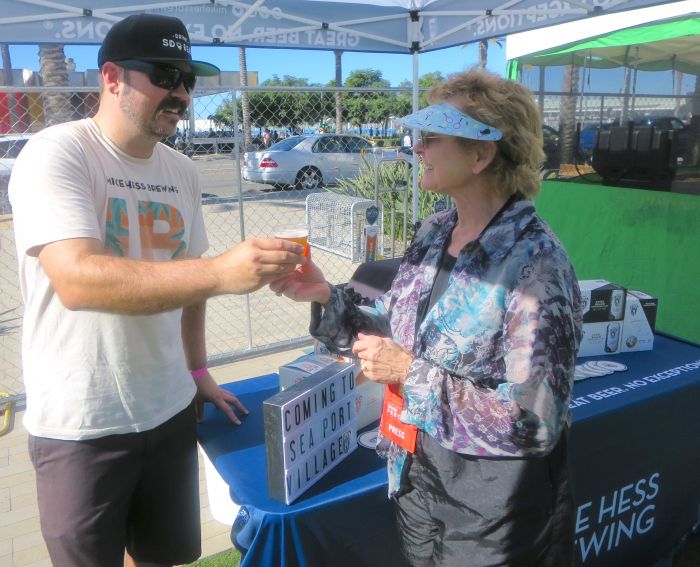 Photo by Michael Reiss
The "Blood Orange IPA" from Mike Hess Brewing was a perfect pairing for these outstanding tacos.
Are you wondering why this festival was rated #1 for best general food festival by USA Today's readers in 2019? Mark your calendars for next November, when you too can experience the celebration and cast your vote for the San Diego Bay Wine and Food Festival.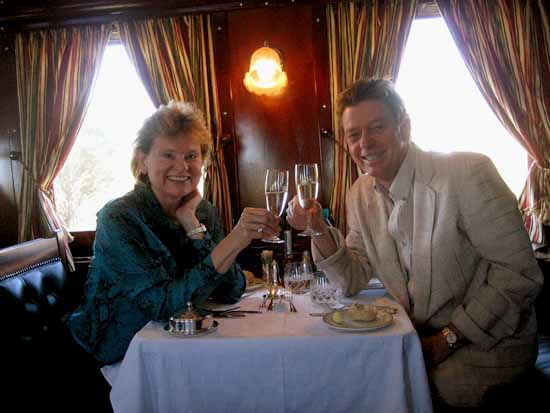 Diane Sukiennik & Michael Reiss
Diane Sukiennik is an internationally recognized writer, coach, keynote speaker, consultant, educator and licensed therapist. She is the author of The Career Fitness Program: Exercising Your Options, 11th edition, Prentice Hall, the most widely used text in colleges and universities in the subject area. A self-proclaimed 'leisurologist,' she speaks French and Spanish, is an avid world traveler and...(Read More)