By Keri Bridgwater Oct. 5th, 2020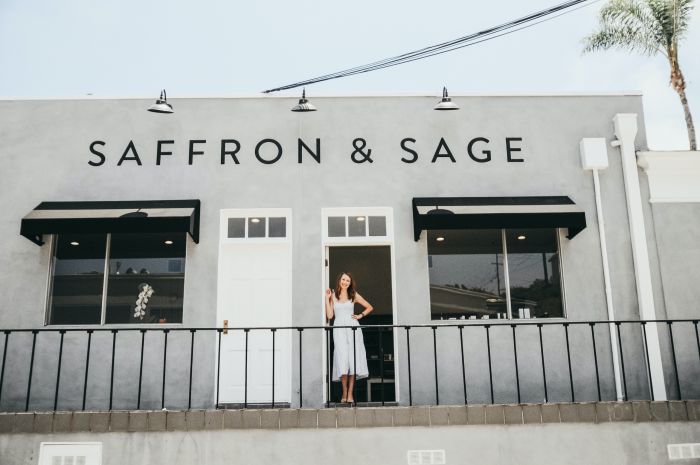 Saffron & Sage
Spiritual awakening meets preventative and integrative healthcare at wellness sanctuary, Saffron and Sage. Founded by social entrepreneur Cristin Smith in 2017, members visit the space in Mission Hills to enjoy a range of modalities - from acupuncture and reiki to sound healing - as part of their journeys toward balancing mind, body, and spirit. This month, however, the health care club has partnered with Estancia La Jolla Hotel & Spa to launch a new interactive series, ELEVATE.
"It's a concept we have always wanted to bring to life," says Smith of the 16-day program, which launches on October 16.
"From the beginning, it has been my vision to support not just physical health but mental, emotional, and spiritual wellbeing, too. With the state of the world, it's essential we embrace holistic healthcare designed by and for women, and this series serves as the perfect introduction to that."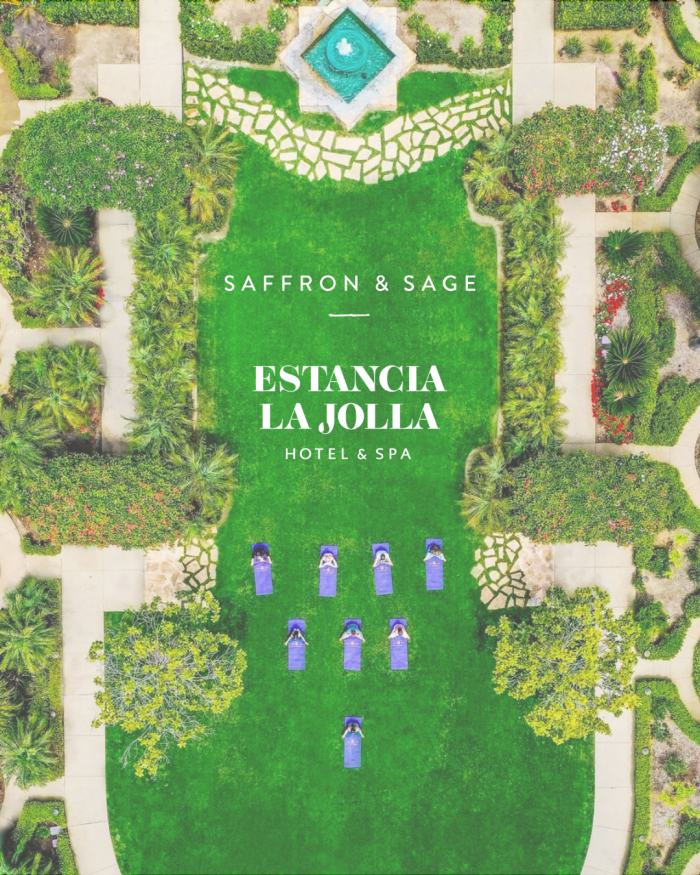 Saffron & Sage
ELEVATE: WOMEN'S HEALTH SERIES
New Moons signify the start of a new lunar calendar and symbolize new beginnings. And, as October's new moon approaches, Saffron & Sage will utilize its renewing energy to launch a series of virtual and in-person events dedicated to women's health and wellness - starting with a New Moon Ceremony in the garden courtyard at Estancia La Jolla Hotel & Spa.
"Estancia La Jolla has been a pillar of peace and serenity in the San Diego area for years," says Smith of the boutique Spanish-style retreat. "We are excited to partner with our friends there for the series and invite women to join us in their beautiful gardens as we hold sacred space for them."
Situated on nearly 10 acres between La Jolla Shores and Torrey Pines State Park, in addition to lunar ceremonies the property will host additional outdoor events, including a heart-opening yoga class and guided Nidra meditation. For those who can't make it in person, information on everything from hormone balancing and skin nutrition to herbal education created by Saffron's holistic practitioners and physicians will be available via webinars, educational talks, digital guides and virtual activities through October 31.
The month's second full moon (a Blue Moon) concludes the series with a Full Moon Circle at 5:30 p.m. on All Hallows' Eve.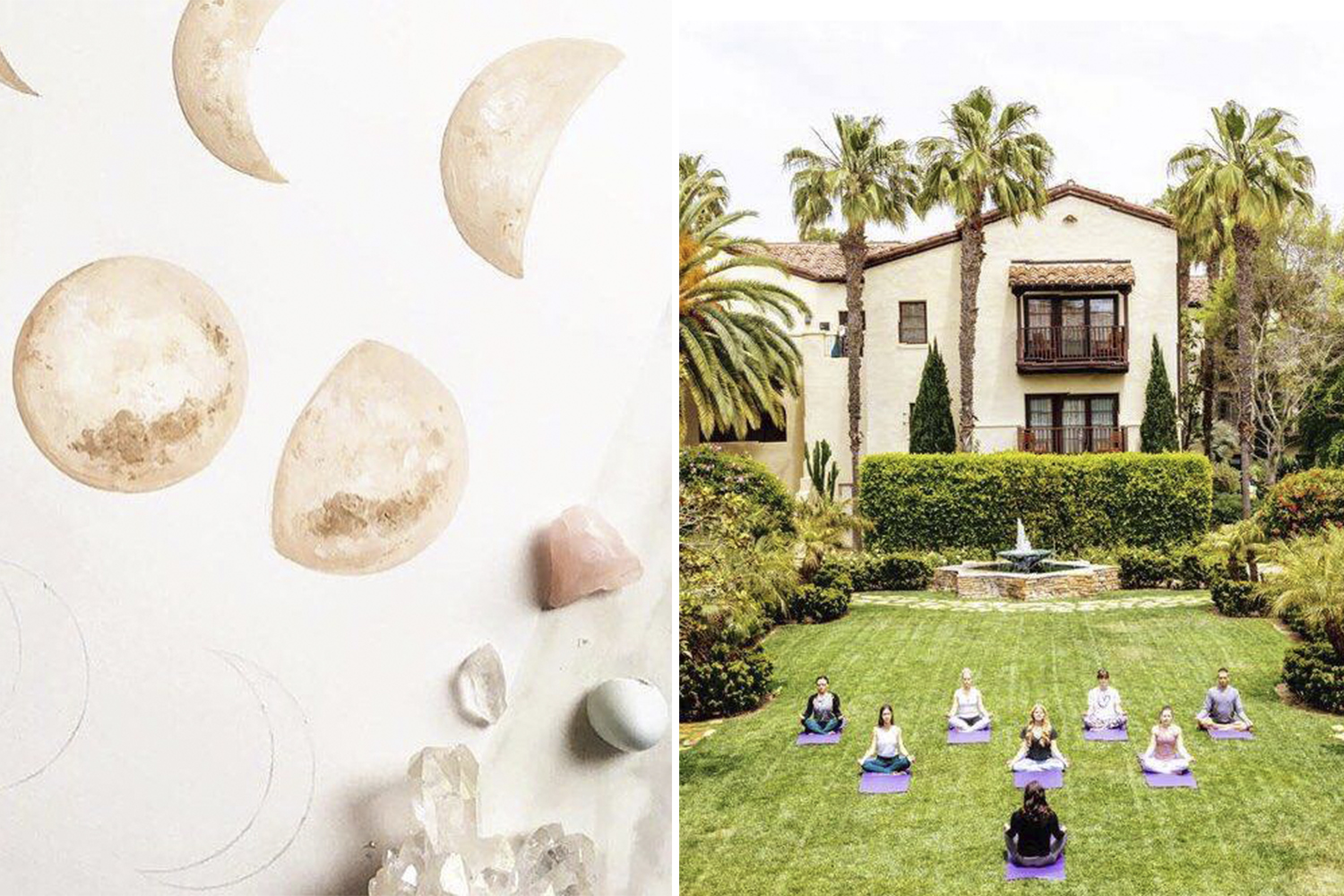 Saffron & Sage / Estancia La Jolla Hotel and Spa
While anyone in the U.S. can enjoy the virtual and digital components, for the live events here in San Diego there are three ticket options available.
Free for Saffron & Sage members or $59 for nonmembers, the At-Home Experience allows access to all educational and live virtual experiences. A Single Sessions drop-in ticket to any of the outdoor live events in Estancia's Garden Courtyard costs $25 for members, $50 for nonmembers. For access to all virtual experiences and live events, swag bag, and exclusive daily specials on Saffron & Sage products, the All-Inclusive option costs $99 for members, $159 for nonmembers.

----- When participating in any of the four socially distanced wellness events, Estancia La Jolla is encouraging locals to make a night of it at the hotel. Guests who book for an overnight stay will receive a $120 spa credit, complimentary daily parking, late check-out (based on availability), $10 off individual events or $20 off the all-inclusive ticket.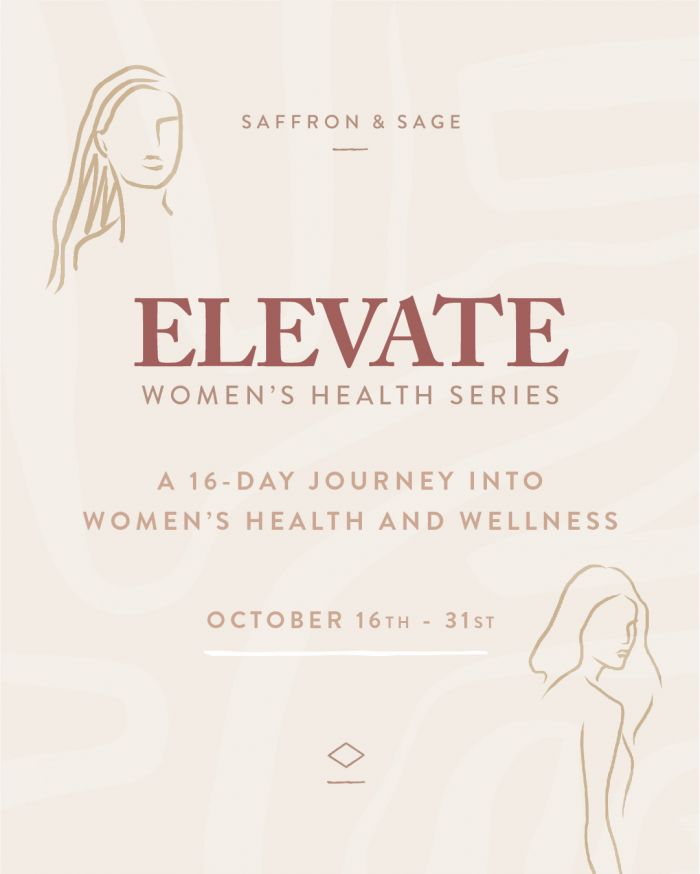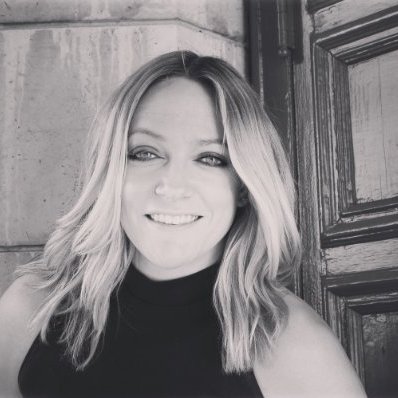 Keri Bridgwater
A native Brit, Keri Bridgwater spent time in house at magazines and publishers in Sweden, New Zealand and Telluride, Colorado before moving to San Diego over a decade ago. She specializes in travel stories, destination guides, hotel news, and profiles for various publications. Bylines in Fodor's, Marie Claire, Yoga Journal, London's Evening Standard, and Virgin Australia's inflight magazine. ...(Read More)