By Cynthia Dial Oct. 9th, 2020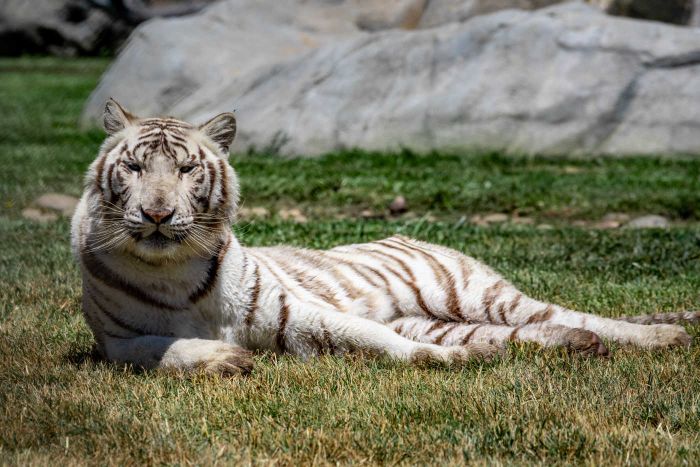 Lions, Tigers & Bears
Have you ever been to an animal sanctuary? If your answer is "no," even "yes," follow me on a trip to the 93-acre Lions, Tigers & Bears Animal Rescue and Education Center—a no-breed, no-sell state and federally licensed facility in the San Diego suburb of Alpine, CA—is recommended. Why? Here, it's possible to meet and hear the stories of these liberated animals.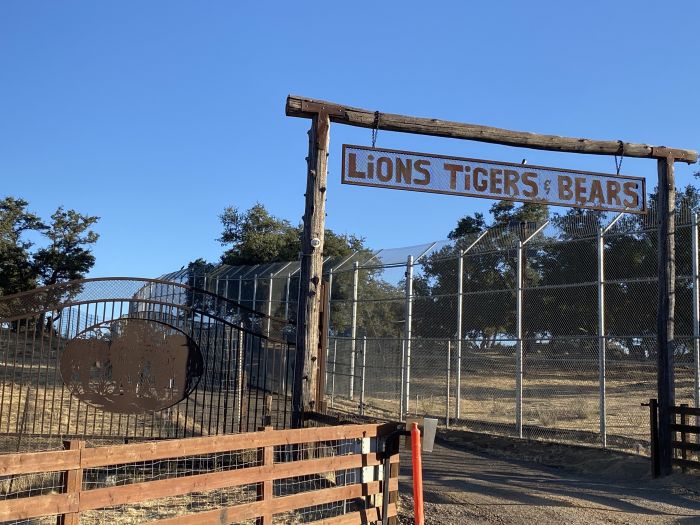 Cynthia Dial
Though the idea germinated around 2000, it was in 2002 that Bobbi Brink's dream of saving exotic animals from mistreatment materialized with the rescue of two tigers and a bobcat: "We started building one habitat at a time." Today a total of 25 cats, nine bears and 25 additional exotics call Brink's rescue center home—their permanent home.
"We try to get animals out of places where they don't belong. We're kind of their voice," says Brink who shares stories as we walk from habitat to habitat seeing an assortment of her beloved four-legged evacuees. Opportunities are available to those who visit as a "Member for a Day" or upgrade to the center's "Feed with a Keeper" experience.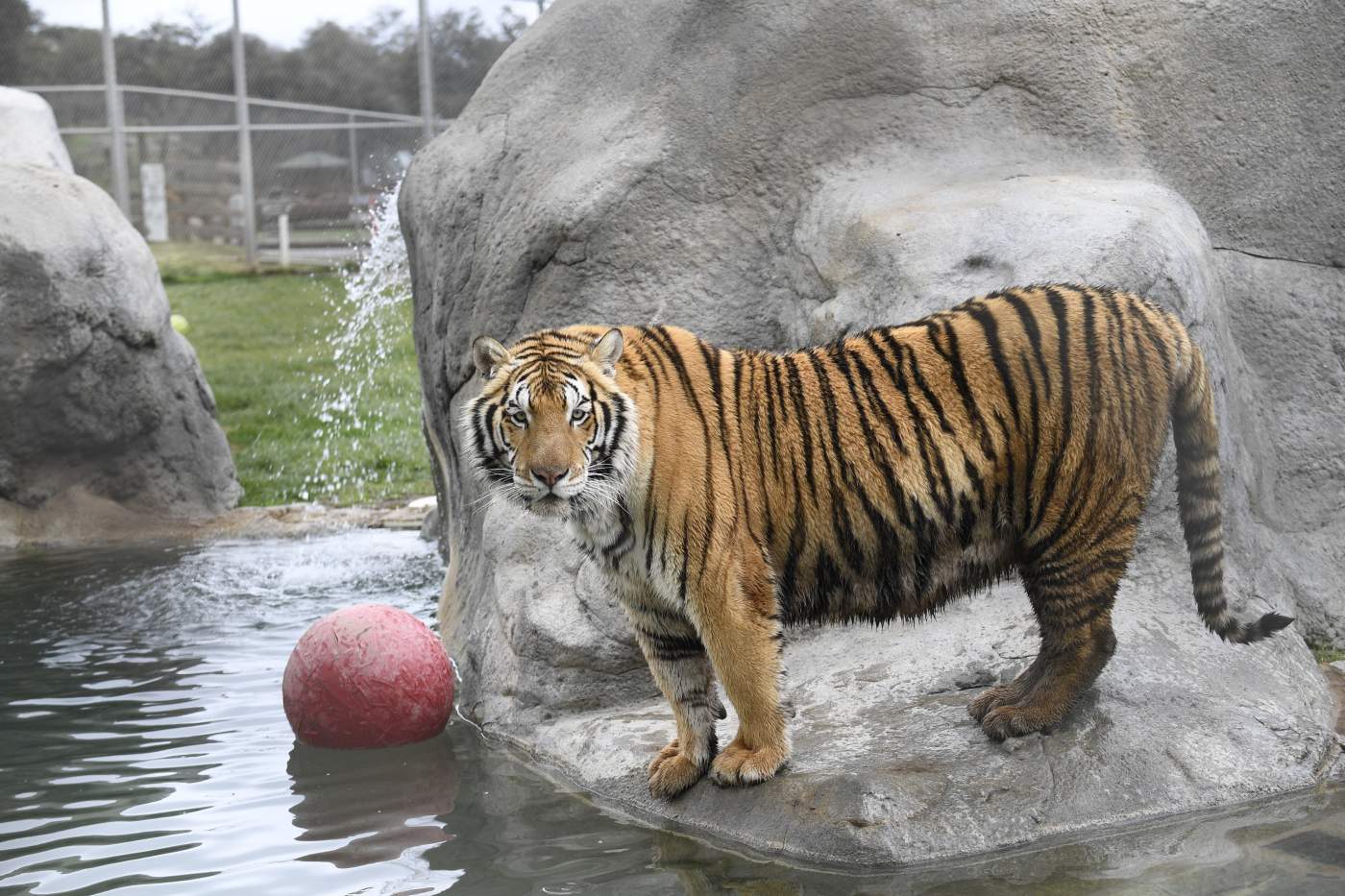 Lions, Tigers & Bears
Here are only a few of their tales. Upon arrival you'll be greeted by tigers, Moka, and Nola (an unusual white tiger), best buds since their arrivals who these days wrestle, swim and romp together in their spacious enclosure. Their backgrounds are interesting. Moka was rescued as a two-month-old cub from smugglers when they attempted to cross the Mexican border into the states. He was then sent to the San Diego Zoo. But as a Bengal tiger hybrid, he was not a good match for the zoo's species survival breeding program so placement in this sanctuary was the solution. Nola is named for the New Orleans location from which she was rescued at five months old. In such a state of neglect, it was only after receiving around-the-clock care that she made a full recovery.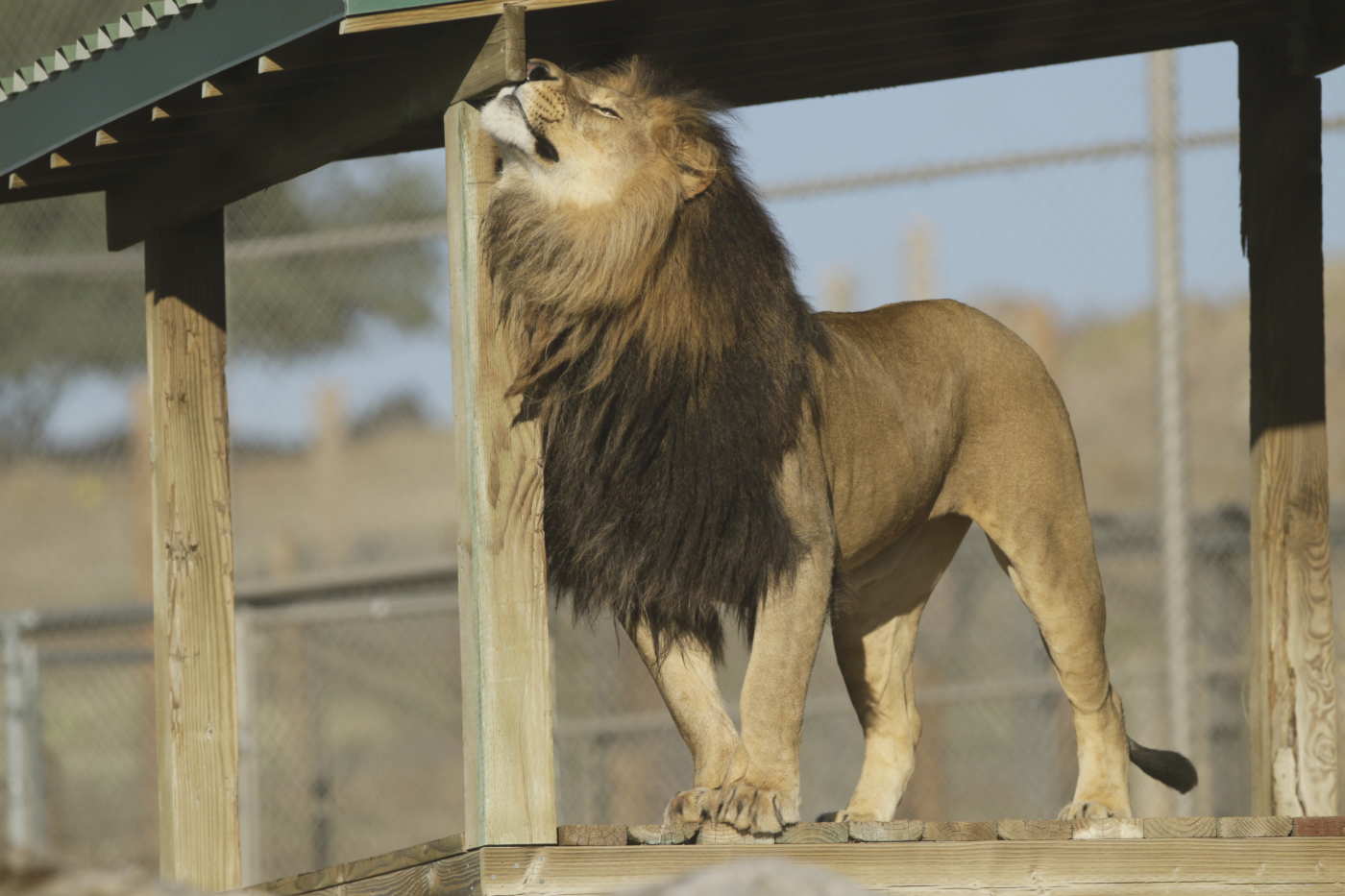 Lions, Tigers & Bears
At the time of his rescue, today's 400-pound tiger, Maverick, was a nine-month-old pet of the rapper Tyga. Named by sanctuary founder Brink's husband, she recalls this process. "As I cooked Thanksgiving dinner and my husband watched the movie 'Top Gun,' the tiger's name naturally evolved—inspired by Tom Cruise's notable character.'
The sanctuary's African Lion is Bakari, along with his sisters, Suri and Jillian, all rescued as four-week-old lion cubs from Louisiana.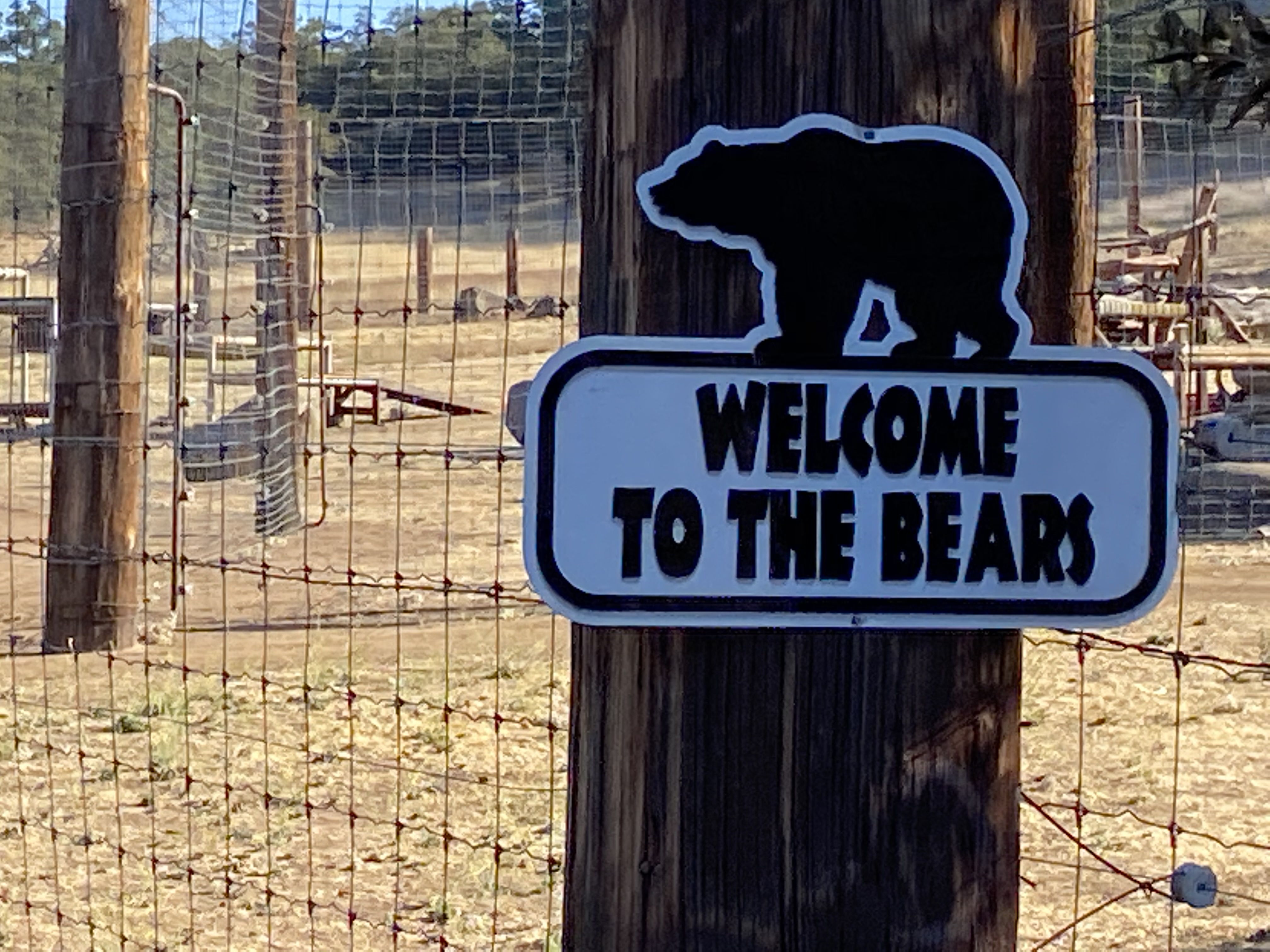 Cynthia Dial
Moving to the bear enclosures, all protected by electrified fencing for inhabitants known for their prowess for digging and climbing, meet Himalayan black bear brothers, Teddy and Baloo. Originally, residents of a small roadside zoo, they were sent to an Ohio auction house at two months old where they were rescued by a couple, who after struggling to provide adequate care for the bears reached out to Brink for successful placement. During my visit, a special perk was feeding peanut butter and jelly sandwiches to Baloo, this black bear's favorite food.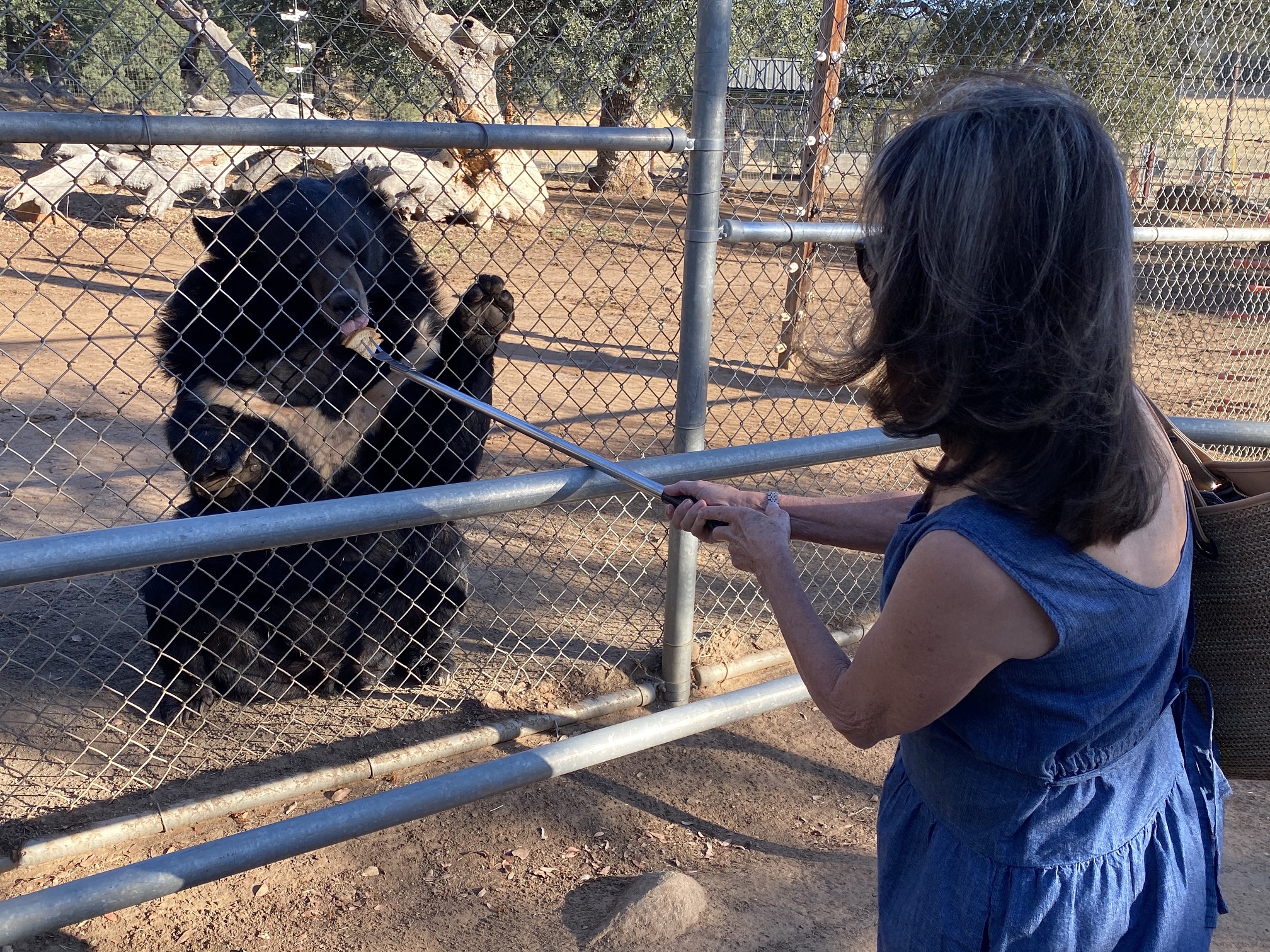 Cynthia Dial
Then there's Cherry (full name: Cherry Bomb), a grizzly bear, whose best-loved cuisine is a hot dog. Her brother, Albert, is here too.
Throughout the guided visit, we're educated by little known facts: There are more tigers being kept in backyards and basements across the U.S. than exist in the wild; the sanctuary's annual food needs include 40,000-plus pounds of raw meat for the big cats, along with 5,000 pounds of nuts and 38,000-plus pounds of fresh produce for the bears and the greatest expense for Lions, Tigers & Bears is its endless yards of fencing.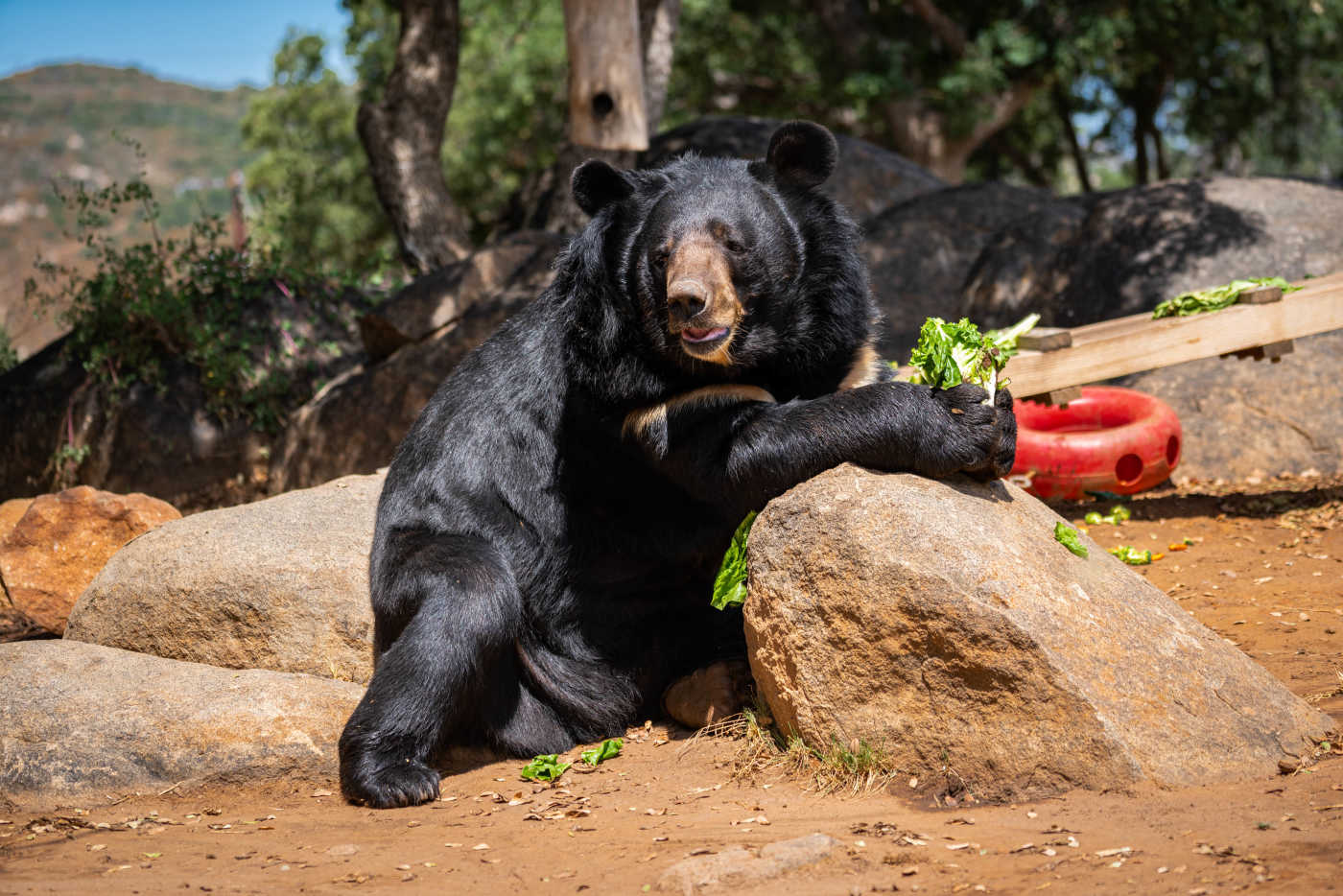 Lions, Tigers & Bears
And for those visitors who aren't quite ready to leave after touring is the option of a pricier ticket, the Wild Oak Wild Nights' experience—overnighting at the property in its two-bedroom, one-bath retreat which overlooks Moka and Nola's habitant. Certainly the most luxurious way to encounter the sanctuary, imagine a stay accompanied by the sights and sounds of nearby big cats and in-the-wild bears. The bow on this package is a private safari.
At the tour's end, Brink's commitment is clear. "To animals born in captivity and fated to be ignored and abused, I've dedicated this organization."

Cynthia Dial
Cynthia Dial is an admitted travel writing addict, and shares that she pinches herself each time she steps onto the promenade deck of a cruise ship, boards a train or settles into a plane seat to go to work. She's taken a city tour of Melbourne, Australia, from the back of a Harley-Davidson motorcycle, hiked the Austrian Alps and learned to surf in Waikiki -- all for a good story. A special corres...(Read More)