By Jill Weinlein Apr. 12th, 2021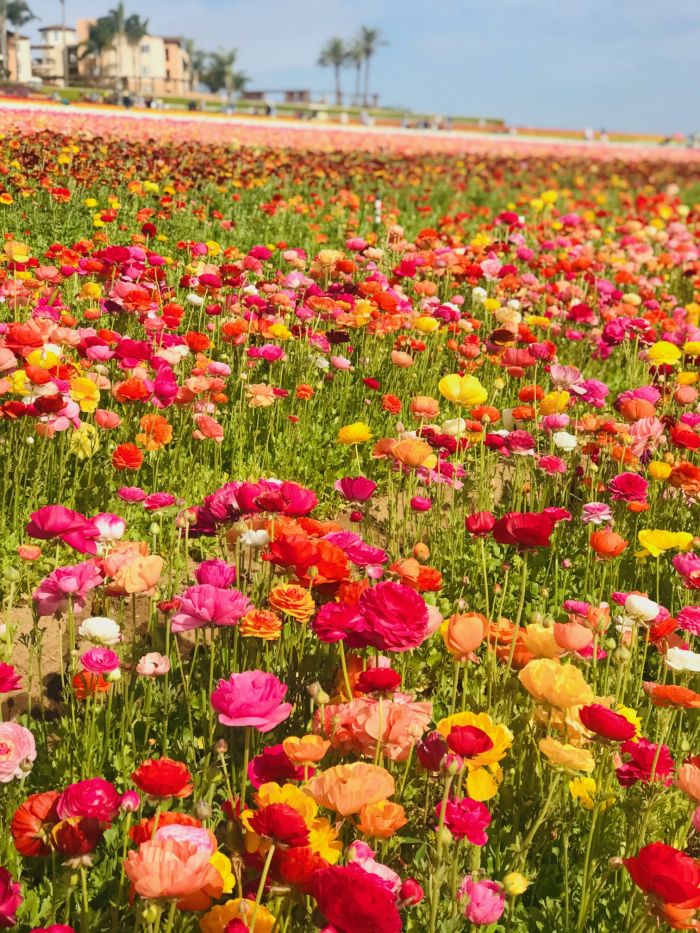 Jill Weinlein
Every year in March, Carlsbad Ranch displays acres of vibrant ranunculus in various sizes. Known as The Flower Fields in Carlsbad, these delicate beauties have a short season lasting until early May. During this time period, they are the Grand Dames of Northern San Diego County.
Last year the fields closed their gates to the public, due to the pandemic. This year they are opening their gates from 9 a.m. to 6 p.m., offering visitors an opportunity to spend time taking in the beauty of these glorious flowers and explore other areas at Carlsbad Ranch.
To keep visitors, staff and volunteers safe, they have implemented a new contactless ticketing system. Visitors purchase timed tickets online to reduce lines and maintain social distancing.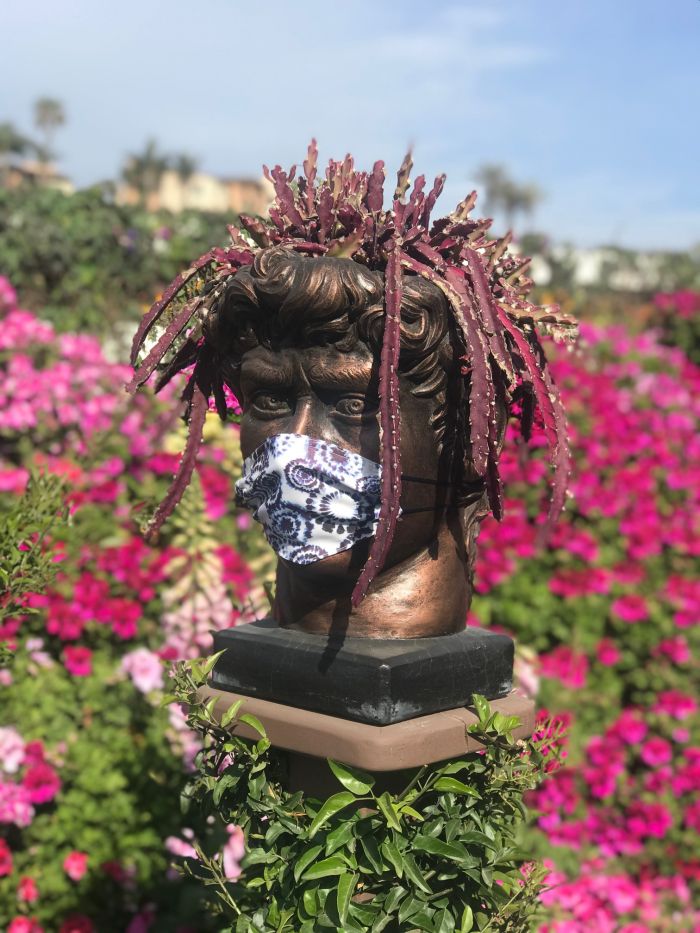 Jill Weinlein
Guests and staff are required to wear face coverings, and social distancing will be maintained once inside The Flower Fields. Masks must cover the nose and mouth at all times, except when eating and drinking.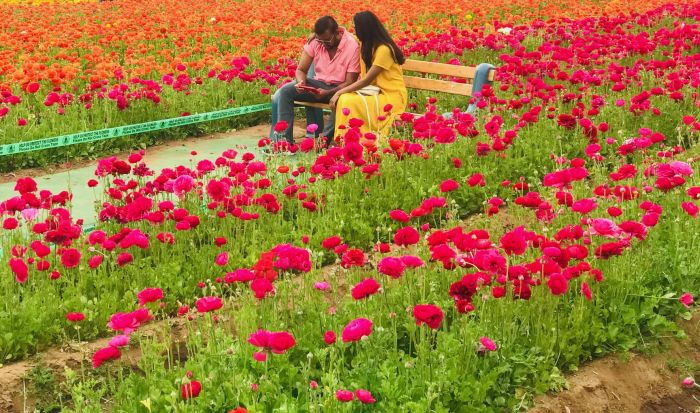 Jill Weinlein
Throughout the area are viewing benches and photo opportunities strategically placed among the flowers. Signage and line formation allows guests to take their photos without other people in the area. Masks may be removed for the photo, but must be put back on afterwards.
The staff patrols the fields in golf carts to implement these safety protocols. For those looking to escape the crowds, the best time to reserve a ticket is during the weekdays. Friday, Saturday and Sunday are high volume times at The Flower Fields. Arrive before noon to avoid peak attendance.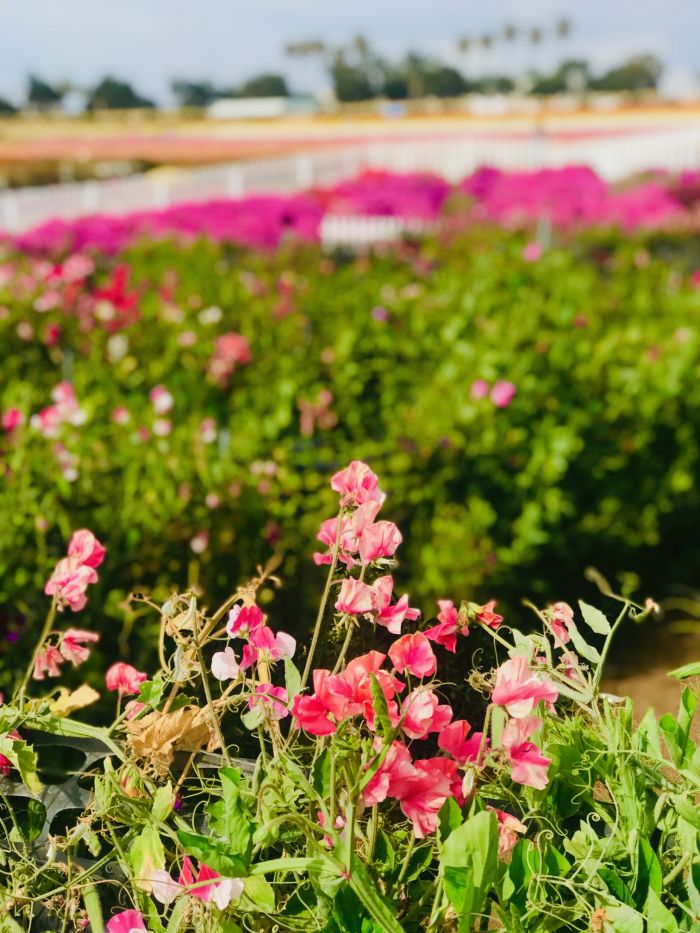 Jill Weinlein
Other areas included in the ticket to visit is the Sweet Pea Maze, a living maze filled with fragrant and colorful 'old-fashioned' sweet pea blossoms. Nearby is The Master Gardeners of San Diego demonstration garden showcasing edible and ornamental plants. Visitors can learn and be inspired to replicate their garden design and planting styles at their own homes.
Don't miss the historical Poinsettia greenhouse filled with hundreds of Ecke poinsettias. There are over 20 rare and unique varieties of the world's best-selling potted plant.
Tickets are $20 for adults, $18 for seniors over 60, and $10 for children 3-10. Hours are from 9 a.m. to 6 p.m. To purchase a ticket, click here.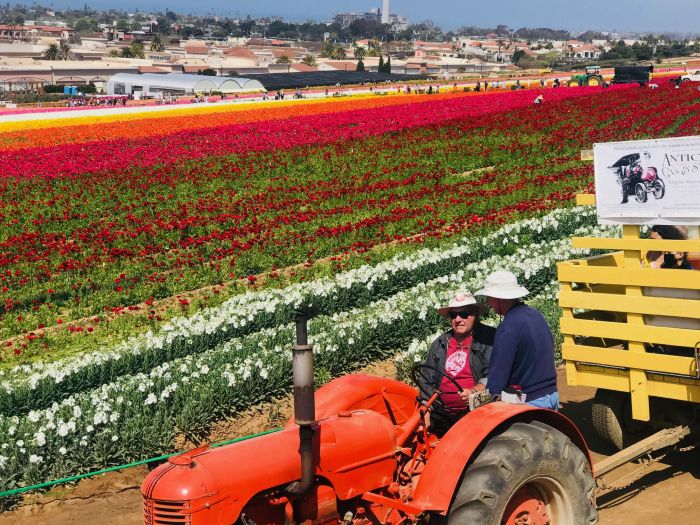 Jill Weinlein
For those who choose not to walk, the antique wagon tour is available in a limited capacity. Enjoy an open-air ride while listening to an audio commentary of the history of the giant Tecolote ranunculus growing in The Flower Fields. Purchase a ticket after you enter the venue at the onsite Wagon Tour ticket booth. Tickets must be purchased by credit card only. Online tickets are not available at this time.
Plexiglass partitions protect guests sitting in each row. Guests will also see the brilliantly hued American Flag made with red, white and blue petunias strategically planted on a 300 by 100-foot hillside below The Cassara Carlsbad Hotel.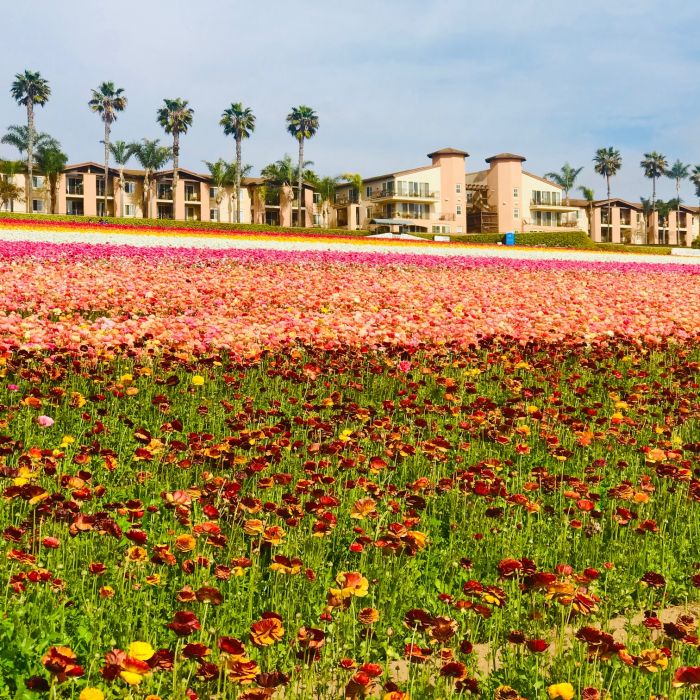 Jill Weinlein
Above the Flower Fields is The Cassara Carlsbad, a Tapestry Collection by Hilton and the Grand Pacific Palisades Resort. The Cassara Carlsbad is offering a special rate during The Flower Field season. Enjoy a spacious room or suite with some overlooking a kaleidoscope of flowers.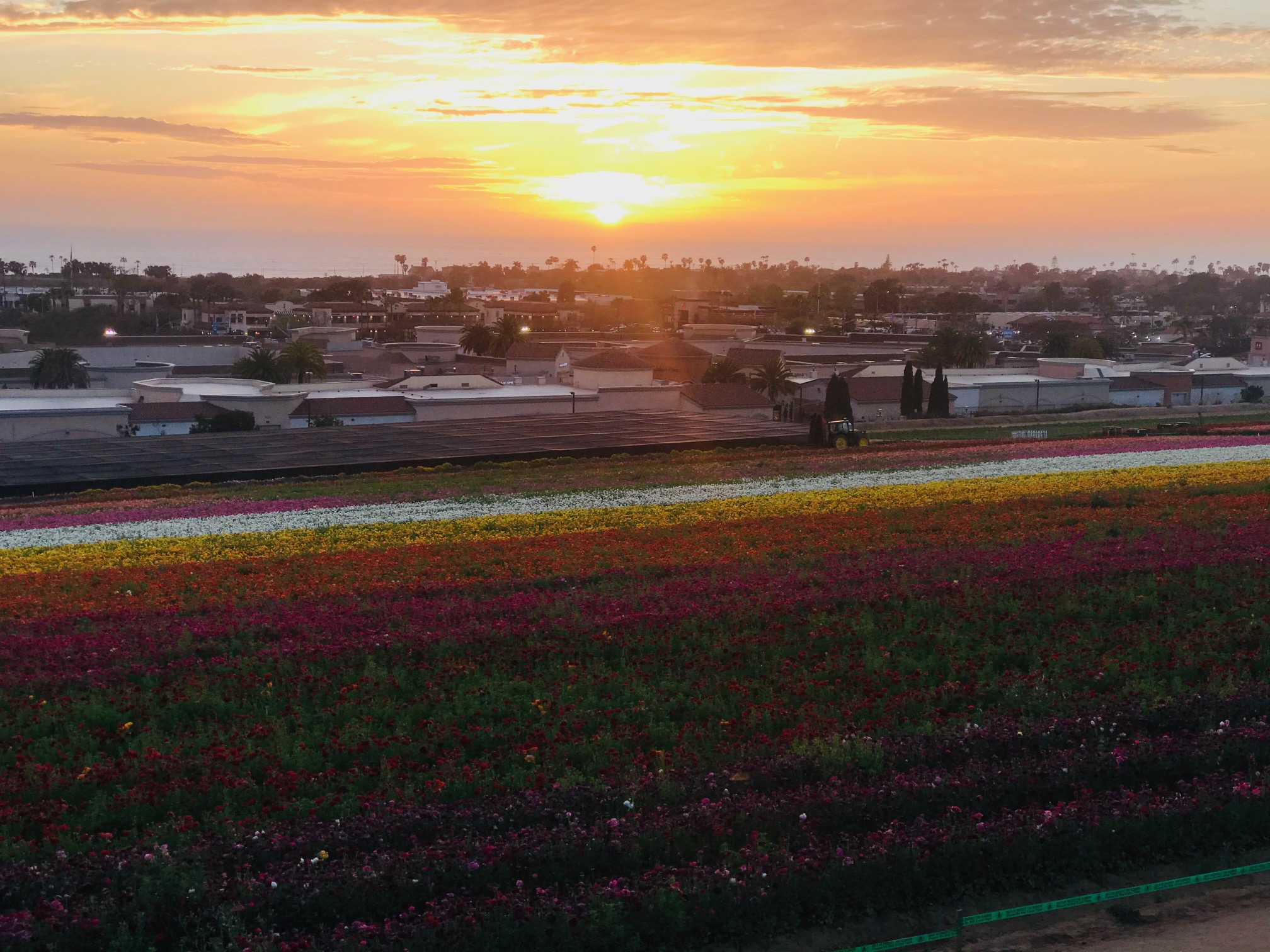 Jill Weinlein
Besides two swimming pools, an onsite Karl Strauss restaurant, and a fitness center, the resort offers a paved walking path for guests to view the flowers below. When the fields close to the public, guests gather along the railing or sit on their balcony or patio to view the most exquisite sunset beyond the rainbow of ranunculus.

Jill Weinlein
Los Angeles based Jill Weinlein covers travel, food and lifestyle destinations for multiple newspapers, magazines and websites. Her areas of expertise include, luxury travel, culinary reviews, cruising and family travel destinations. Born in Los Angeles, Jill studied Communications and Theatre Arts at UCLA. She has a a Dine and Travel blog - www.dineandtravel.me and she writes a weekly restaur...(Read More)