By Jill Weinlein Oct. 6th, 2021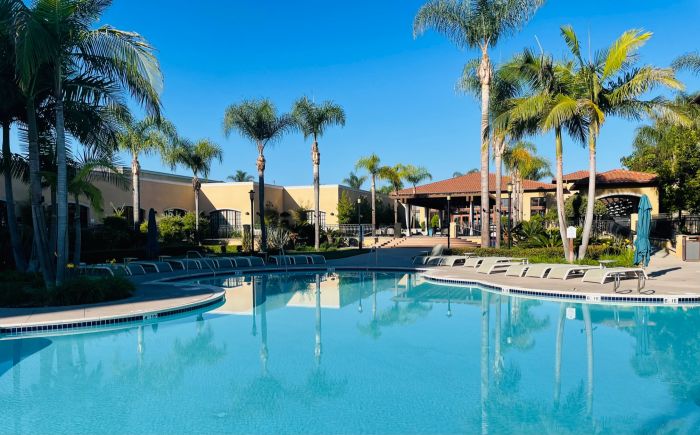 Jill Weinlein
The Westin Carlsbad Resort & Spa is participating in 'Kids Free San Diego' where kids eat, stay and play for free. During the month of October, over 100 free experiences for kids can be redeemed at hotels, restaurants, museums and other attractions.
Perched above LEGOLAND, CA with views of the Pacific Ocean beyond, the luxury Mediterranean-inspired resort offers a tropical feel with mature palm trees around heated swimming pools, lush gardens, and spectacular views from the newer four-story Grand View building.
The Westin Carlsbad's Fall Kids Eat Free Package includes a free breakfast card for kids 12 and under, that can be redeemed during each morning of your stay at the onsite restaurant 20/Twenty. A hearty breakfast is served seven days a week starting at 7 a.m. Come back for dinner and sit inside the elegant dining room, or outside on the al fresco dining terrace near one of the flickering firepits. This special package also includes a Deluxe guest room, and Halloween BOO treats bag for kids.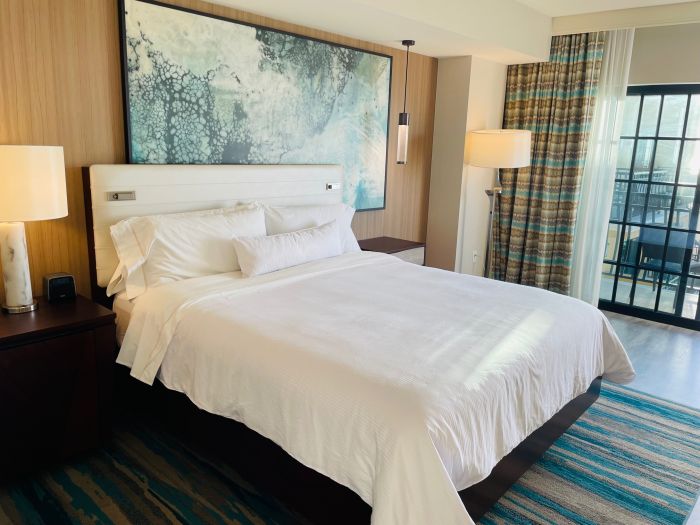 Jill Weinlein
The Westin Carlsbad features 208 rooms, including 28 beautifully appointed suites with stunning ocean views. Near the pool and Jacuzzi unwind at the Ocean Pearl Spa, or work out in the state-of-the-art fitness center.
The Westin Carlsbad is participating in a 'Go Green Save Green' program to take better care of the planet, which in turn takes care of our well-being. They remind guests to be mindful of water usage, turn out lights, recycle and choose to skip daily housekeeping. By participating, guests are rewarded with a $20 credit per stay that can be applied to food + beverage, a bike rental and other amenities.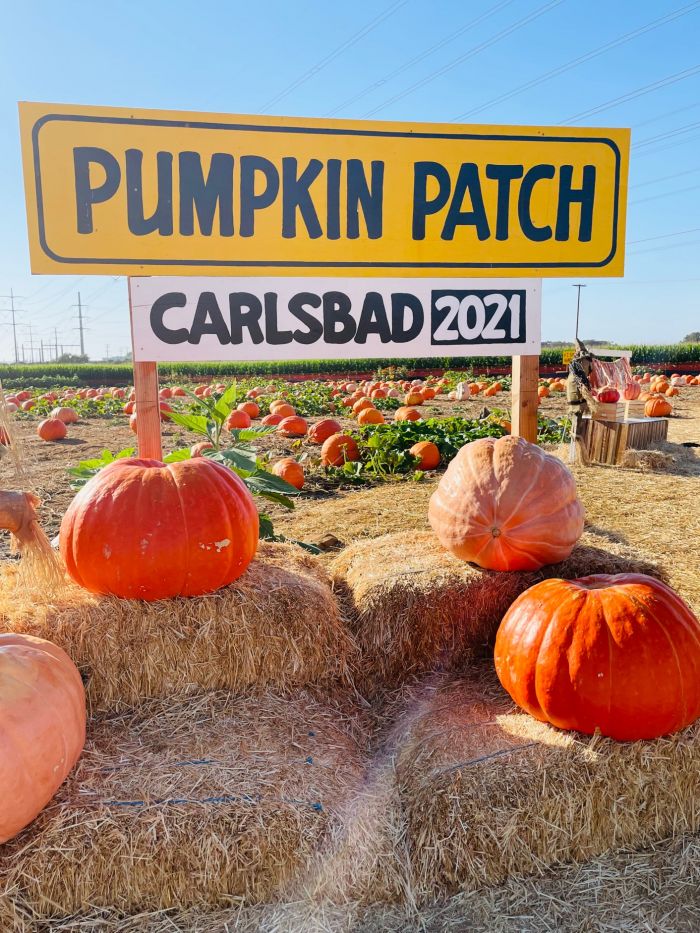 Jill Weinlein
Families can take a free shuttle and receive free admission to The Carlsbad Pumpkin Patch featuring giant and small pumpkins; apple cannons that hurdle apples as high as 100 miles per hour; a Corn Maze to explore; and Tractor Rides around the farm. This shuttle runs throughout the day until November 8, 2021.
Plus, every Friday and Saturday from October 1 - October 30, there will be a haunted maze perfect for a Halloween scare and spooky adventure fit for teens and adults.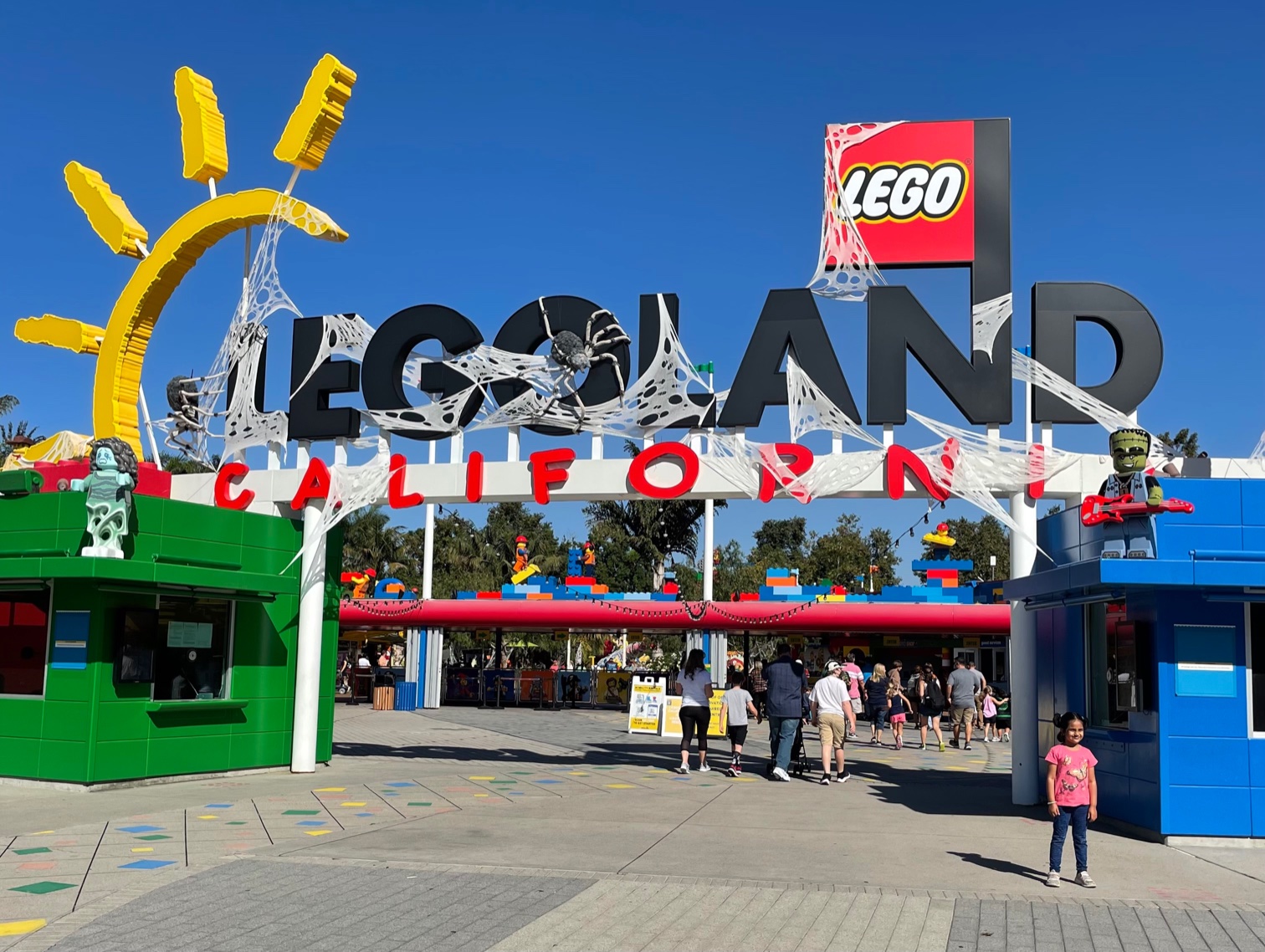 Jill Weinlein
After a visit to the pumpkin patch, families can purchase tickets for LEGOLAND to see their annual Brick-or-Treat Halloween celebration. The Westin Carlsbad Resort & Spa guests are just a few steps away from the amusement park's back gate for an easier and quicker entrance.
Every Saturday in October (2, 9. 16, 23, and 30) guests are encouraged to dress in costume and participate in one of four costume contest parades. Prizes are awarded to Best LEGO Costume, Most Creative Homemade Costume, and Best Group Costume. Take photos next to fall and Halloween decor and visit 15 treat stations scattered around the amusement park.
The popular Brick-or-Treat celebration is back with a new digital Pop Badge Challenge. Video clues can be discovered throughout the Park, as families become detectives on a spook-filled adventure.
This October is the debut of first ever LEGOLAND Scare Zone in the Adventure Club area. Guests cautiously creep through ancient Egypt, next to a jail cell, appear in the rainforest, and explore a bone-chilling ice cave. Creepy crawlers, eerie music and not-too-terrifying actors enhance the experience. Live entertainment and music enhance the celebratory experience.
Jill Weinlein
Click San Diego to learn more about additional Kids Eat, Stay, and Play promotions for local and visiting families during the month of October.
The Westin Carlsbad Resort & Spa 'Kids Eat Free Fall getaway' can be booked online or call +1 760-827-2800. Deluxe packages are also available for vacationers looking to elevate their getaway.

Jill Weinlein
Los Angeles based Jill Weinlein covers travel, food and lifestyle destinations for multiple newspapers, magazines and websites. Her areas of expertise include, luxury travel, culinary reviews, cruising and family travel destinations. Born in Los Angeles, Jill studied Communications and Theatre Arts at UCLA. She has a a Dine and Travel blog - www.dineandtravel.me and she writes a weekly restaur...(Read More)