By Touring & Tasting Apr. 7th, 2011
Cellar360 San Francisco opened its doors to the public in the heart of the newly renovated, historic a Ghirardelli Square on October 15, 2007, to acclaim from a broad scope of guests from around the world.

With a wide selection of wines for tasting and purchase, a wine and culinary education center, a gourmet charcuterie, and al fresco dining, Cellar360 strives to reflect the best of the epicurean experience.


Cellar360 is open daily and features more than 200 wines from the most renowned wine regions across four continents, providing customers an international wine country experience without leaving the heart of San Francisco.

The charcuterie and culinary education center offers a variety of delicious dishes and culinary encounters to complement the ever-changing selection of wines available at the tasting bar — which is considered to be one of the city's longest. Tasting flights are organized to inform guests about regions, varietals, or winemaking styles, and many are available with food, cheese, or chocolate pairings.


Appropriate to San Francisco, one of the world's leading cities dedicated to the gastronomic experience, Cellar360 features a state-of-the-art wine and culinary education center that hosts guest winemakers and chefs in programs ranging from wine tasting classes to book signings, culinary classes, and cooking demonstrations. The regularly changing, robust schedule of events provides guests of Cellar360 a myriad of entertaining and educational opportunities.

Additional Cellar360 services include: a knowledgeable concierge service prepared to arrange tours, dining, and other activities in California's most popular wine country destinations; a retail section featuring unique and useful wine- and food-related merchandise; and an intimate, private tasting room with views of the bay for club members and special events.

The 6,000-square-foot facility is ideal for all sorts of get-togethers — from large corporate team-building events to small parties of friends who are enthusiastic about wine and want to learn more.

WHAT TO BUY:

'08 Stags' Leap Chardonnay Napa Valley Honeysuckle, green apple, orange zest $28

'07 Etude Pinot Noir Estate Carneros Frambois strawberry, cherry, mocha, baking spice $42

'06 St. Clement Oroppas Napa Valley Black currant, roasted coffee, bittersweet chocolate, raspberry jam $55

CONTACT:
Cellar360
900 Northpoint, Ste F301
San Francisco, CA 94109
Tasting Room Open Sun–Thur 11–7 p.m, Fri–Sat 11–9 p.m.
877.774.WINE
cellar360.com

SPECIAL NOTES: Readers who mention Touring & Tasting magazine will receive two tastings for the price of one.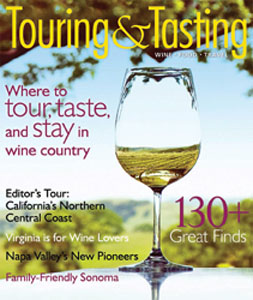 Touring & Tasting
Established in 1995, Touring & Tasting offers an array of compelling marketing opportunities through its biannual, nationally distributed magazine wine club services weekly e-newsletter print newsletter and Website, TouringAndTasting.com. Touring & Tasting's Wine Club delivers an incomparable assortment of premium, hand-selected wines to a broad spectrum of motivated wine consumers. We offe...(Read More)