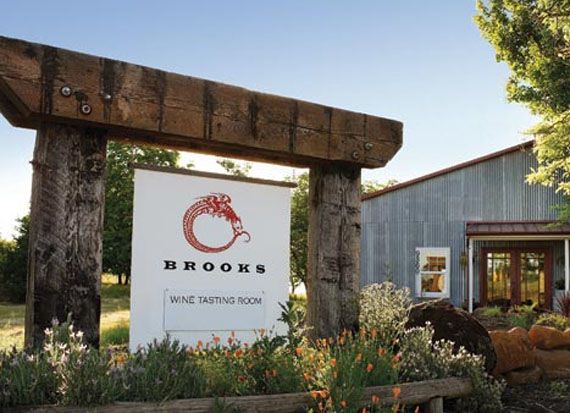 When Janie Brooks Heuck's brother Jimi passed away unexpectedly in 2004, he left behind a promising Willamette Valley winery, Brooks Wines, and his young son, who already knew he wanted to be a
winemaker
.
At the time, Janie had no connection to the wine industry, but when she learned that Jimi's son Pascal now owned the winery, she rolled up her sleeves to keep the business afloat. With the guidance of a group of local winemakers, Janie took a few courses at UC Davis and has managed the winery for the past six years, and plans to continue until Pascal comes of age.
But the story of Brooks Wines is more than a story of treading water. In 2005, Janie asked Chris Williams, who had assisted Jimi, to become Brooks' winemaker. Together they work according to Jimi's guiding principle: to keep the earth alive and the ecosystem intact while achieving the greatest depth, flavors,and balance in the wines. Organic and Biodynamic farming practices are paramount at Brooks, with the conviction that they lead to greater purity and clarity in the wines.
In the years that have followed, Janie has secured ownership of the Eola Hills Vineyard, which includes about 20 acres of Pinot Noir and Riesling vines. She's also moved operations to a winery built 40 years ago by Oregon wine pioneers Don and Carolyn Byard where 8,000 cases of wine are produced annually.
Brooks Wines has received a good deal of attention nationwide. In fact, in November 2009 the 2006 Brooks Ara Riesling was poured at President Barack Obama's first State Dinner to accompany a red lentil soup. And the 2006 Willamette Valley Pinot Noir was named Champion of Value by
Wine & Spirits Magazine
.
"We're steadily guided with the legacies Jimi left," Janie says. "And we'll continue to provide exceptional wines at modest prices to remind ourselves that we should enjoy the fruits of our labor with family and friends every day."
WHAT TO BUY:
'08 Ara Riesling Slate, spice, apple, honey $25

'08 Janus Pinot Noir Bing cherries, baking spices, juicy red fruits, minerals, wet stone $35

'09 Willamette Valley Pinot Noir Blueberries, beeswax, tobacco, tar, bitter orange peel, juicy red and blue fruits $25

CONTACT:
Brooks Wines
9360 SE Eola Hills Rd.
Amity, OR 97101
503.435.1278
Tasting Room Open by Appointment Only
brookswine.com

SPECIAL NOTES: Biodynamic farming practices, private tastings and tours by appt, scenic view, picnic grounds and wine club discounts.