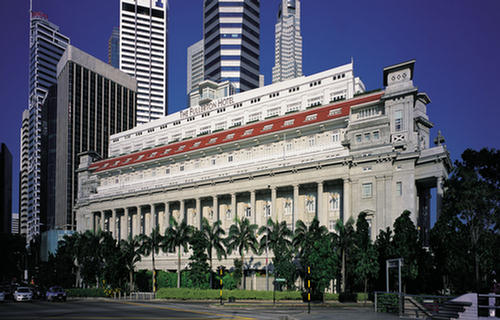 Hotels
The Fullerton hotel successfully blends rich heritage with contemporary style to offer an unsurpassed world-class accommodation experience for business and leisure travellers.It is dynamically located In the heart of the financial and arts districts, along the scenic Singapore River.
The hotel boasts a variety of dining and entertainment venues and caters to large groups for weddings, meetings & banquets.
Built in 1924, the Fullerton is steeped in history. At the time of its construction the hotel was "audacious and ambitious, symbolizing the new wealth and power of Singapore...It was to be in the words of the Governor, "a monument worthy of the city."" Since that time the property has been landmark along the coast of Singapore.
Recently, the Fullerton has undergone painstaking renovations. "Gradually and with meticulous care, the Doric columns, coffered ceilings, cornices and Italian marble floors were restored to their original splendor. In some cases spectacular interior work was revealed having remained hidden from view for many years by earlier renovations work. "