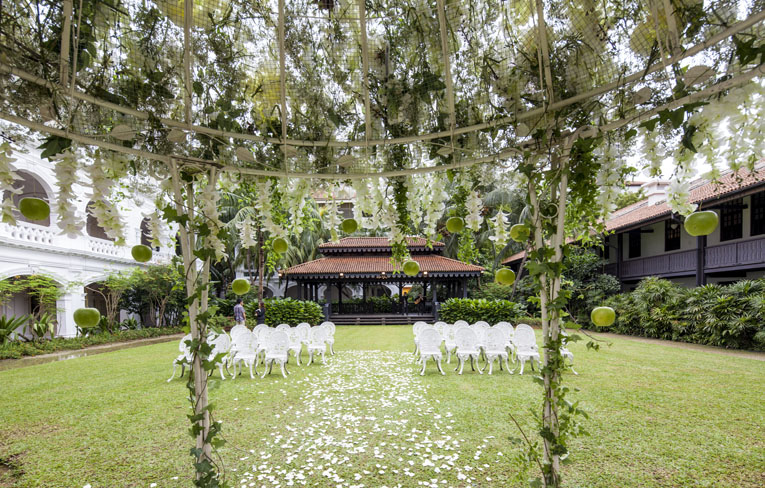 Hotels
Raffles Hotel is one of Singapore's most graceful landmarks. More legend than hotel, this luxury Singapore hotel celebrates a tradition of unwavering service excellence spanning more than 125 years. Immortalized in the novels of Somerset Maugham and Rudyard Kipling, Raffles Hotel, Singapore's colonial-styled architecture and lush tropical gardens exude an atmosphere of timeless elegance.
Be it business or leisure, the charms of this luxurious Singapore hotel are enticing. 15 restaurants and bars beckon, including the Long Bar - home to the world renowned Singapore Sling; Tiffin Room, which continues the tradition of Afternoon Tea at Raffles and Bar & Billiard Room, well-known for its legend of "The Tiger under the Billiard Table."
This luxurious Singapore hotel lies in the heart of the city, in close proximity to the banking and financial districts, Raffles City Convention Center, Singapore International Convention and Exhibition Centre (SICEC), as well as leisure attractions including the casino at Marina Bay; the cultural sights of Arab Street and Chinatown and shopping at Raffles City shopping mall and Orchard Road shopping belt.
Declared a National Monument in 1987, the hotel has grown from strength to strength. With its restoration and reopening in 1991, Raffles Hotel today stands as a jewel in the crown of Singapore's hospitality industry, renowned and loved for its inimitable style and unsurpassed excellence in service and facilities. In multicultural Singapore it is not surprising that the visionary founders of Raffles Hotel were a quartet of enterprising Armenian brothers: Martin, Tigran, Aviet and Arshak Sarkies.
Raffles Hotel opened in 1887 in a rather somber-looking old bungalow known as the Beach House. It was named after Sir Stamford Raffles, the founder of modern Singapore. Tropical suites and sola topis were as much a part of Raffles Hotel's early style as bentwood tables and rattan chairs. Over the years the hotel has evolved into one of the world's most beloved grand hotels and welcomed innumerable celebrities, writers and royalty.
Raffles Spa welcomes savvy travelers in search of fitness, serenity and rejuvenation. Here you will discover the precious time, luxurious space and healing arts that will nurture you on your own quest for good health and inner peace. The spa combines time-honored traditions and modern day technology to refresh the body, mind and soul. Revitalize in the sauna and steam rooms or take an invigorating dip in the pool surrounded by lush tropical foliage, or simply unwind in the Jacuzzi.