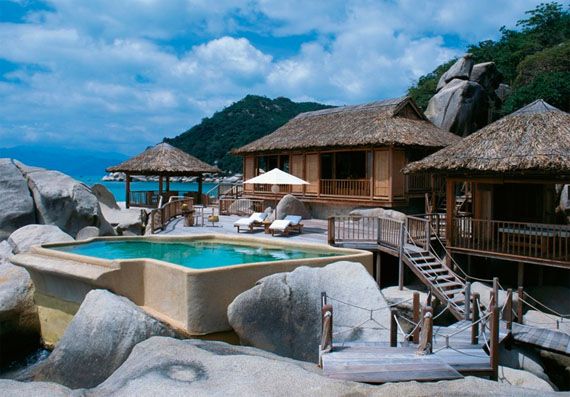 When most people think of a luxurious, tropical vacation they often imagine
Hawaii
, Fiji or the Caribbean. I happened to be one of those people until I visited the Six Senses Ninh Van Bay in Vietnam and forgot all about those other island retreats.

Upon arriving in Vietnam, we took a 20 minute ferry ride to get to the resort, only further letting me know how private and peaceful this stay was going to be. Floating up to the location, the scenery was breathtaking: vibrant, turquoise water, villas built into natural boulders, and the majestic mountains in the background. This resort is a true hideaway and completely separated from any form of city life.

The vibe was very relaxed, but the staff was always on their toes. They were extremely friendly and attentive, eager to please and make the visit memorable.


Our personal butler escorted us to our beachfront villa. Ironically, we felt right at home, even though we knew we were far from it. Our villa was beautifully furnished with simple white linens surrounded by rich wood-framed walls. Though it seemed like we were in the middle of nowhere, the rooms were well equipped with all the necessary modern amenities to make us feel comfortable. We had our own mini bar, personal safe, hairdryer, satellite TV, DVD player, stereo system, and direct access to the pool and white sand beaches.

We were given a pamphlet with each day's activities organized by water sports, children's activities, spa treatments, as well as food and beverage options. We were given a couples massage and time in their spa's sauna and steam room, which we made sure to indulge in.


We were also offered a complimentary romantic cruise, but weather conditions would not permit this high seas excursion. Instead, we were invited to a six course dinner with wine pairings, which turned out to be unlike anything I had ever experienced before.

This unique dining event took place at the Six Senses Ninh Van Bay's premier spot, Dining at the Rocks. This intimate restaurant seats no more than 12 guests and has some of the best views the resort has to offer. It sits atop one of their pavilion decks and has gorgeous views of the Ninh Van Bay, Southern China Sea, and the Hon Heo mountains. All the unbelievable scenery that took my breath away when I first arrived to the locale now impressed me again.


Laurent Severac, a Botanical Scents Designer, was hosting the lavish meal. He actually takes the essential oils from plants, fruits and spices, and creates edible scents from them. The six courses were mainly comprised of fresh seafood, with the addition of Severac's "food perfumes. " I didn't find it to be the tastiest culinary experience I've ever had, but it sure was one-of-a-kind.



From the stunning natural surroundings, to the impressively courteous staff, to the stress-free atmosphere, the Six Senses Ninh Van Bay, Vietnam, has everything an unforgettable getaway should. Exotic vacations just don't get any better than this luxury Asian destination.

Ninh Van Bay Resort & Spa, Ninh Hoa
Khanh Hoa, Vietnam
84.58.372.8222
www.sixsenses.com