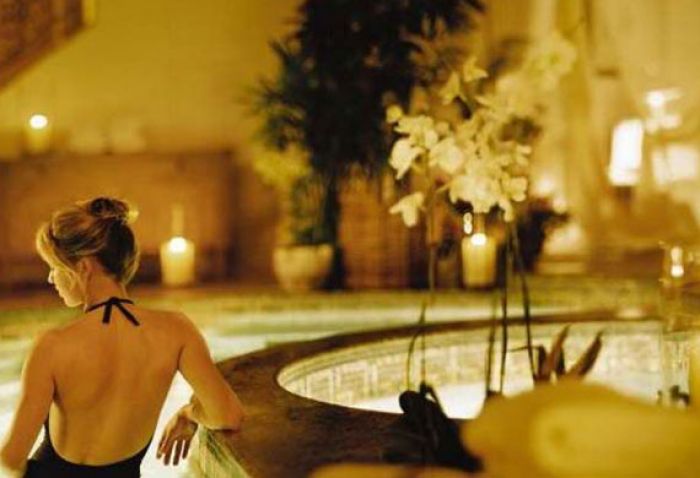 Grand Wailea Resort
on Maui is home to a 50,000-square-foot spa. Servicing up to 400 people a day while keeping a tranquil and uncrowded space is no sweat for this
luxury spa
, cultivating a unique concept of East meets West on the Shores of Hawaii with an extraordinary staff and assembly of
talented therapists
.
From the mosaic flooring to the grandiose Roman columns, the spa is like no other. With men's and women's facilities, the spa is sprawling yet feels comfortable and intimate at the same time. The Roman "West" element to the spa includes a Roman tub, cold plunge, eucalyptus steam and sauna. Off to the "East" with a 104 degree soaking tub, Japanese showers and cold plunge. A central water feature is sure to help soothe and relax while basking in the waters.



"The Shores of Hawaii" element of the spa is thrillingly original and beautifully conceptualized. Unique cascading waterfall features pump 1,000 gallons of water in less than three minutes. With seats and support bars, the directed flow is excellent for a massage in and of itself as the warm waters pour over patrons. Tropical showers are a rainstorm for your body, including your choice of hot, mild or cold waters which surround guests.


The most unique and exciting offering of the spa is the sea salt baths. Harvesting the salts from Molokai, the sea salt is directly from the ocean. Mixed with a variety of other elements, the themed baths have individual qualities, such as muscle relaxation, detoxification or hydration.

Each bath is named after a surrounding island and incorporates elements each island is known for - "Hawaii" bath includes ash from the volcano, appearing black. Also known for its wide array of orchids, this bath includes a vanilla orchid essence. "Maui" appears blue to simulate the sparkling waters off the romance isle. Coconut nectar infusions compliment the soothing, aromatic bath.


Complimentary mini-exfoliations are included with treatments and not to be passed over. Guests are encouraged to arrive at least an hour before treatments to experience the facility, and even that will feel too brief. Organic spa products are available at the spa shop and the sea salt baths can be experienced at home with product obtainable at the retail store.

Spa Grande is not to be missed while on the island of Maui. Whether staying at the Grand Wailea or stopping through, the experience is like no other. To make reservations or see a menu of services, visit grandwailea.com/spa-grande.

Photos Courtesy of Grand Wailea

"Hawaii" salt - volcanic ash and vanilla orchid

Halawa Bay on Molokai where the salt is harvested

Lobby of Spa Grande at Grand Wailea

Roman Bath at Spa Grande