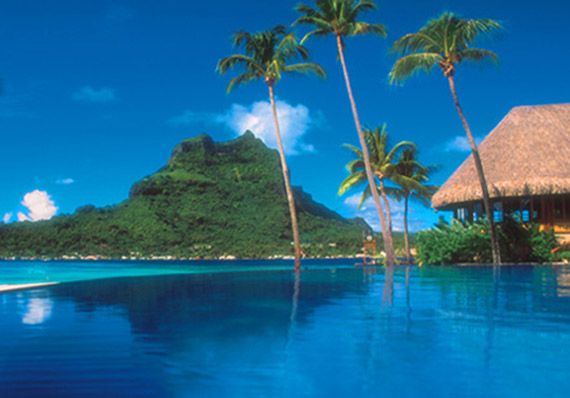 Photo Courtesy of Bora Bora Lagoon Resort
I don't think I will ever forget the look on my husband's face as the scene came into focus. The brilliant turquoise clarity of the water, and the topography of the land and surrounding islands were like nothing we had ever seen; sea life teeming just beneath the surface of the ocean and the luxuriously enchanting
over-water bungalows
that seemed to be part of the natural landscape. It was a combination of sheer disbelief accompanied by uncontrollable delight.
Lost, and yet found in the Pacific Ocean's eastern wing, resting within the Leeward Society Islands, gorgeous Bora Bora reigns supreme and untouchable in its effortless perfection. The jewel-like island beckons to lovers and island enthusiasts from her position in the stunning necklace that makes up the Tahitian island chain.

As we disembarked, we heard a lovely word, "Laorana," the traditional Tahitian greeting accompanied by a warm smile and a gentle helping hand that never seemed to leave us throughout the journey. Our destination was the Bora Bora Lagoon Resort & Spa, a superb representative of the Orient Express Collection of hotels, "an operation known for unparalleled commitment to luxurious accommodations, personalized service, and award winning cuisine."


Set apart from all of the other properties on Bora Bora and located on Motu Toopua (a much smaller island), the Bora Bora Lagoon Resort & Spa is a haven of luxury and tranquility unto itself, raising the bar on outstanding service despite its limited access to the outside world.

At the crest of Motu Toopua's tallest hill is Hiro's bell stone formation, an archeological treasure that rang out during religious ceremonies of years gone by. Today, despite the presence of the resort, Motu Toopua retains the sensibility of its sacred past; owned only by a limited number of local families, almost no one lives on the island. No roads have been carved, and the resort is connected to the main island only for the purposes of electricity to carry water to the hotel. All else remains untouched.



The 76 guest bungalows exude the natural beauty afforded throughout the region, with hardwood floors, bamboo, pandanau roofing, open-beam ceilings, tiki statues, and South Pacific-inspired fabrics. However Polynesian in its appearance, the property still maintains the little luxuries many of their guests prefer, such as internet access, air conditioning, an outrageously comfortable king-size bed, in-house DVD players, hair dryers, and so on. And although I am more of a "when in Rome" kind of girl myself, it's nice to know the amenities are there for those who seek them.


The over-water bungalows were designed with our curiosity in mind, boasting glass-top coffee tables for fish viewing and feeding. We weren't in our room for ten minutes before my husband vanished and then re-appeared from below to entertain me, along with a few scaly friends. The glass-top tables are an amazing touch, a constant reminder of where you are in the world. But the truth is, the views are amazing from everywhere. No matter where you look, you'll find the most incredible shade of turquoise, fascinating sea creatures, and a collection of islands that defy any normal land topography you've ever seen.

The food here is outstanding: the Otemanu Restaurant is the culinary highlight of the resort. Enormous windows framing exceptional views of Mt. Otemanu and the engaging blue waters of the lagoon are the backdrop to this tantalizing culinary experience. Showcasing the chef's take on local cuisine, the dishes are designed to dazzle the most discerning palate.

One of my favorite components to this great escape is the resort's Maru tree-top spa, which opened in 2004, the only one of its kind in Bora Bora. The spa features six treatment rooms (four water front) and two massage rooms built into almost-mythic Banyan trees. The Tahitian-based spa treatments offered at Maru use herbs and remedies that have been practiced in the South Pacific for hundreds of years. This is truly a magnificent place— a life-altering experience affording your body and mind the opportunity to let go and believe again, like you did perhaps when you were a child, in paradise, Eden, and the idea that fairytales can actually come true.


Other, perhaps less wondrous, activities on and around the property include tennis, swimming, fitness, volleyball, and billiards. Next are the water sports, such as snorkeling, windsurfing, Hobie cats, canoeing, and kayaking, all of which are a must. You also have the option, as we did, to participate in something a little more adventurous, like swimming with sharks. Here, in Bora Bora, you are reminded in moments like this that there is an incredible co-existence between man and creature— a natural synergy that is not only needed but embraced in a truly remarkable manner.

The Tahitian islands are about 11 hours from New York on non-stop service from JFK Airport. It may sound like a fairly arduous flight, but it's well worth the effort!