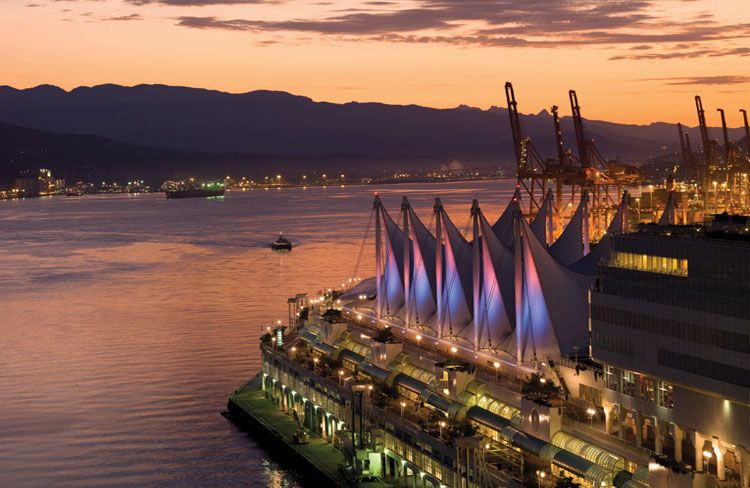 Photo Credit: Cynthia Dial/Fairmont Pacific Rim
Intimate encounters with wilderness is the prime focus at the secluded Sonora Resort in British Columbia, highlighted in Part One of this Canadian adventure. There, guests soak in mineral pools and join expeditions looking for for whales, orcas and grizzly bears. Fast forward to my helicopter return with a slight change in longitude, and the city comes to center stage. Ladies and gentlemen, meet Vancouver's Fairmont Pacific Rim. My re-entry into a faster pace was seamless—by private car from the heliport to the harbor (courtesy of the luxury hotel's BMW car service).
Photo Credit: Cynthia Dial
Situated on Vancouver's most prime of properties, Fairmont Pacific Rim's founding principle, "spare no expense," is apparent upon arrival. Its art is no exception, from the initial greeting of internationally acclaimed Liam Gillick's repeated line of Helvetica-style text wrapping the building's exterior to origami artist Joseph Wu's soaring lobby ceiling sculpture.
Photo Credit: Fairmont Pacific Rim
My 14th floor corner room had everything a guest can't pack—a two-sided floor-to-ceiling bathroom view (of the city, the harbor, and mountains beyond), a Japanese standing soak tub, and a chocolate "Chanel" bag welcome gift (its appearance so authentic that I tried to open it). Add to each of the 377 rooms Stearns & Foster beds, LCD televisions with surround-sound, iPad2 devices with interactive customer experience technology (Canada's first hotel offering this perk), along with Nespresso machines, and you have high style, high altitude living.
Photo Credit: Cynthia Dial
The hotel oozes with specialties. For one, top Sushi Chef Taka Omi showcases his talents in the Lobby Lounge, which are complemented by the creativity of über-talented mixologists. It's become Vancouver's favorite place to sip, swirl, and socialize, whether for afternoon tea or late night musical entertainment.

Each of the dining experiences is overseen by Executive Chef Darren Brown, a chef with celeb credits. He worked aboard Merv Griffin's 150-foot yacht in the French Riviera, cooked for celebrities such as the Princess of Spain, and lists world renowned Chef Alain Ducasse as an employer. Here, his kitchen is "full scratch" as everything is made in the hotel—from the breads to the baked goods to in-house pickling to curing and smoking fish—everything.
Photo Credit: Fairmont Pacific Rim
ORU is an edible reflection of Chef Brown's commitment to locally sourced food from the Pacific Northwest and flavors from the Pacific Rim. Its marble and stainless steel open kitchen makes diners feel a part of the process. And its offerings have become local favorites: Sake Cured Haida Gwaii Sablefish, chocolate desserts from Pastry Chef John (JJ) Hauser, and a collection of over 200 wine labels.

Giovane Café begins its day as a casual coffee bar (its sugar buns are renowned); then transforms into an intimate, dimly lit Italian wine bar and bistro overseen by wine sommelier Jill Spoor, who called Italy home for a decade.
Photo Credit: Fairmont Pacific Rim
Away from the hotel, there's no chance you'll go hungry. Fairmont Pacific Rim has partnered with the Vancouver Foodie Tours, giving guests an additional tasting experience. The tour is designed to make the delicious introduction of its walking participants to the city's lively food truck and food cart scene, with stops at such notables as Japadog (so popular, the Olympic wait was three hours) and Tacofino, known for fish tacos and an addictive sweet treat, the Diablo cookie.
Photo Credit: Cynthia Dial
Back at the hotel, it's the Willow Stream Spa where you'll head to relax, rejuvenate, and get back in the action. I'm a pushover for locally based spa treatments, so the maple sugar scrub and maple butter Coastal Mountain Body Wrap captured my attention. But it was the spacious outdoor deck punctuated by private Jacuzzis, seating around fire pits, and meditation pods—all overlooking its downtown view—that will beckon me back.

Pick your cliché—best of the best, Champagne tastes, caviar dreams—whatever your choice, it will fit as this Canadian resort really is luxe-loaded.