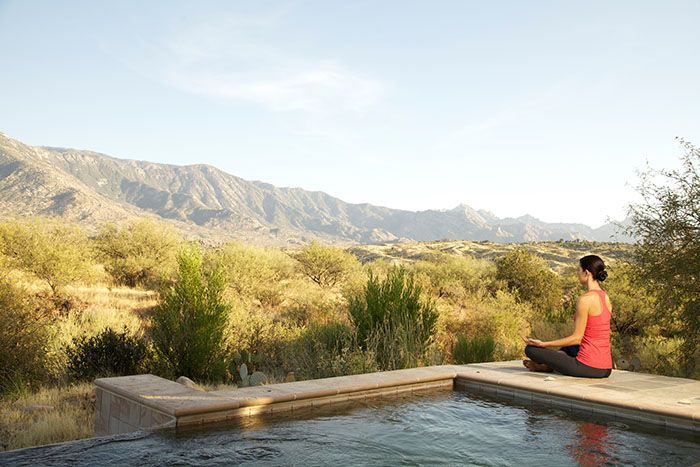 Photo Courtesy Miraval 2014
Imagine a place that is as serene as it is luxurious, and as rich in self-discovery as it is in world-class amenities. Miraval Resort & Spa located in Tucson, Arizona is a place unlike any other, dedicated to creating personal experiences that are both balanced and rewarding.
Spread across 400 acres of idyllic dessert land are 117 casita-style luxury spa accommodations and suites offering breathtaking views of Tucson's Santa Catalina Mountains. The property features a wide array of activities, each specially designed to enhance the mind, body and spirit. The resort's wellbeing specialists are dedicated to helping guests become more aware of themselves and their surroundings.
With choice being the guiding principle at Miraval Resort & Spa, guests are able to discover the activities, experiences and personal treatments that work best for them, promoting individual growth and self-awareness. Among the activities available, include:
Art and Photography
Equine
Exercise Physiology
Fitness and Pilates
Golf and Tennis
Healthy Living Lecture
Integrative Wellness
Meditation and Yoga
Nutrition & Culinary
Outdoor Adventure and Challenge
Just as impressive as the selection of wellness activities are the property's luxuriously appointed accommodations. The 117 luxury spa guest rooms and suites are grouped in six villages, and each feature a variety of responsibly sourced and sustainable materials.
The Villas at Miraval Resort & Spa are available for rental as well as private ownership. Each private villa features two master suites, a private patio with dining area, gas fire pit and endless pool, a great room with cascading glass doors for indoor/outdoor living, an expansive gourmet kitchen, as well as state-of-the-art technology throughout.
Miraval Resort & Spa is more than just a destination. It's an experience.