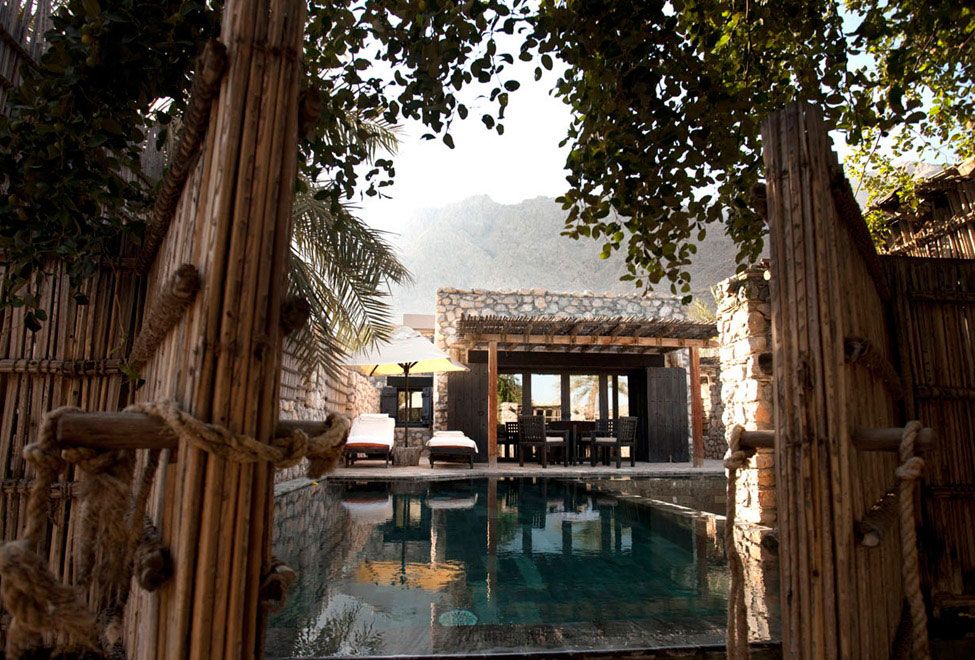 Photos Credit: Six Senses Zighy Bay
Although Dubai has become a major international travel hub in recent years—thanks to the exponential expansion of Emirates' fleet and route network—most travelers seem just to spend a single night in the United Arab Emirates en route to somewhere else. However, just a 90-minute drive from Dubai's glittering skyscrapers, extravagant malls and see-and-be-seen culture lies in one of the world's most secluded, under-the-radar luxury destinations: Oman's Musandam Peninsula. It is also home to one of the Middle East's most luxurious retreats, Six Senses Zighy Bay.
The drive from the Dubai Airport takes you through the rocky desert terrain and buttoned-up outposts of some of the lesser-known Emirates like Sharjah and Ras al-Khaimah. Once you reach the coast again and pass the single border-crossing kiosk, it is just a 20-minute drive past little Omani villages to the nearly-camouflaged entrance of the resort. Here is where things get interesting.
Arriving guests can either take a vertiginous, winding driveway up and then back down the spine of a mountain ridge, white-knuckling it along the myriad hairpin turns, or they can opt to stop at the glider port at the top. If the latter, they'll float down to the resort on a paraglider while getting a bird's-eye view of the dramatic coast, including the area's famous fjords, and the jagged peaks (some reaching 9,000 feet) that tower over the resort.
The resort itself sits on a mile-long, white-sand beach. The only other evidence of man is a small fishing village at the southern end. No other development has been or will be allowed here, so you have the beach practically to yourself, and the sea turtles you occasionally find drifting in the waves.
The resort is laid out like a typical Omani fishing village, its buildings simply constructed of local wood and timber, scattered among groves of date palms. Each of the freestanding villas, including 20 suites, is a compound unto itself. They are modeled on traditional homes from the area with plenty of communal space both in their shady interiors and oversized private courtyards. You would be hard-pressed to find a fisherman's home with the deluxe touches that abound in these abodes, though.
Many boast enormous enclosed courtyards with their own private pools inlayed with beautiful charcoal-green tiles that catch the sunlight but not the glare. They also offer decks with small dining tables and sun loungers, shaded sofas and daybeds, and even semi-open shelters called majlis with sectionals and cushions for enjoying the balmy temperatures without the intensity of the sun. The wooden gates that separate these courtyards from the communal paths between villas can be opened (right onto the beach in some cases).
Inside, villas include spacious living rooms with sofas and chairs grouped around low tables (often set for a game of chess, or laden with platters of dates, nuts and fresh pastries from the kitchen), a work desk, a flat-panel TV, and the minibar occupying a handsome wooden armoire, stocked with gourmet treats and a wine fridge with an international collection of vintages.
Bedrooms are simple but tasteful, utilizing natural light filtering in through the windows, but also with beautifully-crafted hanging lamps. The stone and stucco bathrooms offer deep soaking tubs, separate showers and WC's. A connecting door leads to the outside where you'll find another courtyard complete with an outdoor shower shaded by a thatched roof and date palms. Spa suites even include their own private treatment rooms off this front courtyard.
Among the many activities guests can enjoy are day-long dhow cruises through the area's famous fjords, guided kayaking trips, deep-sea fishing, and snorkeling along pristine coral reefs where stingrays and sea turtles make their home. Back on land, there are desert safaris and four-by-four excursions as well as mountain biking, paragliding and more. When it's time to relax, the Six Senses Spa offers a quiet hideaway with two Moroccan-style hammams, a menu of Ayurvedic-inspired treatments, and the unique Wonders of Oman three-hour treatment that uses traditional local healing ingredients including dates, honey and almond powder to revitalize the skin and soothe tired muscles.
The resort has a tranquil, free-form infinity pool lined by orange-cushioned loungers and palm trees where the staff routinely comes around with treats such as sorbet and cold juices. There is also a separate saltwater swimming pool at the south end of the resort with plenty of lounge areas and a little island in the middle. The little beach area is comprised of rows of loungers and white umbrellas, though it's often deserted thanks to the plethora of private sunning spots.
Among the dining experiences on property, The Spice Market is the signature Middle Eastern restaurant, where you can feast on traditional Arabic specialties including an opulent mezze platter, as well as local dishes such as fresh whole-grilled fish marinated in local spices, or the famous Omani lobster.
Summer House is more casual with a menu of Western options including salads, burgers and pastas during the day, with more exotic dishes at night, including coconut-poached chicken breast with lime leaf, bok choy, lemongrass and coriander; or chili crab and coriander parcels served with spiced tamarind-mango salsa. The open-air Zighy Bar offers cocktails and juices all day and evening overlooking the pool area.
On Monday and Thursday, guests can enjoy the Bedouin-inspired, family-style Shua Shack dinner including local organic salads and lamb slow roasted in an underground oven. For something a little more private guests reserve the Wine Cellar for a special dinner amongst the hotel's collection of wines. The showstopper experience, however, has to be Sense on the Edge, a special dining room and deck set on the mountain nearly 1,000 feet above sea level where guests can choose from three-, five-, and seven-course tasting menus as they take in the stunning panoramas of the surrounding valleys and the coast.
The venue is open Thursday-Sunday, with special menus that include local meats and seafood as well as produce from the resort's own organic garden. Dishes may include local scallops with laban, dill, cucumber and piccalilli; and milk-fed lamb with caramelized yogurt, aubergine, basil and whipped ricotta. Even after a meal like that, though, you'll be hungry to discover more of Oman and the Musandam Peninsula. Six Senses Zighy Bay is the perfect place to do just that.