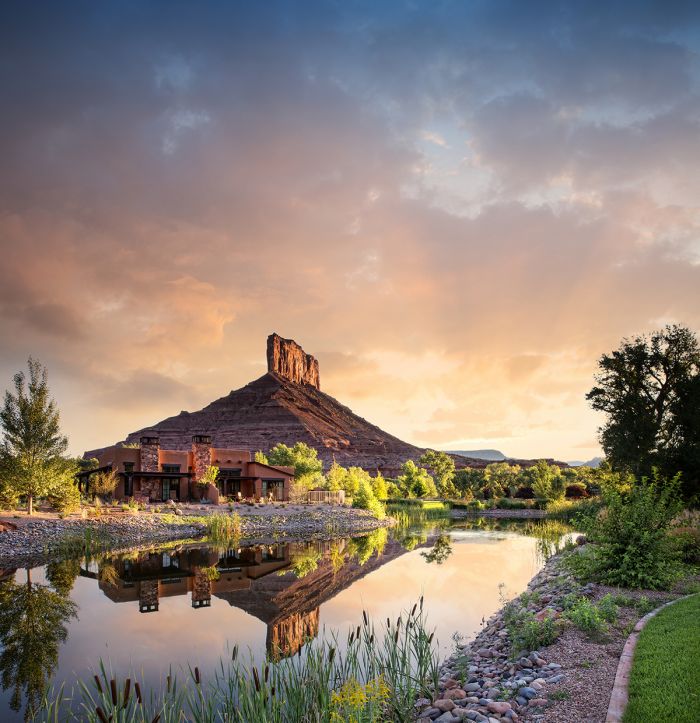 Courtesy of Gateway Canyons Resort & Spa
Unspoiled locales of the American West are still out there: the high red walls of canyons, crystal clear waters of natural rivers, cinnamon-dusted hiking trails that lead to panoramic views of unmarred grandeur. One such location can be found one hour south of Grand Junction, Colorado or two hours from Moab, Utah: Gateway Canyons. Cloistered in the junction of five canyons, the picturesque site is home to Gateway Canyons Resort & Spa.
Started by John Hendricks, Founder and former Chairman of global media company Discovery Communications (you may know some of their digital channels such as Discovery Channel, Animal Planet, and TLC) the lifelong awareness of curiosity, adventure and conversation can be felt in the resort he decided to build.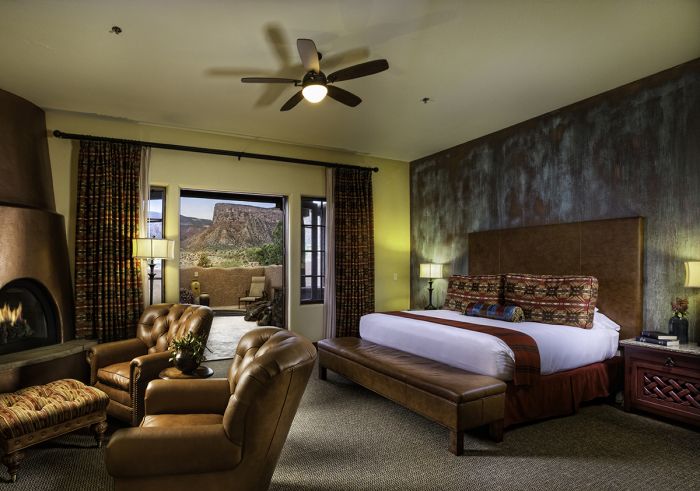 Courtesy of Gateway Canyons Resort & Spa
Home to 58 guest rooms and suites as well as 14 Palisade Casitas, the resort is located on over 100 acres with access to over 6,000 pristine acres so guests feel as if they have the place to themselves, even when at high occupancy. The towering Palisade rock formation overlooking the grounds almost makes you feel as if you're on a western movie set or in the middle of a nature documentary. For thrilling adventures, guests can enjoy luxury car rentals or private helicopter tours of the canyons, all arranged on property at the Adventure Center. Complimentary cruiser bikes help you navigate the lush grounds, whether heading to the pool and pool bar or pedaling over to the spa under a canopy of cottonwoods, through well-manicured landscaping.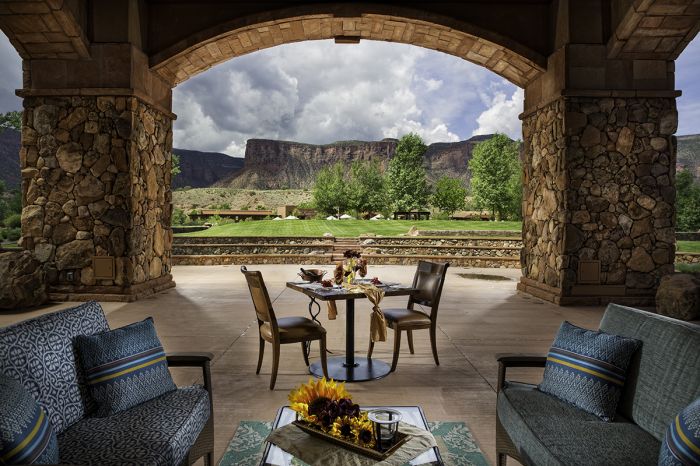 Courtesy of Gateway Canyons Resort & Spa
Recently added to, the Spa at Gateway is home to cozy nooks in the waiting area to outdoor hot tubs in each the men's and women's lounges. An infrared sauna and piping hot steam room are also amenities to be enjoyed. Comfortable treatment rooms pair with the natural approach in the high-desert location, pulling from elemental experiences to be had. Use of the facility is included in the resort fee, but a massage or signature treatment is highly recommended by knowledgeable and friendly staff. Custom treatments are also a specialty of the spa.
Rooms at Canyons Ranch Resort can be found in Kiva Lodge, Kayenta Lodge and the private Palisade Casitas. Ranging in size and amenities, the curated design flows through the accommodations and the rest of the resort; dark woods, fabric artworks, plush materials abound on the property, further adding to the depth of design. Private balconies and firepits accompany many of the lodging, while upgraded rooms also have in-ground hot tubs.
A unique aspect to the resort is the Gateway Auto Museum. Rivaling assemblages on either coast, the curated collection of vintage and contemporary cars is impressive. Harken back to the beginning of auto history with Model T's or enjoy the extremely rare 1954 Oldsmobile F-88 concept car, the complimentary museum is definitely worth checking out, whether a car enthusiast or not.
Dining at Canyons Ranch Resort can be found at the Entrada Restaurant, Paradox Grille, Kiva Café, poolside Cantina, or off-premise Duesey's Diner. Southwestern, seasonal cuisine is a well-placed pairing with the Palisade backdrop to be had on the numerous patios and lounges on property. Guests staying for an extended time will want to be mindful of their menu choices and reservations at Entrada; as there is no "downtown Gateway" to wander to, the resort is home to the only dining options around.
Gateway Canyons Resort & Spa is a wonderful luxury vacation to be had in the unspoiled American West. The comfortable accommodations, attention to service, luxurious pool and spa and numerous adventure options have something for everyone. A chance to unplug, relax, and take in the natural splendor, Gateway Canyons rates and reservation information can be found at www.gatewaycanyons.com
Courtesy of Gateway Canyons Resort & Spa
Fine dining options can be found on the property, with seasonal selections on menus that harken to Southwest cuisine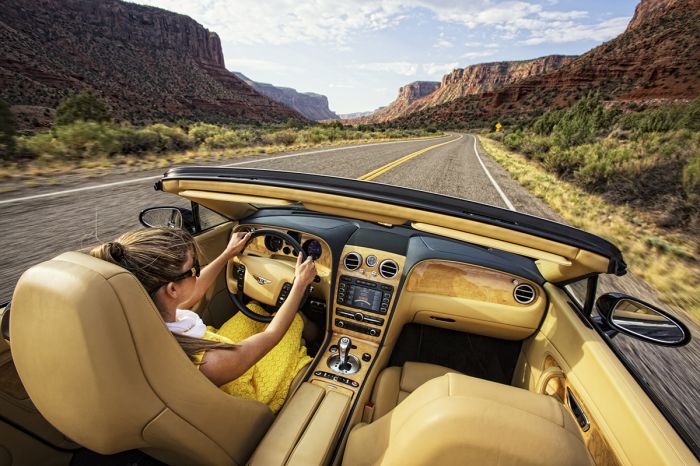 Courtesy of Gateway Canyons Resort & Spa
Rent a Bentley from the Adventure Center to drive the stunning canyons surrounding the property.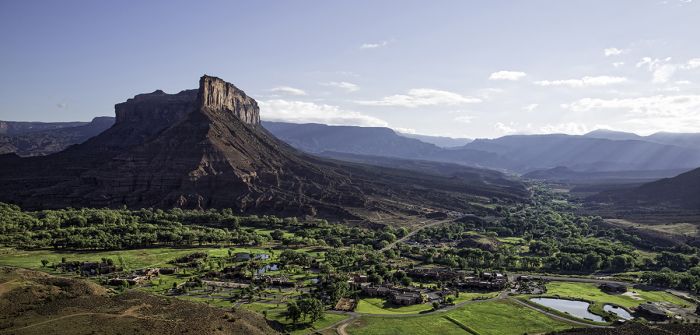 Courtesy of Gateway Canyons Resort & Spa
The layout of the resort makes guests feel as if they have the place to themselves.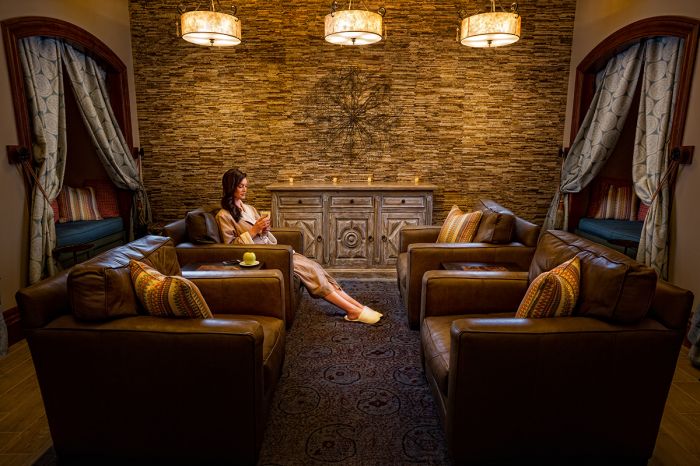 Courtesy of Gateway Canyons Resort & Spa
Cozy nooks in the spa are a perfect place to read a favorite magazine or take a quick nap.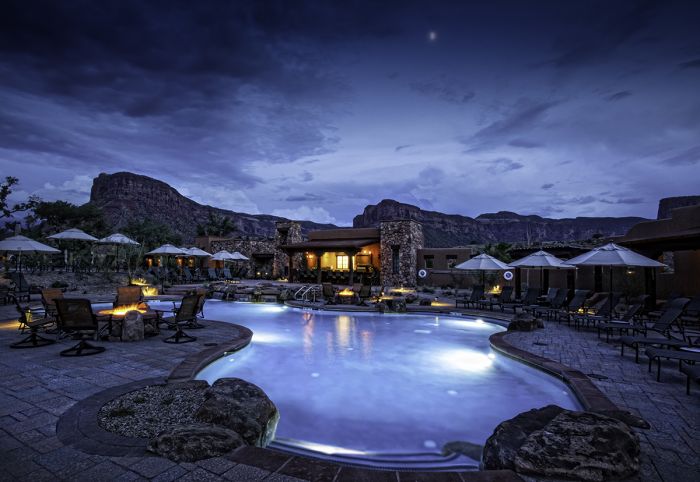 Courtesy of Gateway Canyons Resort & Spa
The Palisade Pool, aptly named for the stone structure towering over the canyon below.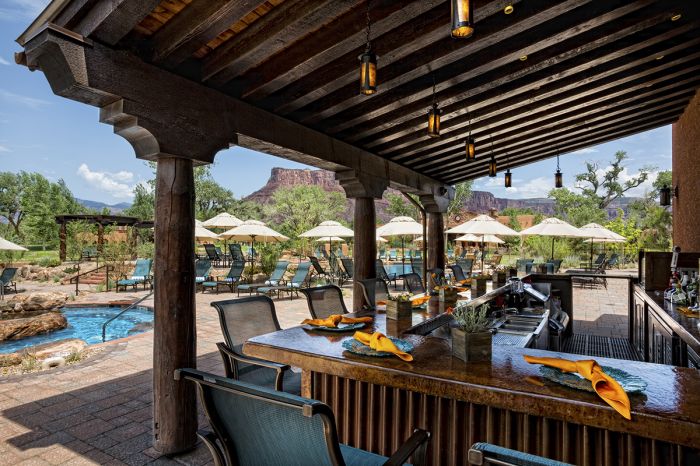 Courtesy of Gateway Canyons Resort & Spa
The bar adjacent to the pool is a great place to order a refreshing Prickly Pear Margarita or gooey quesadilla while catching some rays.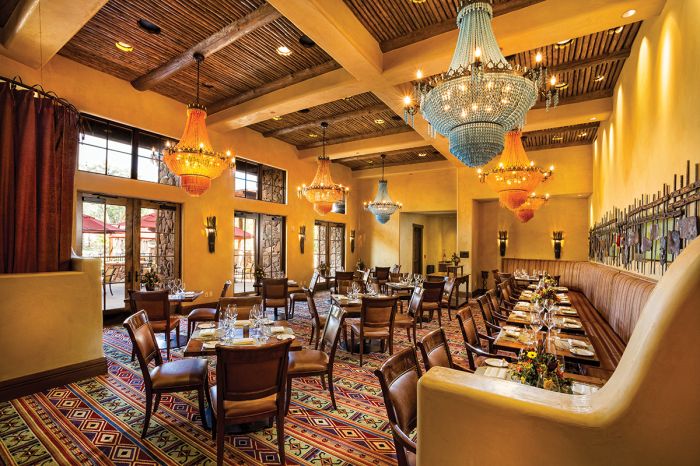 Courtesy of Gateway Canyons Resort & Spa
The dining room of Entrada a stately backdrop to a memorable meal.