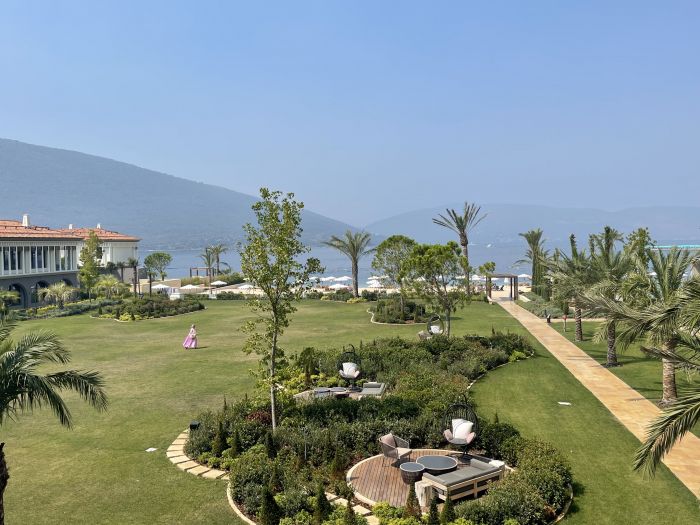 Whitney Spielfogel
In a post-pandemic world, the hotel industry is learning to speak a different language – mobile concierge, contactless technology, going (even more) digital, low-touch travel, enhanced hygiene, and the list goes on. The One&Only hotel group has always been on the cutting-edge of travelers' wants, needs, and demands, and has only stepped up its game in these heightened times. People are eager to get out there again and to make their time away unforgettable, and there's no better chain to do so with than the One&Only.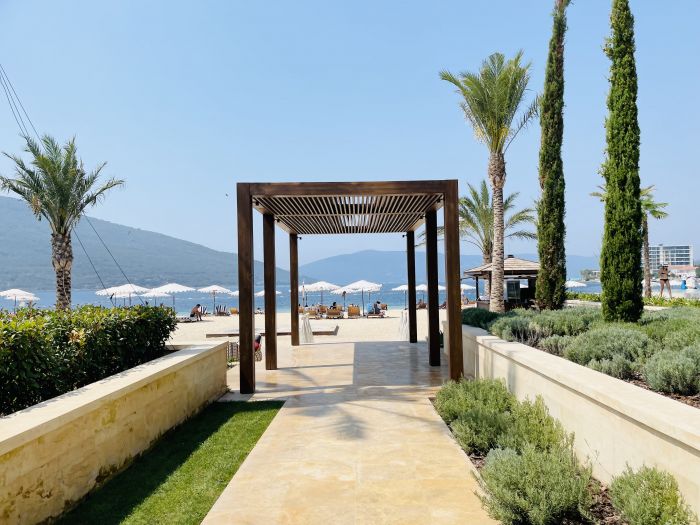 Whitney Spielfogel
Believe it or not, the pandemic saw its fair share of hotel debuts and the One&Only Portonovi, in the country of Montenegro, opened its doors this past Spring and welcomed guests with masked hellos. With rugged mountains, mirror-like lakes, medieval villages, blissful beaches, and yacht-filled marinas, the country of Montenegro is one of Europe's lesser-known jewels.
On a serene stretch of the Mediterranean, Montenegro has an almost otherworldly feel about it – a perfect location to continue to socially distance and truly get off the grid – and an ideal spot for the One&Only's first European property. A relaxed alternative to its neighboring countries of Croatia and Italy, guests can spend time embracing the simplicity of just being. While Montenegro has been on the cusp of becoming the "New Riviera" for quite some time, the arrival of One&Only Portonovi has elevated the level of luxury available in the Balkan country, which will most certainly put this locale on the worldwide map in the coming years. While this property is remote in nature, it's quite accessible, with guests flying into the Dubrovnik, Croatia international airport and then the hotel will arrange for a private hour-long car ride across the border.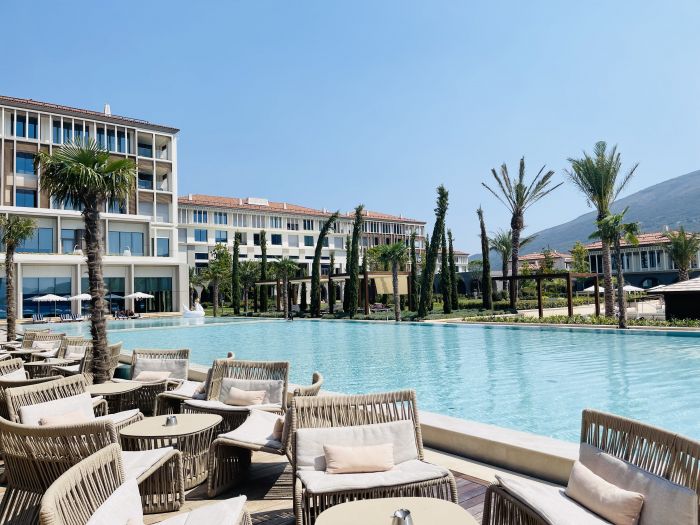 Whitney Spielfogel
Sitting elegantly on Adriatic shores, with the beauty of the World Heritage site of Boka Bay surrounding you, where mountains fade into the shoreline of the sea, you'll check into the sophisticated One&Only Portonovi, where palace-inspired accommodations and best-in-class service awaits. Between the scenic on property private beach, the cutting-edge Chenot Espace Spa and Wellness Center, and cuisine by the Michelin-starred chef Giorgio Locatelli, the resort is ready for its visitors, and trust me when I say, you'll never want to leave this luxury playground.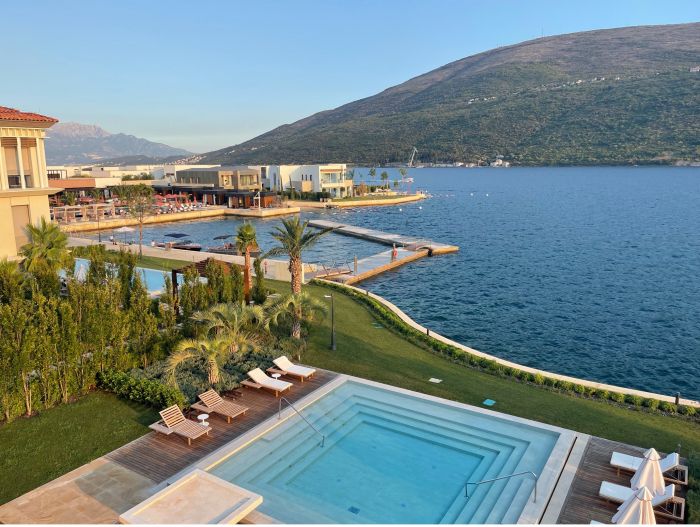 Whitney Spielfogel
The resort is part of the larger Portonovi lifestyle development, an enclave that also features a helipad and a superyacht marina, as well as home to 20+ shops and restaurants, all within a short walk of the hotel's epicenter. While other parts of the Portonovi compound have yet to be completed, the One&Only 100+ rooms, suites and villas are finished and best-in-style. Most resort accommodations feature expansive bathrooms, furnished terraces, cozy fireplaces, and floor-to-ceiling windows showcasing mountain, marina or bay views – all of which are truly spectacular. If you are looking to make your time at the One&Only Portonovi more permanent (which went through my mind several times during my stay), the resort also has a handful of three- and four-bedroom One&Only private homes available for sale, each with a pool, internal courtyard, beach and boat jetty access.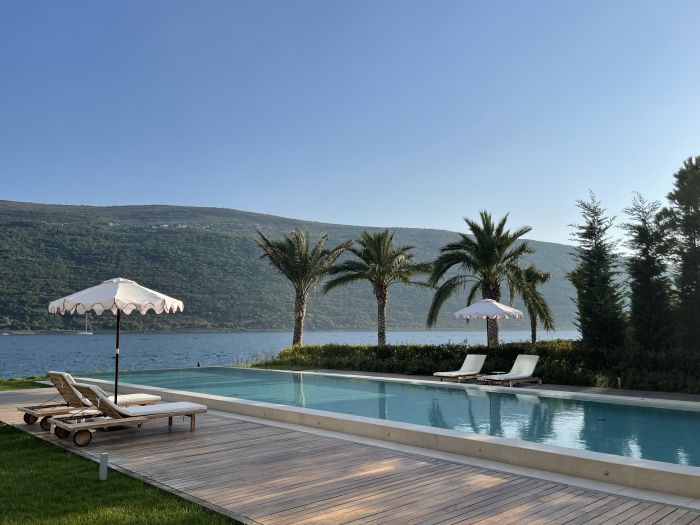 Whitney Spielfogel
In addition to the hotel's stunning accommodations and pristine property, beautiful private beach and blissful pools, and extraordinary on-site restaurants, the One&Only Portonovi has a world-class tennis club. I can confidently add in "world-class" since the world's #1 tennis player Novak Djokovic was training here for the US Open this past summer, staying with his family on-site and practicing at the Portonovi complex for over a month. Beyond these state-of-the-art offerings, there's also a cutting-edge fitness center and an expansive kids club, which all add to the list of luxury facilities at the One&Only Portonovi. This Montenegro hotel is certainly taking things to the next level, tying sports and activities seamlessly into its five-star amenities.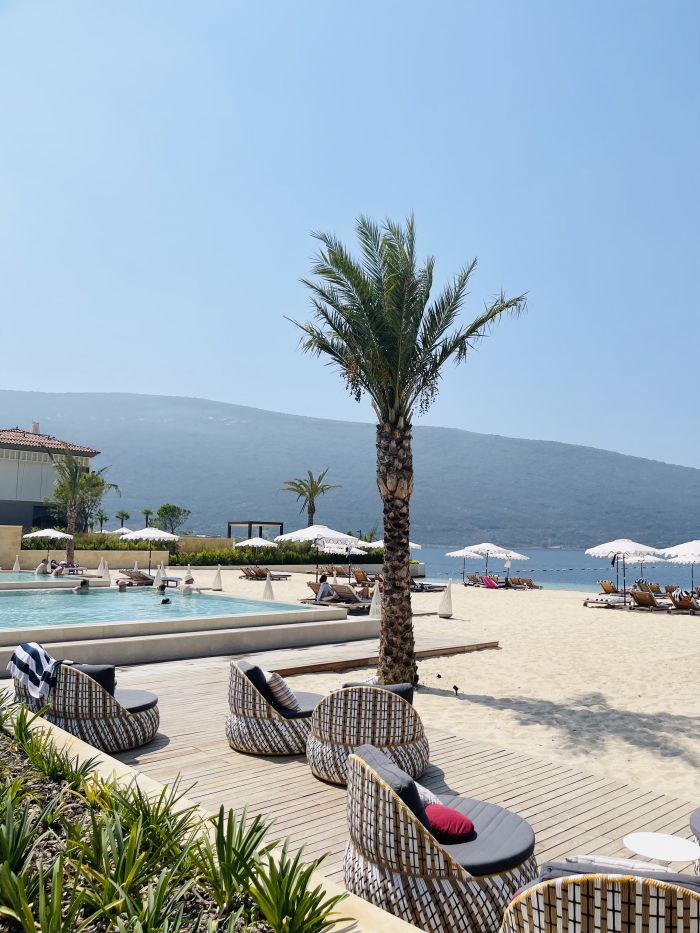 Whitney Spielfogel
This brand-new resort in Montenegro's Bay of Kotor is losing no time in making a name for itself as the most sought-after address for active vacation by the Adriatic Sea.
The time is now to start planning that upcoming proper summer holiday. And if you're lucky enough, you might even spot Novak Djovonik training at the Tipsarevic Tennis Academy again next summer. He will be hungrier than ever to redeem himself on the world stage after last summer's US Open loss, as he continues his journey as the greatest tennis player of all time. Montenegro is currently open to international travelers who present proof of full vaccination, or a negative Covid-19 PCR test taken within 72 hours of arrival.