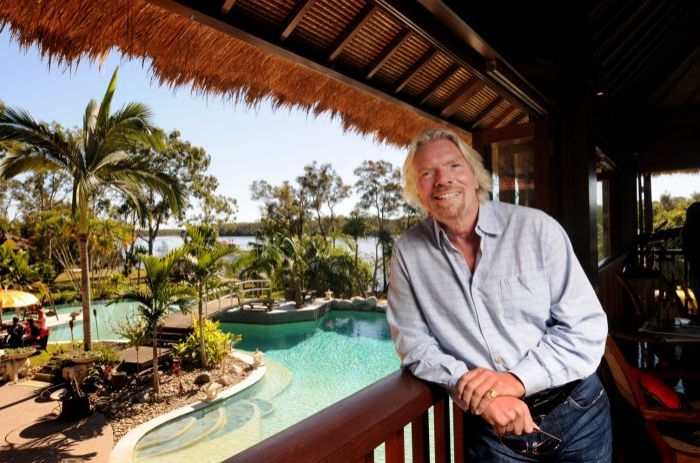 All images credit Makepeace Island
There are two levels of privilege and exclusivity. For some, it's flying first class and for others, it's traveling by private jet. For some, it's great seats at the Rolling Stones concert and for others, it's a private sky box and backstage passes after the concert. The same can be said for how one goes on holiday. For most, it's the penthouse suite and for others, it's a private villa. But for billionaires, multi-millionaires, and the occasional millionaire, there's another level of a holiday. For this echelon, there's nothing more than one could attain than to holiday on your own private island such as you'll find in Australia at Richard Branson's Makepeace Island.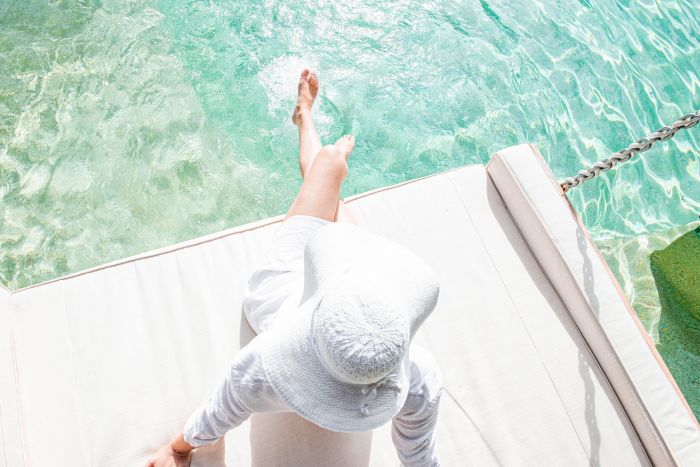 The private hideaway really reminds one of Fantasy Island; private and reserved for just yourself and up to 21 closest friends and family. It is one of those places where once you are picked up from their ferry, everything is taken care of. The riverboat chauffeur collects you, your guests, and baggage for the twenty-minute ride past the mangroves and a clutch of waterfront mansions of the Hamptons-like community of Noosa in Queensland Australia. Upon your arrival, the entire staff is waiting on the pier in a greeting line as if to indicate that they are all there to be at your service, and shortly you'll find out that is exactly the case.
The 25-acre estate is surrounded by the Noosa River with the majority of the isle left undeveloped and in a natural state. On the island, there is a large open-air pavilion, common areas, and a gorgeous pool, all of which are surrounded by manicured gardens and tropical forests.
The property is completely private and rented to one group of up to 22 guests by the week. The accommodations include several villas and the boat house which acts as the pier as well as two unique waterside abodes. The rate includes meals, transfers to the Noosa, and watersports. Spirits and wine are at an additional cost.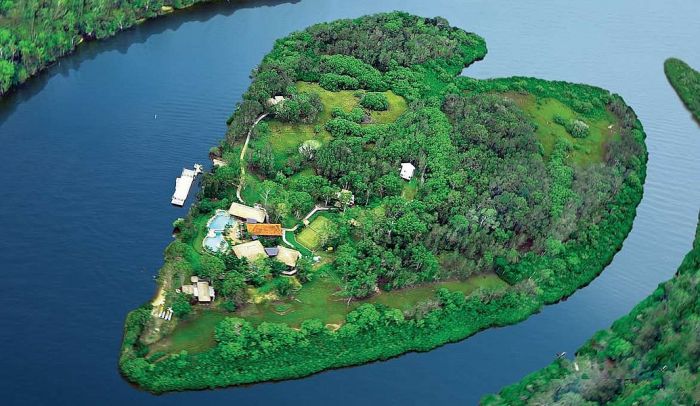 The island is a nature sanctuary you'll be surrounded by chirping, cooing, and warbling birdsong offering glimpses of these beautiful avian creatures perched, flittering, or darting about. Closer to the ground there are diverse species of flora and fauna as well as kangaroos, wallabies, echidnas, iguanas, and other creatures to spot from the numerous walking trails that crisscross the island. The small island is situated in the center of the river, so you'll see small water crafts coming and going as well as mesmerizing views of the river scenery to explore from your deck or paddle boards and kayaks.
This is a barefoot luxury where guests can do as much as they want from watersports and tennis to lazing about the pool or forays into Australia's swanky version of Martha's Vineyard, Noosa. But really it's about spending time and reconnecting with loved ones. It's also about having that much-needed relaxing time while being surrounded by nature and where everything whim is taken care of by the island's doting staff.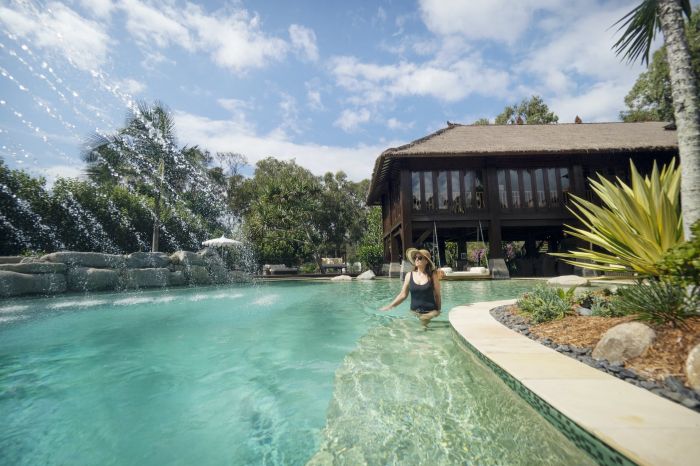 The name Makepeace island sounds like some marketing happy talk but it is actually the name of the island's former owner, Hannah Makepeace. As if that isn't corny enough, the island is formed in the shape of a heart. Really?! Yes. The story goes that Hannah was the longtime housekeeper of the homestead who inherited the island from its childless owners one hundred years ago. In this almost too good to be a true story, Richard Branson along with a few friends purchased the island and transformed it into a cliché-worthy paradise. A private, secluded, lush, and verdant place with airy spaces for close ones to create cherished memories, was what they set out to achieve. It is apparent that this was one mission accomplished.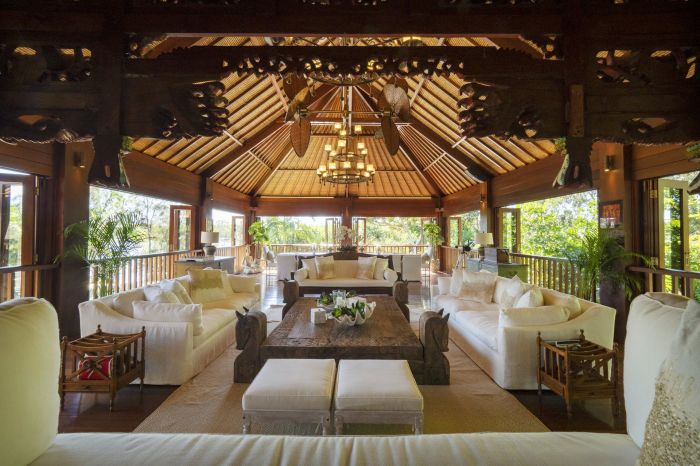 After guests are received by the staff greeting party, they are escorted to a champagne reception in the Balinese wantilan which is a two-story open-air thatch roof pavilion. It is there that the guests begin to understand what is in store. A contemporary yet relaxed tropical ambiance styled with Balinese décor and where the standard of service means that every care and whim is anticipated and provided for by the capable staff.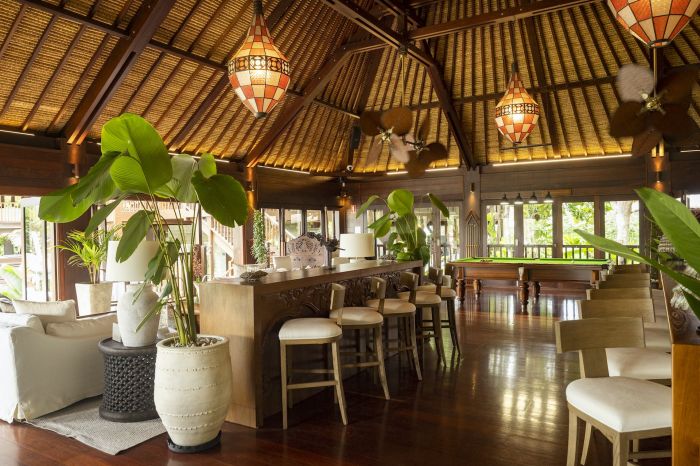 The architecture and interior design feature a Balinese aesthetic with uber comfortable silk furnishings, teak, granite, and stone finishes as well as intricate Indonesian sculptures, antiques, and art pieces. In fact, several of the buildings as well as most of the furnishings and adornments were fabricated in Bali, later to be transported and reassembled on the island. The tropical island design theme is ideal for this tranquil and rejuvenating place that is part of Australia yet feels so far away from it all.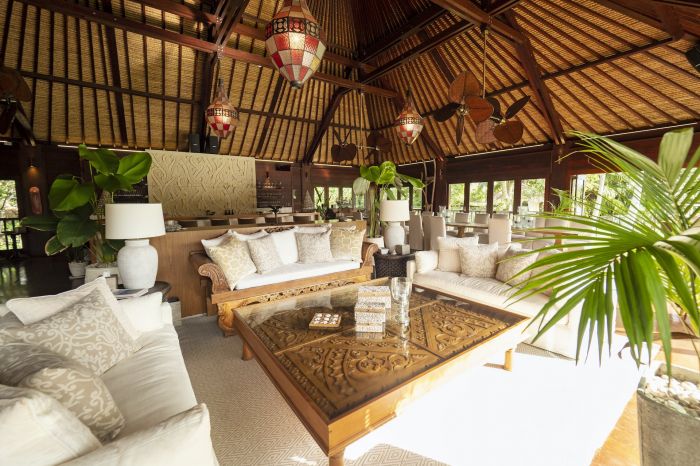 The facilities are extensive with a second open-plan pavilion made for long nights of entertainment and camaraderie with a long bar, sitting areas as well as a games area with a billiards table, and a selection of musical instruments including a piano, bongos, and didgeridoo. Elsewhere there is a media room and library as well as tennis courts and gymnasium.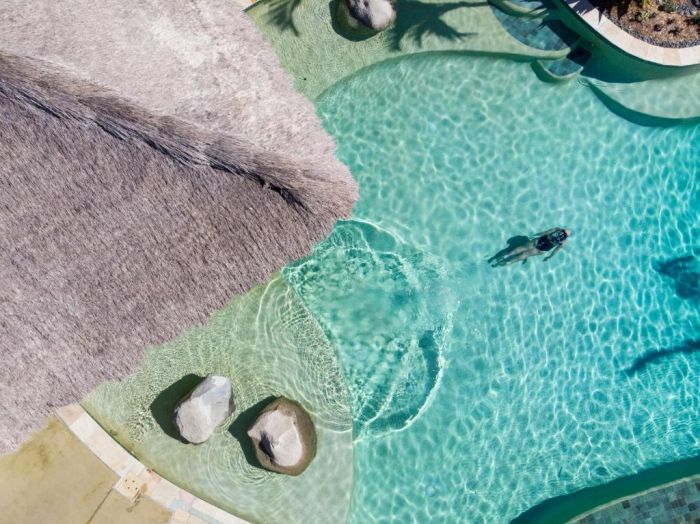 Beyond the beauty of the surrounding nature and manicured grounds, the most compelling feature is the pool. The expansive free-form pool is vacation eye candy with an arched bridge leading from one side to the other and trickling fountains as well as a 15-seater hot tub. There's even a central island of its own with a table and umbrella ideal for a light lunch for two. The pool is truly a beautiful site with a swinging sofa and egg-shaped wicker lounges over the pool. This is the ideal place for friends and families to cool off, for water games, or just to laze about and take in some sun.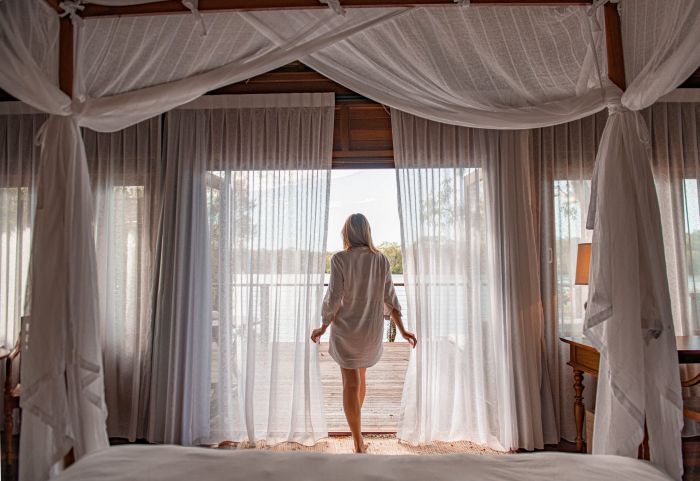 The accommodations exude barefoot luxury as well and are designed for privacy, relaxation, and comfort with contemporary design features and first-rate amenities, and twice-a-day cleaning services. The tropical design offers straw thatch roofs, bamboo materials, teak wood floors, and natural stone features throughout. There are several options to choose from including three expansive two-bedroom villas, four rooms in the island house, and two units in the boathouse.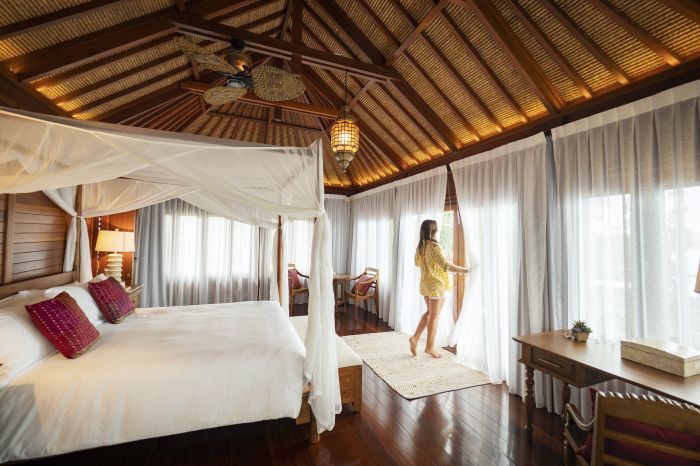 The villas are the most opulent, spacious, and secluded away from the main area. Along a wooden boardwalk, guests enter through carved wooden doors into a foyer area with a lush tropical garden with palm trees, a waterfall, and a koi pond. Indoors the interiors are richly designed with an island chic aesthetic throughout the two bedrooms and living room. The master bedroom features a four-poster master bed and extending verandas with table settings and chaise lounges overlooking the river or gardens. The open-air bathroom is nothing short of decadent with a bath carved from a volcanic boulder.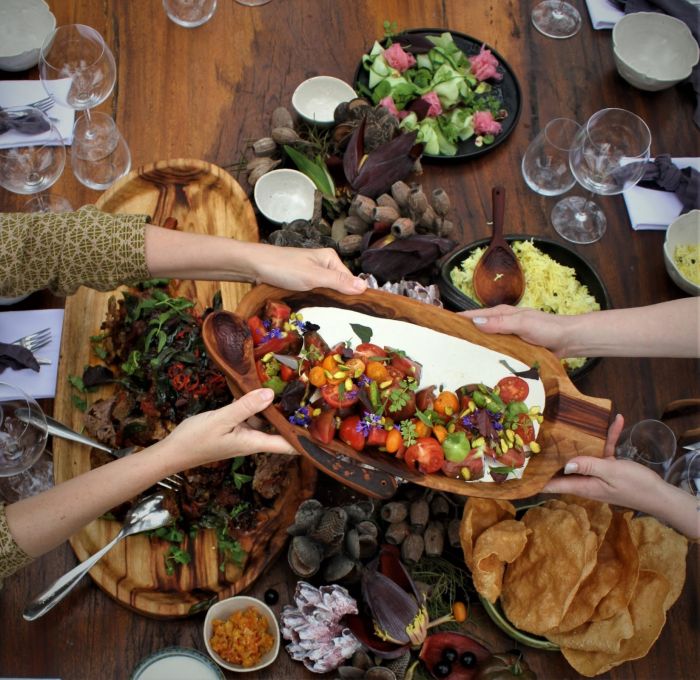 Dining is as you wish and where you which includes in the lounge, at the bar, poolside, or in your villa. Meals are provided courtesy of their talented gourmet chef and include breakfast, lunch, and dinner as well as afternoon tea and canapes at sunset. The fine dining menu is planned with the culinary team to take into consideration any dietary concerns as well as the dining choices of the guests. Beyond the culinary experience tailored to suit hotel guests, the ingredients are locally sourced, with a strong emphasis on fresh produce, and sustainable ingredients. and vegan options.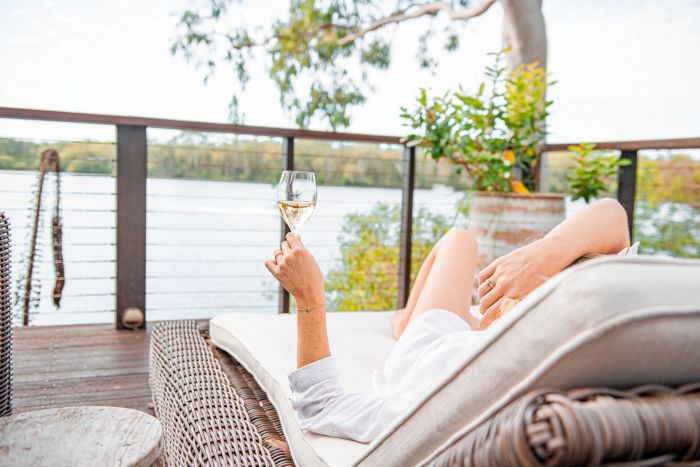 Most will want to make use of time around the island sharing time with their loved ones or just some down time to recharge their batteries. Tennis, kayaking, stand-up paddle boarding, and Hobie cats are all available or guests can have massage treatments or spa services arranged. Beyond the island, forays into the cosmopolitan town of Noosa are an option as well for an alfresco lunch at a trendy café or perhaps a bit of retail therapy at the posh shops along Hastings Street, their laidback version of Rodeo Drive.
One unmissable experience is to partake in the sunset tour along the Noosa River. There is something special about the golden light in Noosa and especially on the river. It seems that the entire area is coated in a golden fog as if seen through yellow-tinted glasses. The boat, the Hannah, named after the former owner, glides through the river while guests enjoy champagne and canapes and the gorgeous natural scenery around them.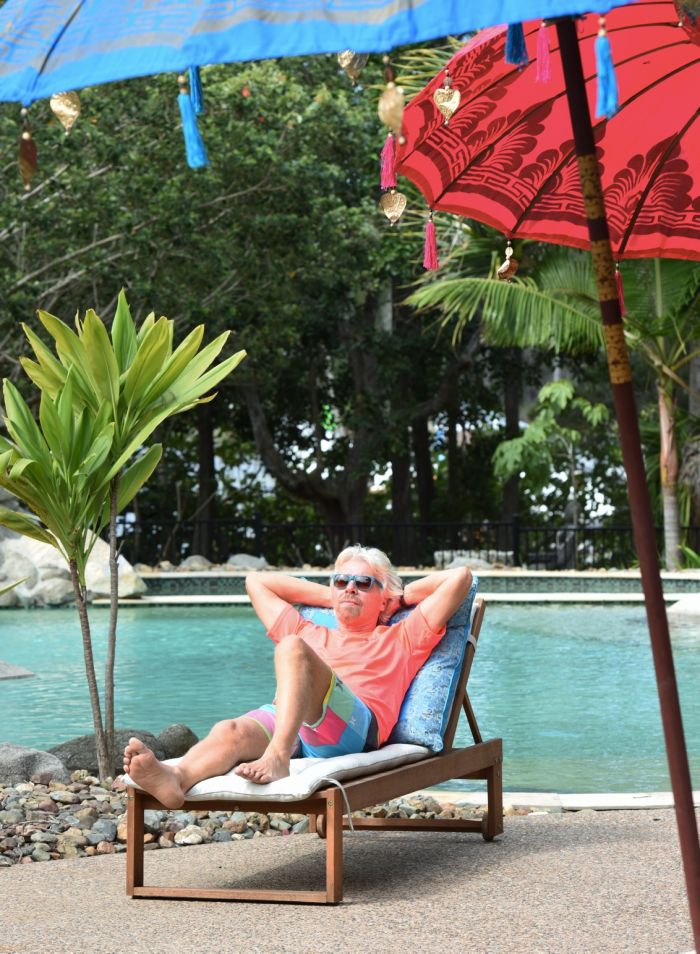 As recent times have shown us, life is short. The ability to spend special moments with those we care most about is priceless, no matter how many zeros are behind the number in your bank account. Makepeace Island is one of those places that facilitate moments to be cherished with those we love most.