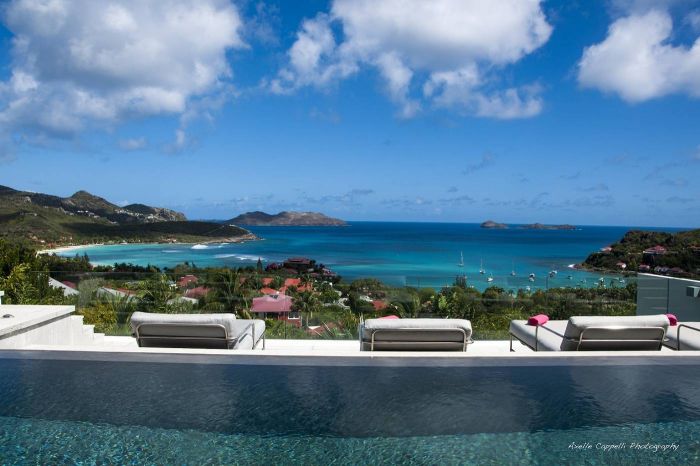 Photos Credit: St. Barth Properties
St. Barth's is one of the most beautiful and exclusive destinations in the Caribbean, and utterly unique in the way it brings a dose of French glamour and sophistication to island life. Of course there are lots of great resorts to stay at, but even the most lavish hotel suite doesn't afford the privacy and luxury of a private villa. In St. Barth's of course private villas are preferred by many of the island's rich and famous visitors, and St. Barth Properties is their go-to, with good reason. They've been in the business since 1989 and have amassed an impressive portfolio of dozens of rental properties ranging from one-bedroom romantic retreats to eight-bedroom celebrity-worthy estates.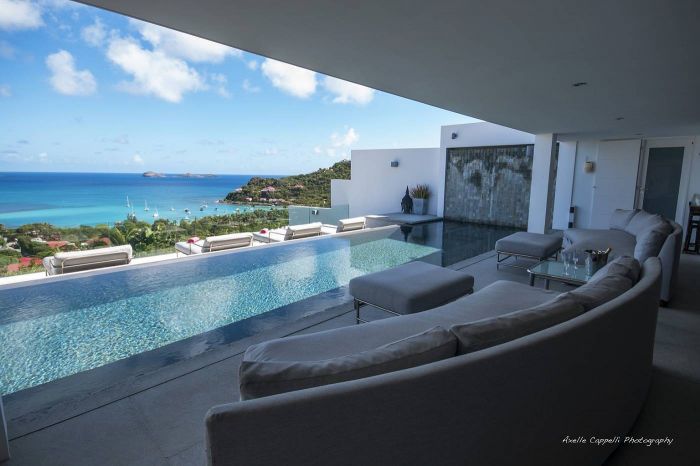 On a recent visit to St. Barth's we checked out one of their poshest offerings, the three-bedroom Villa Perle, a contemporary beauty in St. Jean whose name references the all-white color scheme. It was obvious from the moment we walked in that the stunning setup belongs to a rock star—there were guitars, rock & roll memorabilia and artwork throughout. However St. Barth Properties never reveals the identities of its villa owners so we could only speculate. Perched high above St. Jean Bay with one of the most picturesque views on the island, looking down on the amazing Hotel Eden Rock–St. Barths and Nikki Beach with the ocean spread out behind, it's key feature is a huge two-story terrace for enjoying the seascape to the fullest.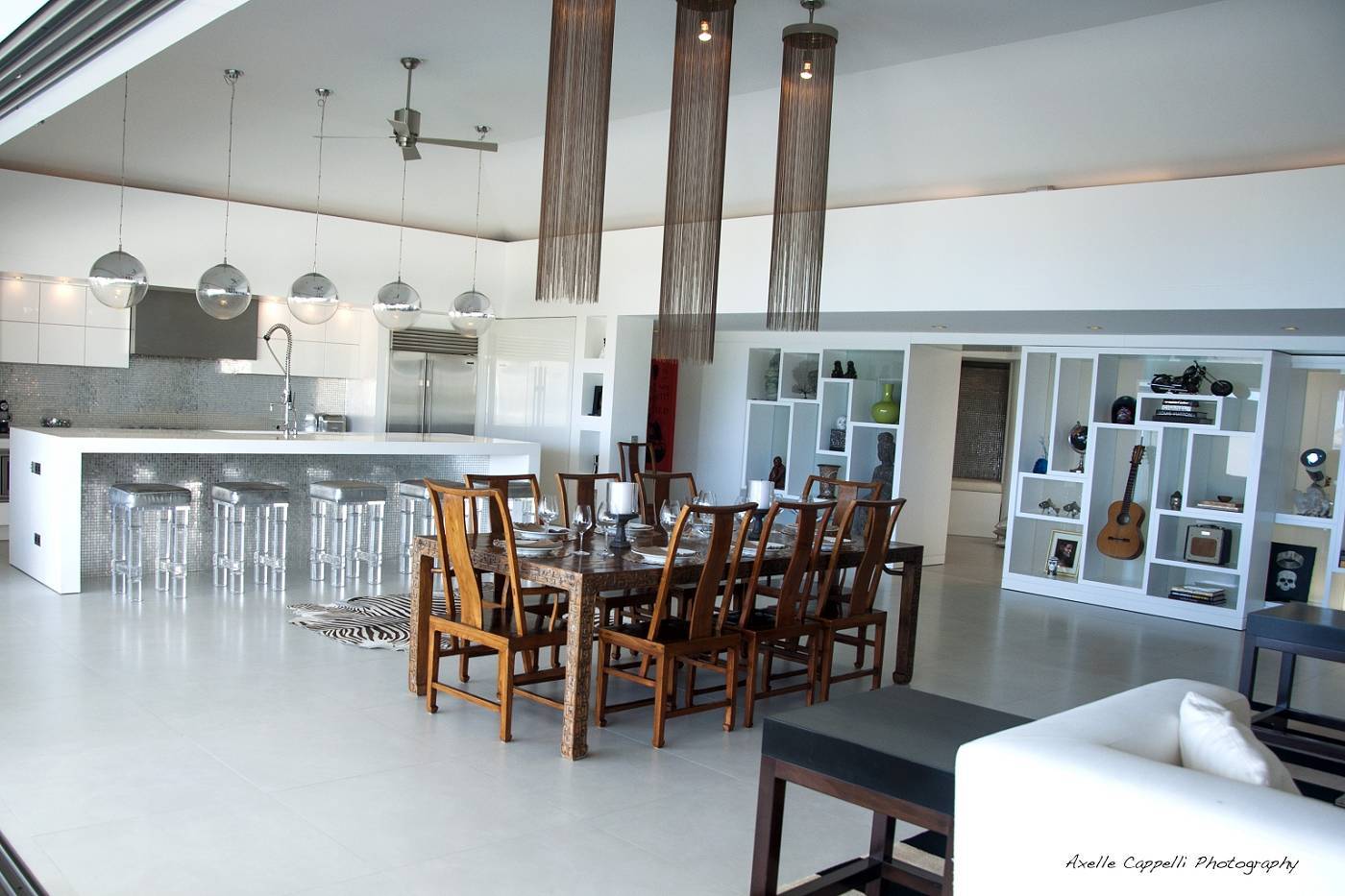 Villa Perle has an airy, open floor plan centered on one massive all-white room with a sleek, gourmet kitchen with a huge island on one end, a stunning living area with white sofas, a flat screen T.V. and entertainment system on the other, and an elegant dining area in the center. Enormous glass sliding doors open onto the terrace, which of course has both a pool and a Jacuzzi. There is even more to the great room than meets the eye at first glance, however. A wall of white shelves containing coffee table books, artifacts, objets d'art, guitars and more turns out to slide away and reveal a secret salon of sorts lit by a skylight, with upholstered seating running the full length of the room. The effect is very James Bond.
It doesn't end there however. Hidden in the corner of the "Bond Salon" is another door which leads to a secret temperature-controlled wine cave complete with a sommelier's bar. It's the perfect hideout or entertaining space. The spacious terrace offers plenty of room for al fresco dining and/or entertaining as well, with the benefit of tropical and ocean breezes. At night the pool and Jacuzzi light up for an even more atmospheric evening. The master suite and an en suite guest bedroom on the main level both open onto the pool terrace as well. Both feature French king beds, lavish all-white baths, walk-in closets, flatscreen T.V.s and other amenities.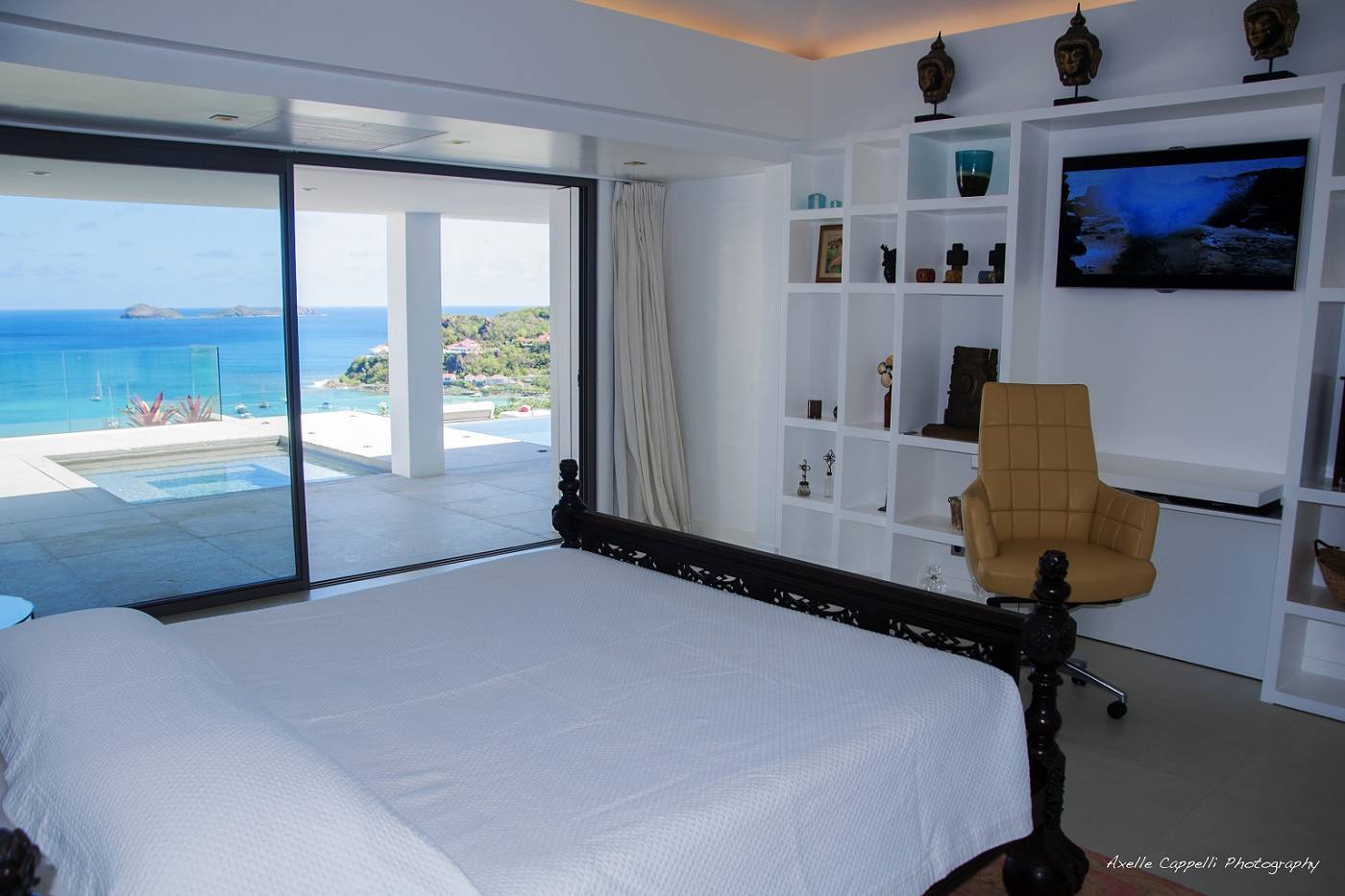 Guests have the option to connect the two suites or keep them separate. The third bedroom with a queen-size bed and en suite bath is situated in a private lower level suite with a living area and its own grassy terrace with a view of the sea. Of course there are larger villas available, with up to 11 bedrooms, should you feel the need for more space. Rates vary by season; "value season" runs from April 16-December 14 each year and high season runs from December 15 through April 15. St. Barth Properties also offers concierge services to assist you with every facet of your visit to the ritzy enclave. And if you decide to by your own villa on St. Barth's they can help with that as well.
Search Best Luxury Villas for more options.