By Jarone Ashkenazi Aug. 3rd, 2019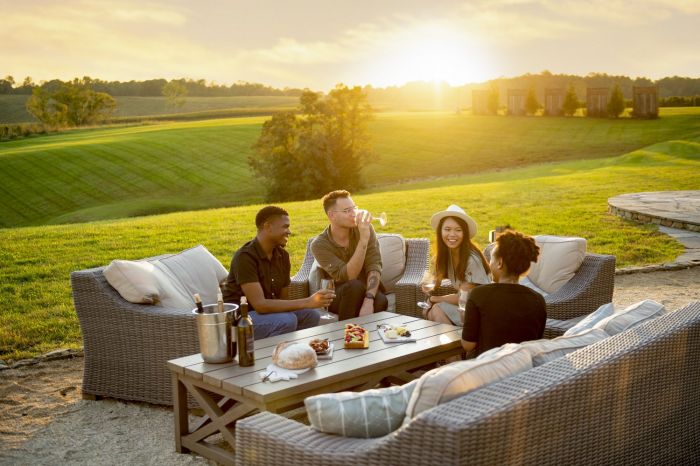 (credit: Visit Loudoun // Todd Wright Photography)
Located in the northeast in the Commonwealth of Virginia, Loudoun County is located 25 miles west from Washington DC and provides an exquisite culinary and wine destination for travelers. Established in 1757, Loudoun County was at one-point Virginia's most populous county and since 2008, the county has been ranked at the top or close to the top in the U.S. in median household income among jurisdictions with a population of 65,000 or more.
With the official motto, I Byde My Time, the county is home to 10 historic towns that take visitors on a trip through America's past with 18th century architecture, brick-lined streets and charming boutiques in the towns of Middleburg and Leesburg. Experience small-town charm in Middleburg's iconic main street with dozens of buildings on the National Register of Historic Places.
"We invite visitors to experience Loudoun's rich history by exploring our towns and villages; discovering a historic memorial or battlefield as well as touring one of our outstanding museums," Visit Loudoun President and CEO Beth Erickson said.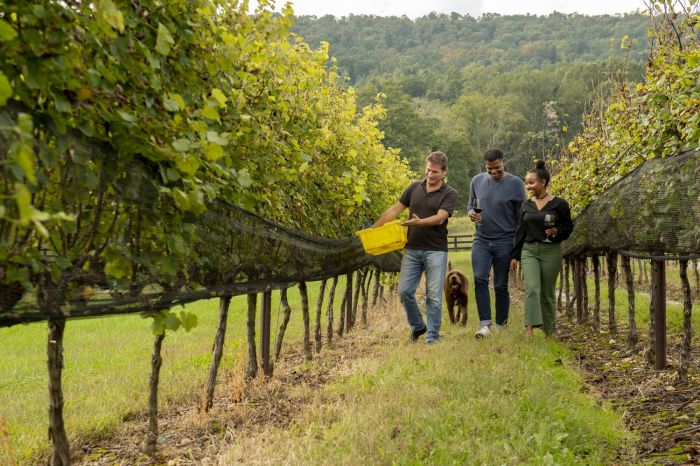 (credit: Visit Loudoun/@ Todd Wright Photography)
The countryside escape houses more wineries than any county in the Commonwealth from the Blue Ridge Mountains to the shores of the Potomac River. Loudoun County is the premier East Coast wine region and has more than 40 wineries and tasting rooms along winding, unpaved roads, adjacent to horse farms and historic estates. From rustic barns to stunning architectural facilities, tastings and tours are offered with award-winning winemakers.
"Loudoun is a top wine destination and we pride ourselves on offering unique and immersive experiences," Erickson said. "From winemaker dinners and vine-to-glass tours to picnics and performances by some of the top singer-songwriters in the country, there is so much to enjoy in Loudoun."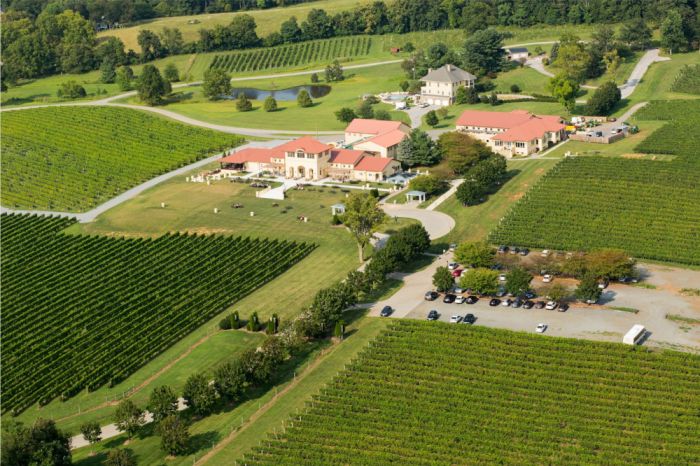 (credit: Aboud Dweck/Visit Loudoun)
From the original Loudoun winery, Lew Parker of Willowcroft Farm Vineyards planted the first grapes in 1981, to present day, the county features the most wineries of any county in Virginia. Divided into six clusters (based off location in the county) the wineries offer a variety of scenic tours and unique culinary experiences. Make sure to keep your eyes peeled along the way to each winery as the spectacular scenery past miles of stacked stone fences, horse farms, historic estates and winding roads should not be missed. Loudoun County is also home to dozens of bed and breakfasts, a rich agricultural history promoting agritourism, farm breweries, flower and pick-your-own farms and two top-class resorts Lansdowne Resort and Spa and Salamander Resort & Spa. As one of the most iconic and revered hotels and resorts worldwide, Salamander Resort & Spa is the first destination resort in the Washington, D.C. region to achieve the Five-Star designation by the Forbes Travel Guide. A 35-minute drive from Dulles Airport, the resort features 168 rooms and suites, an exquisite 23,000-square-foot luxury spa, a media-ready Cooking Studio, two-acre Culinary Garden and more. "While we are known as DC's Wine Country, we also offer a wealth of other activities," Erickson said. "We have a booming craft beer and cocktail scene; beautiful historic homes and towns; as well as remarkable outdoor activities that provide a unique perspective to Loudoun's landscape through hiking, biking, horseback riding, kayaking, ziplining and more."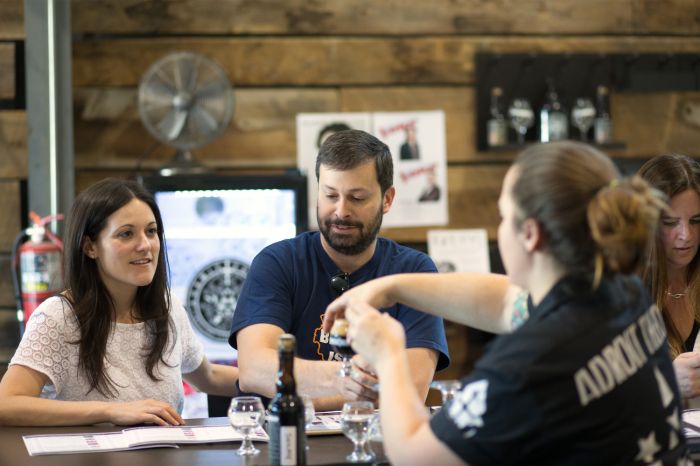 (credit: Aboud Dweck)
Other exciting and new announcements in the county include the: ION International Training Center, Summit Ropes and LoCo Ale Trail Passport. Opened in May 2019, the $24 million ION International Training Center will include a full-service gym, cafe´, pro shop, medical room and hockey training room, among other amenities. In January of 2019, Summit Ropes opened as the U.S.'s largest indoor ropes course featuring more than 16,000 square feet with more than 120 different elements with multiple decision points. For those traveling to the county, collect stamps from LoCo Ale Trail breweries and received an exclusive prize for conquering the complete ale trail! #ConquertheTrail
With 30-plus craft breweries along the LoCo Ale Trail, Loudoun has more breweries than any county in Virginia. Old Dominion Brewing Company started the beer-craze in 1989 as the counties first brewery, but it wasn't until 2011 when Lost Rhino Brewing Company opened its doors that the beer scene began to truly emerge. The county also offers two distilleries including Catoctin Creek Distillery, which is the first in Loudoun since prohibition.
There are lots of ways to #LoveLoudoun so no matter what adventure you seek: foodie, wine aficionado, craft-beer enthusiast, R&R or thrill seeking, start planning your trip to the county here.

Jarone Ashkenazi
Jarone Ashkenazi is a seasoned writer who covers: travel, luxury items and other lifestyle topics. View more work at www.jaroneashkenazi.com. Connect with him on Twitter at @JaroneAsh ...(Read More)