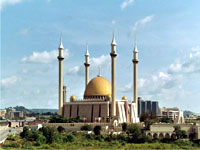 Best Restaurants in Abuja
Abuja''s restaurant scene might surprise visitors to Nigeria who are expecting to have to ''rough it'' on the dietary front. Indeed, in a city filled with foreign businessmen, Abuja''s best restaurants succeed in turning out international-quality fare.
Most of the best establishments are located in the financial district, surrounding the affluent area of Maitama. Head to Chez Victor for outstanding French cuisine (try their filleted grouper fish), or to Ciao for authentic Italian food with a wine-list to match. It is common to see expatriate workers in Abuja filling the dining rooms of the city''s swanky hotels (such as The Sheraton) as well. Less pricey options include Spice Foods, which turn out delicious and predominately vegetarian Indian fare; and Wakkis, who excel at curried prawn dishes.