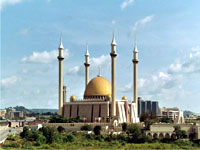 Things to do in Abuja
Primarily a destination for business travellers to Nigeria, Abuja is a little short on must-see tourist attractions. It is, however, a docile and welcoming city - and offers a gentle introduction to Nigeria for those nervous of flying directly into Lagos.
While in Abuja, be sure to check out the Wuse Market, where souvenir shopping is the order of the day; and the Abuja National Mosque, a gorgeous building with an enormous dome and towering minarets.
Finally, tourists to Abuja are urged to make the short excursion out to Zuma Rock - an outstanding geological feature, which appeared on the shortlist of the New7Wonders campaign.