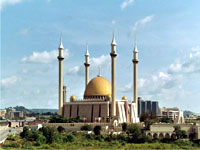 Abuja Shopping
The best places to go shopping in Abuja are certainly the local markets, of which the Wuse Market is the most established and the most foreigner-friendly. Everything you can think of is available at the Wuse Market, and it is a wonderful place to buy Nigerian souvenirs such as adire (patterned, dyed cloth), batiks and pottery from the southwest, leatherwork and kaduna cotton from the north, and carvings from the east. Traditional beadwork, basketry and ceremonial masks are also popular choices. You are expected to bargain at the Wuse Market: initially offer a third of what the vendor quoted you, but be prepared to part with half of the original asking price.
For those not keen on braving a local market, Abuja abounds with ritzy shopping plazas - largely designed for wealthy Nigerians and for foreigners doing business in Nigeria. The best of these include the Ceddi Plaza, Banex Plaza and Maclewis Plaza.
There is a wonderful fresh fruit market in Maitama, one of the wealthiest areas of Abuja. Again, the majority of this market''s clientele are foreign businessmen working in Abuja.