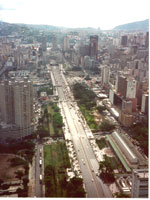 Caracas Overview
Caracas, capital of Venezuela, hosts the country's international airport and is therefore the gateway for visitors. This immense metropolis, home to nearly five million people, is situated in the north of the country, between the sea and the foot of the Avila Mountain.
It began as a Spanish colonial settlement, founded by Diego de Losada more than 400 years ago, its growth burgeoning since the 1970s oil boom. Today the sprawling, untidy city throbs with life, the landscape dominated by high-rise office and apartment buildings, threaded through with knots of motorways and junctions, all against the impressive backdrop of the lush, green mountain.
All sorts of races, cultures and creeds throng the streets of the concrete jungle, which contain gourmet restaurants, bustling shopping precincts, museums, concert halls, fine art galleries and the massive Bellas Artes cultural centre. There is plenty to see, from the 19th century neo-Gothic Santa Capilla church, the birthplace of Simon Bolivar, to the palace of Joaquin Crespo, and the Sofia Imber Museum of Contemporary Art (with works by Matisse, Picasso and Chagall as well as Venezuelan artists).
Those who need a break from the relentless urban energy can slip away for a hike on the nearby mountain slopes, or take a day trip to the surprising Bavarian-inspired town of La Colonia Tovar.