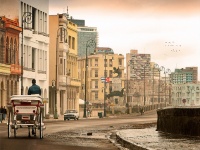 Havana Nightlife
The nightlife scene in Havana pulses with Latin rhythms, sultry dancing, Timbal drum beats and a whole lot of energy. Live music is a focus and a highly popular pastime in Havana, and visitors can enjoy the unique experience of partying it up to local jazz, samba, and salsa, while clubs, bars and discos abound too.
In general Cubans love to look chic and stylish so don''t be afraid to bring out your party outfit when hitting the streets for a night on the town. Head to La Bodeguita del Medio in Old Havana, which is very touristy, but a great place to get warmed up to the local flavour before hitting nearby clubs like Bar Montserrate where a local quintet jams the night away and the rum keeps flowing. El Chévere, in Parque Almendares, is a gigantic open-air disco that keeps the music pumping all night long with pop, hip-hop and salsa beats, the Habana Café in the Hotel Melía Cohiba in Paseo is the place to be seen, and the rooftop bar at the Hotel Ambos Mundos is super trendy. Clubs don''t get busy until after 10pm, and often stay open all night long.
Those looking for a quieter, more intimate setting should head to Calle 21 in La Roca where good whiskey, cigars and good conversation can be shared. For live music, venues like La Tropical in Playa feature live bands, while Jazz Café and Jazz Club La Zorra y el Cuervo in Vedado are Havana''s top live jazz venues.
Havana also has a thriving arts community, with internationally-renown groups like the Cuban National Ballet performing in the Gran Teatro de La Habana, or the national symphony orchestra in the Teatro Amadeo Roldán. A weekly highlight is the Sábado de la Rumba at El Gran Palenque, which is a charismatic mix of secular and Afro-Cuban religious dancing and drumming.