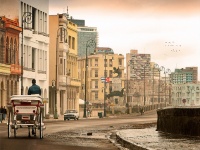 Things to do in Havana
With a rich and fascinating history, Havana''s sightseeing is centred around its varied architecture, with everything from museums and churches to colonial forts and elaborate city squares. With friendly and colourful people juxtaposed by elegantly dilapidated buildings and occasionally derelict streets, there''s nothing quite like Havana.
Just breathing in the scents and watching the vintage cars roll down the streets makes for a great day of sightseeing, but head into the historic old town, La Habana Vieja, which is a UNESCO World Heritage Site, to explore the magnificent colonial architecture. Take in the sights and sounds as you stroll down the Calle Obispo as this pedestrian boulevard takes you through the streets, past the Parque Central and to some of the more hidden away gems of the La Habana Vieja. You can get the best view of Havana from the Camera Obscura, which provides a 360-degree look from atop the Plaza Vieja.
Havana is special for visitors simply because there are none of the tacky tourist developments that have overrun other destinations. That said, you''ll find plenty of places claiming to be significant to Ernest Hemingway, but few are. You can visit the Ernest Hemingway Museum on the outskirts of town, set in his old residence.
Visit the cigar factories and rum distilleries to sample some of these world famous exports, visit the Plaza de la Revolución where political figures such as Fidel Castro have addressed the crowds and peruse the Museo de la Revolución - a must for all history buffs. And after a long day of sightseeing in the city, head to the nearby beaches, most of which are located no more than 20 minutes away to soak up some Caribbean sun and sip on a rum cocktail.