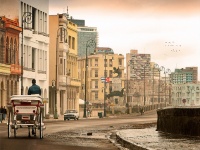 Havana Shopping
Havana may not be known for its shopping, but it''s a good place to check out the local wares and enjoy the shopping geared at tourists - a sad reality of the country''s capitalist stance as most Cubans can''t afford the luxurious products on sale, though some locals can be found strolling through the streets and malls, browsing, shopping and mingling with international visitors.
The biggest market in Havana is open daily on Calle Tacón in La Habana Vieja, with local arts and crafts, t-shirts, and other popular souvenirs. Or you can head to the ultra-modern Tiendas Carlos Tercero on the Avenida Salvador Allende where everything from clothes and shoes to electrical and sporting goods can be found while for local fashion and designer goods, La Maison in Miramar is the place to go.
Old Havana is a great place to browse too as the area is becoming increasingly popular with small boutiques and specialist shops lining the streets and while you''re there, head to the local craft market behind the Plaza de la Catedral where stalls selling Cuban paintings, sculptures, wooden statues and embroidery abound and haggling is welcome.
Cuba''s most famous export is undoubtedly its cigars. Regarded as among the best in the world, ''cubans'' make great gifts from Havana for smokers. Cigars should only be bought at La Casa del Habano shops, as the black and grey-market cigars available on the street are often low-quality substitutes. Authentic boxes of cigars are sealed with ''Hecho en Cuba'' (made in Cuba) branded at the bottom of the box.
Another well-known product of Cuba is its music, with salsa, folk, jazz, and reggaeton being popular. As with cigars, it is advised to buy cds from official state-run stores, as albums bought from the black or grey market are often low-quality bootlegs.
Visitors will notice that Che Guevara''s likeness adorns just about everything from t-shirts and bags to mugs and coasters. Ron Caney or Havana Club rum makes a great Havana souvenir, or Cuban coffee. Men may like to pick up a colourful guayabera, an embroidered tropical shirt. Most shops in general open from 10am to 6pm and 10am to 1pm on Sundays.