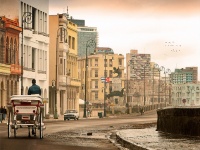 Best Restaurants in Havana
This city isn''t known for fine food, and eating out in Havana can be disappointing if you don''t know where to go. There are two kinds of restaurants in Havana: government-run and privately-owned. The state-run restaurants have improved dramatically since the country reopened to tourism and tend to be cheaper, but the independent restaurants, called paladares, are often the best place to go for good food and lively atmosphere.
Restaurants in Havana lack the international variety of many other large cities. You won''t find great Asian, French or Italian, but the Cuban and Creole options make up for it at restaurants like La Cecilia or La Fontana Habana.
There are a few fast-food chains, including El Rápido, which serves burgers, pizzas, fried chicken, and other watered-down options. For something a little fresher look out for Pain de Paris outlets, which bake bread and croissants, and offer a variety of sandwiches.
While dining out is beyond the reach of most Cubans, there will often be a second, higher-priced, menu for tourists. Be sure to ask for prices before ordering. Scams are common in Havana restaurants, and check your bill for extras that may appear. Some restaurants may add a service charge, if not then generous tipping of at least 10% is customary and appreciated.