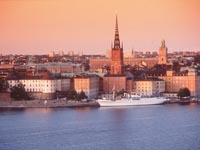 Stockholm Kids Attractions
Stockholm is an extremely child-friendly city, with many activities and attractions for children of all ages. Amuseument parks like Gröna Lund and Junibacken are a great treat for children in Stockholm after a day or two of museums and galleries, while a rainy afternoon can happily be spent at the child-friendly Babybio movie theatre. A bit further out, the open-air museum at Skansen has a children''s area called Lill-Skansen, featuring a petting zoo and miniature train.
There are a number of parks and open spaces in Stockholm where children can run around and expend some energy. Gärdet is a large open space ideal for playing games, while several stables near the city offer horse and pony rides.