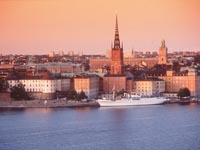 Stockholm Nightlife
Stockholm has a vibrant nightlife with a multitude of bars, clubs and jazz venues to enjoy. Admission and drinks prices are quite high in Stockholm but the opening hours are long (many nightclubs stay open until 3-4am, and big clubs stay open as late as 5am), ensuring a good night out. Stockholm has a busy theatre calendar that runs from mid-August to mid-June, with a few special summer performances between.
The most popular nightlife venues are in Stureplan and surrounds, while many of the most popular indoor and outdoor events are held in Djurgården. Adventurous (and warmly-dressed) visitors will want to have a drink at Stockholm''s permanent Ice Bar, located near the Central Station.
There is a busy jazz scene in Stockholm, and there is plenty of live music of any type to enjoy. There is something happening seven says a week, so pick up a copy of What''s On, available at nearly every hotel and tourist centre, to find entertainment listings for Stockholm.
There is also a thriving gay nightlife in Stockholm, with many nightclubs and bars concentrated on the island of Södermalm.