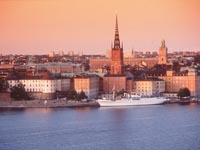 Stockholm Overview
The Swedish capital, Stockholm, is not only Scandinavia's largest city but also its most enchanting, with its centuries-old alleyways and squares being spread across an archipelago of 14 islands. Locals are extremely proud of the fact that here one can go ocean-fishing in the heart of the city.
This historic metropolis with a small town heart also boasts a multitude of museums, restaurants, parks, fun fairs, a never-ending nightlife (licensing hours extend until 5am) and a rich cultural tradition. It all adds up to 'never a dull moment', particularly in the summer when the sun virtually never sets because of its position in the far northern latitudes.
Most tourists are initially drawn to the quaint Gamla Stan (old town), a warren of narrow cobbled-stone streets overshadowed by historic houses, radiating out from the sumptuous Royal Castle where Swedish monarchs have resided since the 13th century. Despite the medieval heritage, Stockholm is no staid, old-fashioned enclave. Citizens have developed a reputation for being trendy, daring and innovative, especially in the global realms of IT and fashion, often setting the pace in the design and technology fields.
Stockholmers are also immensely concerned with the environment, and the city-scape is made up of one-third water, one-third green space, one-third buildings and the cleanest air of any city in the world. Take a deep breath, pack a picnic, hop aboard a ferry, and make for one of the parks where you will undoubtedly be treated to a free concert; or head for the legendary shopping districts of Biblioteksgatan (exclusive European boutiques), Odengatan (antique treasures), and others. There is culture to be soaked up too, with more than 150 museums to visit, art festivals galore, architecture to be admired (including the beautiful City Hall where the Nobel Prize banquet takes place), and a world-renowned opera or jazz concert to attend.
It may be old, but Stockholm is a destination for the young and energetic, as yet not over-run with tourists like many other European capitals.