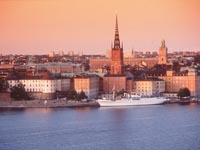 Stockholm Shopping
Shopping in Stockholm can be an expensive affair but savvy consumers know the classic adage of ''you get what you pay for''. Treasured souvenirs from Stockholm include Swedish glass products, wooden furniture in blond pine or birch and, of course, wooden and ceramic Swedish clogs. There are a number of shopping areas in Stockholm, some of the trendies being Gamla Stan, Sergels Torg, Kungsgatan and SOFO.
Västerlånggatan Street in Gamla Stan has good antique shops, while Kungsgatan is home to the Drottninggatan pedestrian mall. The renowned Gallerian shopping centre in Sergels Torg has a variety of high-street and brand-name outlets to browse through, and nearby department stores include NK and �hléns. The PUB department store is located in Hötorget.
On Södermalm Island, the hip shopping district of SOFO has plenty of popular fashion stores to explore, as well as jewellery, craft and fine art galleries. The Hornstullstrand Street Market, at the western waterfront, has a plethora of bargains including clothing by up-and-coming young designers and funky costume jewellery.
Other popular shopping districts in Stockholm include Drottningsgatan, Harrngatan, Hotorget and Stureplan.
Most shops in Stockholm are open 10am to 6pm from Monday to Friday, and from 10am till lunch on Saturday. The VAT charged on all products can be refunded on purchases exceeding EUR78 with the presentation of a tax-free check from the store. *Note: do not unwrap the goods before leaving Sweden.