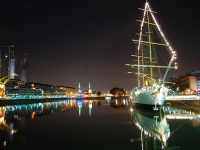 Getting Around Buenos Aires
The street structure, organised in a grid pattern, makes it easy to get around in Buenos Aires, and the best way to explore the city and take in its character is on foot. However, the city is serviced by an efficient, widespread and cheap public transport system that consists of buses and an excellent underground rail service (the ). Although it services most of the city centre, the is not very extensive beyond the central core. The Subte costs ARS$1.10 per journey. Pre-paid Subte cards or passes can be purchased from the ticket booths ( ) at each station in denominations of 1, 2, 5, 10 or 30 journeys. It gets very hot and crowded in summer especially during peak hours, and closes between 10pm and 5am.
The bus ( ) network is huge and covers the city, and although very useful for getting around, the overwhelming amount of routes makes it confusing for tourists. Bus fares are paid in coins into an automatic ticket vending machine when boarding the bus and cost a minimum of $0.80. Many services run all night but with less frequency. There are also urban train services that can be useful for reaching the outlying suburbs.
Taxis are everywhere and relatively inexpensive, but although generally safe, visitors should be aware that there are fake taxis that pick up tourists and rob them. It is safer to phone for a radio taxi or remise, a fixed-price radio cab booked in advance that acts like a chauffer-driven car and can be cheaper than taxis over longer distances. They are more useful than renting a car for excursions from the city and even for a day''s tour of the suburbs.