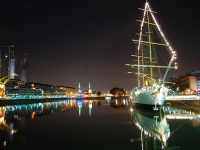 Buenos Aires Nightlife
Famed for its huge selection of trendy clubs, fashionable music bars and attractive restaurants, it''s no wonder the city of Buenos Aires never sleeps. From the dimly lit tango bars and mainstream hard house dance clubs to the Teatro Colón and smaller independent theatres, there is something for just about everyone in this buzzing city.
In typical Latin fashion, dinner is very late and usually taken between 10 and 11pm so clubs only really get going at around 2am. Recoleta, Palermo, Puerto Madero and Costanera are the trendiest neighbourhoods for dance clubs and all the hippest locals can be found sipping on long drinks in the surrounding bars. It is not uncommon to find residents walking home at sunrise after a big night out on the town.
Culture vultures will simply adore the arts and culture scene here and plenty of Broadway-style hits can be found in both English and Spanish at most of the 30-odd professional and underground theatres in the San Telmo and Abasto neighbourhoods.
Other than the usual run-of the-mill watering holes, there are also many bars in Buenos Aires offering shows such as flamenco dances, readings, tango and folkloric dance shows, and live acoustic music, providing a twist and bit of entertainment to accompany your usual evening drinks. The gay scene in Buenos Aires is thriving and rivals only that of Rio de Janeiro''s in South America, with San Telmo being the main strip catering to this market with small gay bars and restaurants.