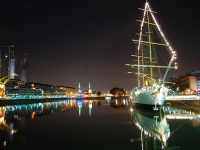 Best Restaurants in Buenos Aires
Beef is king in the Buenos Aires food world; Argentina is famous for the best, juiciest, tastiest and most tender steaks served in its (steak houses). These are followed closely by various Spanish and Italian pleasures, as well as sushi, fusion, and vegetarian cuisine.
There are numerous (walk through) places in the city, selling hot-dogs ( ), beef sausages ( ), and (breaded, fried cutlets). You can buy a , the most traditional social non-alcoholic beverage, in any Coto or Carrefour supermarket. Be sure to try a gourmet (ice cream) and (small pastries stuffed with combinations of cheese and meats), or the , an Argentinean cookie.
Various small restaurants offer foreign meals, mostly Japanese, Chinese, Thai, Arabic, Spanish and Italian. Expensive and luxurious restaurants can be enjoyed at Puerto Madero and Palermo. The main areas to go out are Puerto Madero, Recoleta, Palermo SoHo and Palermo Hollywood, home to trendy stores, restaurants and bars. Most locals head out to dinner around 9pm.