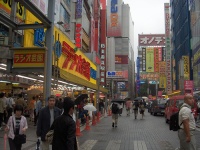 Tokyo Kids Attractions
Not everyone''s ideal holiday destination with children, Tokyo is surprisingly well geared towards kids on holiday in this bustling city. With a dazzling array of technological attractions, scientific museums and a rich and colourful history, children should find there is plenty to explore round Tokyo.
The Baji Equestrian park is a great place to take kids to watch horse shows and even have a pony ride, or for a more exhilarating day out, head to the Tokyo Dome City where children can enjoy countless rides and games at the amusement park and parents relax and pamper themselves in the spa. The Tokyo Metropolitan Children''s Hall is also a great attraction for kids to enjoy with its indoor gyms, computers, crafts areas, mini-theatre and rooftop playground, it''s Tokyo''s largest public facility for children.
On a sunny day, why not pack a picnic and the Frisbee and head off to Shinjuku Park, or Hama-Rikyu Sunken Garden for a stroll or just to admire the cherry trees and blossoms. Or for those days when the weather turns bad and outdoor activities for kids are no longer an option, visit the Panasonic Center, or soak up a bit of culture at one of Tokyo''s many museums, such as the National Museum of Emerging Science and Innovation, Museum of Maritime Science or the National Science Museum. You''ll find a number of skating rinks, sports clubs, and swimming pools dotted around the city as well.
| | |
| --- | --- |
| | Tokyo's museum dedicated to detailing the city's history, art, culture and architecture through the medium of visual displays is an impressive, not to be missed attraction. Edo was the old... |
| | Plenty of fun is to be had for the young and young at heart at Tokyo's Disney Resort, virtually a carbon copy of the theme park found in California in the United States. The resort consists... |
| | Close to Ueno Station, enclosed in the Tokyo Metropolitan Imperial Gift Park, the National Museum boasts the largest collection of Japanese art in the world. Exhibits range from antique kimonos... |
| | This tower is modelled in the vein of the Eiffel Tower in France, only in true Japanese style, it is more colourful and serves a technological purpose. Tokyo Tower functions chiefly as... |
| | The oldest zoological garden in Japan, Ueno Zoo is one of Tokyo's most popular attractions for children and adults alike. Boasting exotic animals such as giant pandas, polar bears, Indian lions,... |
| | Children visiting Monkey Park will be able to enjoy learning about monkeys while watching them run around freely. Their individual movements and characteristics also give away a lot about them and... |
| | This fascinating museum is an absolute must for any child who loves kites, or any adult who has ever flown a kite. The Kite Museum exhibits mainly traditional style Japanese kites, 'Edo Nishiki-E... |
| | A little boy's dream come true, Joypolis Sega will thrill and entertain children of all ages. Offering rides, games and much more, kids will be kept busy for hours on end in one of the... |
| | The Children's Castle is geared towards children of all ages and features a variety of activity rooms for kids to keep themselves entertained. With gymnasiums, playgrounds, climbing walls,... |
Travel guide by (c) Globe Media Ltd. By its very nature much of the information in this travel guide is subject to change at short notice and travellers are urged to verify information on which they're relying with the relevant authorities. We cannot accept any responsibility for any loss or inconvenience to any person as a result of information contained above.