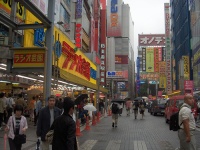 Tokyo Nightlife
Nightlife in Tokyo is huge. They have everything from geisha bars to jazz or ''hostess'' clubs, dive bars referred to as ''shot bars'' and zany themed dance clubs. It is legal to drink out in the streets and vending machines even stock cans of beer!
A good way to enjoy Tokyo''s nightlife is in an , a pub-style watering hole serving food and drink. Western-style bars are much more expensive than those with local flavour, though chains like The Hub have happy-hour prices that are more reasonable.
Roppongi is the top nightlife district in Tokyo, where the locals are very friendly to (Westerners). Be wary of hostesses and ''patrons'' who try to lure you into one of the districts many gentlemen''s clubs, where drinks are prohibitively expensive. Shibuya also has a number of nightclubs, and Shinjuku is home to both Tokyo''s red-light district and its primary gay bars. While Shinjuku is famous for its crazy atmosphere, women are advised not to walk around alone. For less expensive bars that cater to students and backbackers, go a little further to the Shimokitazawa, Koenji and Nakano districts.
Many bars and lounges impose a ''table charge'', which includes snacks like nuts or chips. Not all venues charge and policies vary, so ask before you order anything. Note that the legal age for both drinking and smoking in Japan is 20.
Those looking for a more cultured evening can catch a traditional performance at the Kabuki-za theatre in Ginza. Tickets range from ¥3,000 to ¥22,000, or you can catch a single act for as little as ¥800. Other popular forms of theatre include the restrained and refined , and puppet theatre. You can also see traditional Western music performances by the Tokyo and NHK Symphony Orchestras at various theatres around Tokyo. Check the Japan Times for concert information.
For detailed nightlife listings, grab a copy of the free Metropolis publication.