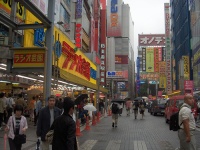 Tokyo Shopping
Tokyo has refined shopping into an urban art form and essential cultural experience. The result is quite possibly the most futuristic shopping environment in the world where you can purchase everything from underwear to watermelons from vending machines while never interacting with a human. Tokyo is also at the cutting edge of fashion and design, as a wide-eyed stroll through Ginza and Shibuya districts will confirm. Tokyo is also famous for its electronics stores, the biggest concentration of which can be found in Akihabara, Tokyo''s ''Electric Town''. Despite the wide range you will struggle to find genuine bargains and don''t expect to negotiate too much on price.
Shopping malls have also been taken to another level here - in some cases, up to 20 levels. Shinjuku Station is surrounded by multi-level shopping stores selling everything under the sun. Big name chains such as Keio and Isetan can be accessed directly from the station. They both offer tax-free shopping and European language assistance. For a more upmarket department store experience, visit Mitsukoshi which has several branches throughout the city.
Tokyo isn''t known for flea markets, but two that are worth a visit for artisan-style gifts are Togo Shrine in Harajuku on the first and fourth Sundays of each month, and Nogi Shrine on the second Sunday of each month. There are many small markets around the various temples and shrines. Essential purchases include traditional items like Duruma dolls and crafts such as ceramics and chop-sticks. Kimonos are another good purchase although those made from pure silk, as true kimonos are, will be expensive. On a more modern note, the very latest gadgetry and electronics gear will also be perfectly emblematic of your visit to Tokyo. A good place to browse for souvenirs is the Oriental Bazaar and Omotesando, both of which offer good value and plenty of interesting human scenery.
A popular sight is the area of Akihabara. There you''ll find colourful manga and anime stores, and you may catch some fans and promoters wandering around in fantastical costumes.
One of the surprising aspects of shopping in Tokyo is that despite the vast buildings and slick modernity surrounding everyone, there are still traditional neighbourhoods and quiet districts to be found. Here you can find specialist stores selling unique and frequently hand made items such as micro-brewed or beautiful lacquerware.