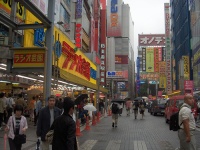 Best Restaurants in Tokyo
Tokyo is one of the world''s great cities for diners. Not only is there a fabulous variety of premium eateries (collectively with more Michelin stars than Paris) but the wonderfully diverse and exciting world of Japanese cuisine reaches its highest peaks here. From , the elaborate and expensive Japanese cuisine themed around the four seasons, to down-market roadside classics like noodle dishes, deep-fried , mouth-watering pork, and chicken grilled on skewers, Tokyo has it all in abundance.
Then there is the perennial western favourite, sushi - impeccably served in a thousand different varieties around the city. Note that when eating sushi it is usual to eat with your fingers, and go easy on the soy sauce and . For a light meal on the move, you can also grab a lunchtime box from any convenience store and find a seat in the many quiet enclaves amidst the city bustle. For an unforgettable experience, treat yourself to a pricey but incredibly fresh sushi breakfast at one of the restaurants near the Tsukiji Fish Market in Chuo.
You can also visit the basement level of nearly any department store, which will contain a number of shops selling prepared foods. Piece together your own meal, or just browse the free samples. Note that these stores will begin discounting their food around 7pm.
Chopsticks are used in most restaurants, except those serving western cuisine. You can ask for western utensils, but you are better off getting into the spirit and practicing with chopsticks before your visit! When eating noodles it is quite normal to pick up the bowl and drink from it, using the chopsticks to eat the solid bits. Slurping is also normal; in fact, it improves the flavour of the food.
In most restaurants you will be given a wet towel known as before eating. Use this to freshen up by wiping your face and hands. While ordering in a restaurant without an English menu can be intimidating, many restaurants have plastic food models on display, and most offer set menus with popular combinations.
Tipping is not customary in Japan, and attempts to provide gratuity are likely to be met with confusion. At more up-scale restaurants a 10-15% service charge may be added to your bill. Smaller restaurants and roadside stalls will not accept credit cards.