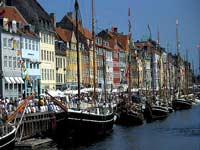 Copenhagen Kids Attractions
Visitors travelling with children to Copenhagen will find an abundance of fantastic and exciting attractions geared towards children, making this a wonderful city for the whole family to enjoy.
A trip to Copenhagen must include a visit to Tivoli Gardens, which boasts beautiful miniature gardens, a theme park with arcade games and rides, and even open-air stages where plays and concerts take place. Another great attraction on warm sunny days is the Bakken Amusement Park, the world''s oldest amusement park. The Nature Playground, located at Valbyparken, is also a must for day out in the sunshine and fresh air, and a good place for a picnic.
On colder days when outdoor activities with kids are not an option, head off to the Denmark Aquarium, or for something a little more frightening, the Mystic Exploratorie is a fantastic place for kids to be thrilled and perplexed, as is the Eskperimentarium. For toddlers, the Kompan indoor playground is a wonderland of slides, balls and bright colours to be explored.
| | |
| --- | --- |
| | The rich history of Denmark, from Viking days through to the Second World War resistance movement, is encapsulated in fascinating collections of artefacts housed in a series of museums in and... |
| | Legoland Billund, the original Legoland Park, is a holiday must for children visiting Denmark. Opened in 1968, it plays host to numerous visitors from all over the world and is... |
| | The oldest amusement park in the world and one of Denmark's favourites, Bakken Amusement Park has delighted countless visitors since it first opened in 1583. Featuring 34 thrilling rides... |
| | Boasting more than 300 species of marine life form across the globe, the Denmark Aquarium features over 70 aquariums with the largest containing 85,000 litres of water. There is also a biological... |
| | The Mystic Exploratorie is a fantastic, yet slightly creepy and somewhat thrilling attraction for kids of all ages to enjoy. The interactive exhibits allow visitors to play around in... |
| | Founded in 1859, the Copenhagen Zoo is one of the oldest in Europe and features an amazing selection of animals from all over the world. Featuring a popular Elephant House designed by... |
| | Featuring almost 300 interactive exhibitions for children of all ages to enjoy, the Experimentarium is a hands on science museum that aims to encourage children to take an interest in... |