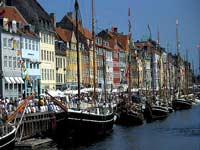 Best Restaurants in Copenhagen
The lords of Michelin dining have bestowed 13 restaurants in Copenhagen with their mark of guaranteed fine dining. While obviously many popular restaurants in Copenhagen are not included, the honours are indicative of how far dining has progressed in the city.
Traditionally Denmark has not been known for its food, Frikadeller meat balls and cabbage being among the most popular of dishes. While there are some great Danish foods, their hot dogs and open-faced sandwiches are some of the best, much of the great dining in Copenhagen is of international cuisine. Particularly good in Copenhagen are French and Asian restaurants.
Dining in Copenhagen is usually a leisurely affair and patrons are encouraged to take their time and make a night of it. For quicker eats, cafés and hot dog stands are very popular and a fun way to meet people, or you can grab a fresh sandwich at one of the city''s many bakeries. Stoget, Central Station, Grey Friars Square are all hotspots for restaurants. Tivoli also has a great selection of casual places to eat in a fun setting.
A service charge is included in the bill, but great service is often rewarded with a tip. Save money by paying with cash, as many restaurants charge a fee of between 3.75% and 5.75% for transactions on foreign credit cards.
Paludan's Book and Cafe
This cosy restaurant, situated in a busy bookshop and art gallery popular with Copenhagen's student population, is a great place to relax whether you want a small cup of coffee or huge plate of lasagne. Open for breakfast, lunch and dinner, the cafe offers local beer on tap and some of the best people-watching in Copenhagen. There is a good selection for vegetarians as well.




CUISINE:

Café


STYLE:

Trendy


Address:

Fiolstraede 10-12


Website:

paludan-cafe.dk
Peder Oxe
Located in Grabrodretorv, one of the oldest squares in Copenhagen, Restaurant Peder Oxe is set in an historic 19th-century building with light-filled rooms and high ceilings. The menu varies with the changing of the season and includes everything from classic lamb and beef dishes to fresh seafood and game. The 'Market Buffet' also offers a great selection. Open daily for lunch and dinner, reservations recommended.




CUISINE:

Local


Address:

11 Gråbrødretorv


Website:

www.pederoxe.dk
Khun Juk Oriental
Set in Boltens Gård, Khun Juk is a stylish Thai restaurant celebrated for its authentic cuisine. Favourites from the menu include spicy Thai beef salad or steamed mussels with horapa (Thai sweet basil) and lemongrass. The dining room has classic décor and a warm atmosphere, while the outdoor area has lovely café umbrellas and potted plants. Open Monday to Saturday for dinner, reservations recommended.




CUISINE:

Thai


Address:

9 Store Kongensgade


Website:

www.khunjuk.dk
Noma
Set in an 18th century waterfront warehouse, Noma exudes Nordic charm in its functional simplicity. The décor combines oak, stone and leather with glass and metal in a light and spacious dining area. Using fresh ingredients from the North Atlantic, the menu offers Scandinavian cuisine such as pork with wild ramson leaves, or sautéed lobster with pickled hip rose. Open for lunch Tuesday to Saturday, and dinner Monday to Saturday. Reservations recommended.




CUISINE:

Local


Address:

93 Strandgade


Website:

www.noma.dk
Godt
Catering to a maximum of 20 guests at a time, Godt is a classy restaurant offering a very personalised and intimate dining experience. This refined approach is extended to the polished Danish menu, offering a selection of the finest veal, seafood and vegetables, all prepared with fresh local herbs. Open Tuesday to Saturday for dinner, reservations essential.




CUISINE:

International


Address:

38 Gothersgade


Website:

www.restaurant-godt.dk
Promenaden in Tivoli
In Copenhagen's famous Tivoli Gardens, the bustling Promenaden is a 'multi-food-house'. With a view to the Garden's open-air stage, an international menu and vibey atmosphere, the premises also include a bar and café, as well as live music at weekends. On offer are staples like barbecue spare ribs, steaks and pasta or, for a real budget snack, head for the back corridor where there is a sausage bar and beef sandwich deli. The restaurant functions during the summer season only when Tivoli itself is open from 12pm to midnight.




CUISINE:

Gastropubs


Address:

Vesterbrogade 3, Tivoli


Website:

www.promenaden-tivoli.dk
Ristorante Vesuvio
Italian cuisine has become the international favourite and Copenhagen's copious list of restaurants would not be complete without an Italian gem. The Ristorante Vesuvio fits the bill, serving up a heart-warming 'Chef's Pasta Parade' of tasty options, and a selection of pizzas. The menu also features numerous Italian gourmet meat and fish dishes. Open daily for lunch and dinner, reservations recommended.




CUISINE:

Italian


Address:

4 Radhuspladsen


Website:

www.vesuvio.dk
Det Lille Apotek
This cosy, traditional restaurant is reputedly the oldest eatery in Copenhagen, dating back to 1720. In days of yore it was an artist's meeting place and now features menu items named for Danish celebrities who used to dine here, like Hans Christian Andersen and Soren Kierkegaard. The food is traditional Danish and one of the signature dishes is 'Apoteker Stew' - tenderloin, bacon, cocktail sausages and pineapple in a creamy paprika sauce. Open for lunch and dinner daily, reservations recommended.




CUISINE:

Local


Address:

15 Store Kannikestræde


Website:

detlilleapotek.dk
Café Sorgenfri
For a traditional meal and a good time, follow the local workers to their popular luncheon spot, Café Sorgenfri. The simple 19th-century basement restaurant in the heart of the city's pedestrian precinct was originally a sailor's tavern and is still a very lively drinking hole after the kitchen closes. The décor reflects old Copenhagen with its gilt-framed pictures, wrought-iron chandeliers and leather-panelled walls. At lunch time, it is sought after for its excellent classic s (open sandwiches), washed down with a Carlsberg beer. Open daily from 11am to 9pm. Reservations recommended.




CUISINE:

Café


Address:

8 Brolæggerstræde


Website:

www.cafesorgenfri.dk
Den Sorte Ravn
Den Sorte Ravn (The Black Raven) serves fine Danish cuisine with some classic French touches. A speciality of the house in this comfortable establishment is fillet of turbot in puff pastry with lobster salmon mousse and parsley, served with cognac flavoured lobster sauce. The other items on the menu, particularly the fish dishes, are just as mouth-watering. Open Monday to Saturday for lunch and dinner. Reservations are recommended.




CUISINE:

Local


Address:

14 Nyhavn


Website:

www.sorteravn.dk
Ida Davidsen
Denmark's undisputed gourmet speciality is the (known to non-Danes as 'smorgasbord'), a selection of open sandwiches served for lunch, usually made up of a variety of fish and seafood. The smorgasbord 'queen' in Copenhagen is Ida Davidsen, who is the fifth generation of her family to serve this unique cuisine and offers the longest smorgasbord menu in Denmark at six feet (2m) long! Try the 'Preben Elkjær' on rye bread with plaice fillets, asparagus and smoked salmon. Open Monday to Friday, 10.30am to 5pm. Reservations recommended.




CUISINE:

Local


Address:

70 Store Kongensgade


Website:

www.idadavidsen.dk
Travel guide by (c) Globe Media Ltd. By its very nature much of the information in this travel guide is subject to change at short notice and travellers are urged to verify information on which they're relying with the relevant authorities. We cannot accept any responsibility for any loss or inconvenience to any person as a result of information contained above.