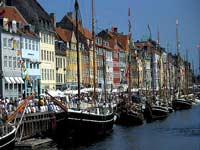 Best Restaurants in Copenhagen
The lords of Michelin dining have bestowed 13 restaurants in Copenhagen with their mark of guaranteed fine dining. While obviously many popular restaurants in Copenhagen are not included, the honours are indicative of how far dining has progressed in the city.
Traditionally Denmark has not been known for its food, Frikadeller meat balls and cabbage being among the most popular of dishes. While there are some great Danish foods, their hot dogs and open-faced sandwiches are some of the best, much of the great dining in Copenhagen is of international cuisine. Particularly good in Copenhagen are French and Asian restaurants.
Dining in Copenhagen is usually a leisurely affair and patrons are encouraged to take their time and make a night of it. For quicker eats, cafés and hot dog stands are very popular and a fun way to meet people, or you can grab a fresh sandwich at one of the city''s many bakeries. Stoget, Central Station, Grey Friars Square are all hotspots for restaurants. Tivoli also has a great selection of casual places to eat in a fun setting.
A service charge is included in the bill, but great service is often rewarded with a tip. Save money by paying with cash, as many restaurants charge a fee of between 3.75% and 5.75% for transactions on foreign credit cards.