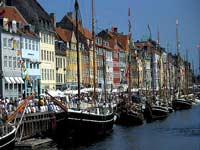 Things to do in Copenhagen
Attractions in Copenhagen are a mixture of living history and fun frivolous activity. Copenhagen is one large attraction in itself, as many of the cobblestone streets and rows of old Danish houses are much like they have been for centuries. Yet Copenhagen is adding ever more modern attractions to the heap of historic ones.
The unusual European habit of visiting unremarkable statues continues in Copenhagen as the Little Mermaid in Langelinie harbour is the city''s most sought after, and often first, sight. Don''t be disenchanted for long, as better attractions await in unique neighbourhoods, grand museums, and entertainment that can easily be reached on foot and are mostly centralised in the city centre.
A walk along Nyhavn Canal reveals the best of historic Copenhagen with old but well-preserved architecture and wooden boats showcasing the city''s maritime history. The streets are full of shops and entertainment with a carnival-like appeal. To delve deeper into Danish history the National Museum at the Prince''s Palace is a central Copenhagen attraction, as is The Copenhagen City Museum. There are dozens of museums in Copenhagen, offering everything from Old Masters at the Ordrupgaard art museum to the Tycho Brahe Planetarium.
Often-overlooked attractions in Copenhagen are the city''s beaches, which have excellent facilities, though they can be crowded in fine weather. Of course, no visit to Copenhagen is complete without idling in the Tivoli Gardens or playing in its famous theme park.
Visitors can buy the Copenhagen Card, which gives them free entry to over 60 museums and attractions, free rides on public transportation, and discounts in many restaurants and shops. The cards are available in 24 hour and 72 hour varieties, and adult cards cost 31 euros and 62 euros respectively. You can buy the card at the airport or at many tourist offices around Denmark.