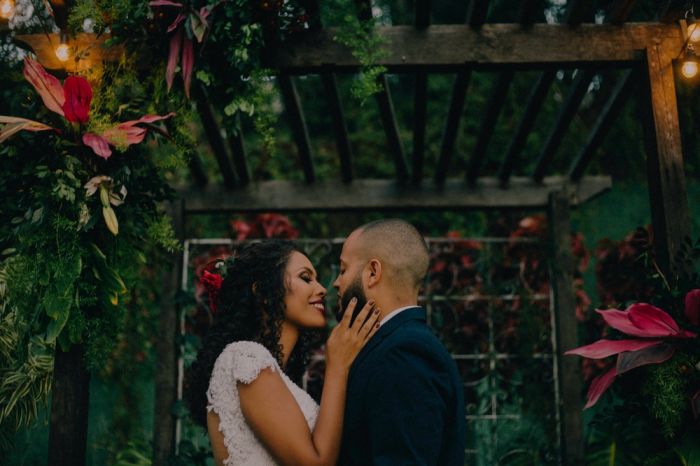 Edward Eyer/Pexels
It's pretty safe to assume that 2020 didn't exactly go the way we had all planned. Despite the rocky rollercoaster ride that it was, we've rolled into 2021 keeping our eyes on that glittery, silver lining and ready to start fresh.
As a result of 2020's event postponements and cancellations, 2021 is proving to be one of the busiest and most exciting years for weddings yet. With all that excitement comes a new wave of interesting and creative trends, many of which have been carved out by the 2020 pandemic and look like they're here to stay.
Smaller Affairs
Whether it's in an effort to downsize, save money, or a little bit of both, smaller, more intimate, and relaxed ceremonies are on the rise in 2021. Backyard affairs, virtual ceremonies, and micro weddings make social distancing and affordability much more feasible. Many couples are nixing their guest lists altogether and opting for an elopement instead.
Weekday Weddings
Thanks to all of last year's postponements, weekday weddings are now part of the "new normal." According to a study by the Knot, non-Saturday wedding ceremonies accounted for one in three weddings last year and the uptick in Sunday-Friday ceremonies is only expected to rise in 2021.
R.I.P. Buffets
In response to the pandemic, couples are taking health precautions more seriously and opting for plated dinners, food trucks, or pre-packaged meals instead of a buffet or family-style serving tables. Some couples are holding champagne and cake receptions in place of a full dinner service altogether.
Functional and Practical Favors
Safety is a top concern for couples this year and that is sure to be reflected in the goodies they provide to their wedding guests — personalized face masks and hand sanitizers, touch-free door openers, and individual gifts are all unique takes on party favors you can expect to see at this year's wedding events.
Sequel Weddings
Thanks to COVID, many couples were forced to change their 2020 wedding plans. Many decided to elope or downsize as a response to the pandemic and didn't get to carry out their original plans. Enter sequel weddings — a larger-scale, non-traditional second wedding ceremony. It's perfect for couples who had to adapt or put their original plans on hold during the lockdown and are ready to have the ceremony of their dreams in 2021.
Foregoing Traditional Registries
Speaking of breaking tradition, modern-day couples are choosing to forgo traditional wedding registries. Most couples today already live together and have little need for gifts like dinnerware or snack platters. Instead, they're opting for monetary contributions to their honeymoon or asking guests to donate to some of their favorite charities.
Destination Weddings Are Back
After quarantining for a year and racking up PTO, the itch to travel is stronger than ever. Couples are taking destination weddings to the next level and combining all their special wedding moments in one big vacation with their closest friends and family — bachelor and bachelorette celebrations, rehearsal dinners, wedding day, and of course, the honeymoon.
Live Streaming and Zoom Attendees
Thanks to the pandemic, guests unable to travel or make it to events were able to make a virtual appearance via Zoom, Skype, or Facetime. As technologies continue to improve, it's only natural to assume that this is an element couples will be embracing and incorporating into modern-day ceremonies, allowing far-away guests the opportunity to attend digitally.
Bold Colors and Statement Pieces
More and more, couples are swapping minimalism and neutrals for extravagance and bold, vibrant colors. They are focusing more on their own styles and letting their personalities shine as opposed to muting down their attire or decor as is typically expected. Playful decorations, non-traditional bridal attire, fun bridesmaids' dresses, colored groomsmen suits, and bold pops of color are having a major moment in 2021.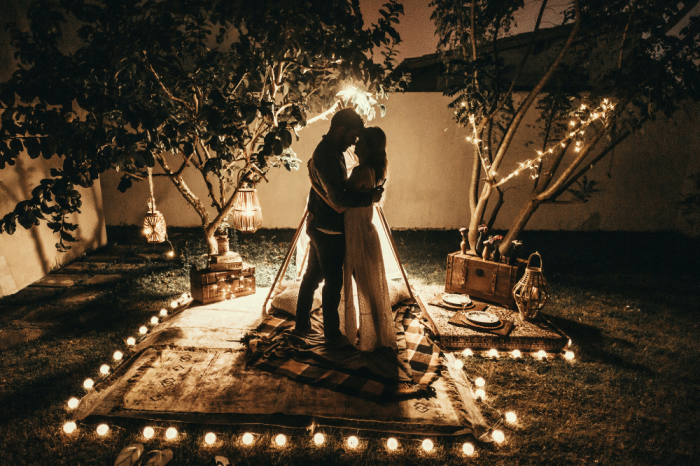 Jonathan Borba/unsplash
Skin Minimalism
Maximalism may be having its moment in bridal fashions and wedding decor, but not when it comes to bridal makeup. When it comes to the bride, 2021 is all about highlighting natural beauty, not concealing it with heavy cosmetics. This year's brides are going heavy on skincare and lighter on the foundation. Skin minimalism focuses heavily on prepping the skin and opting for a more natural, glowy makeup look — think Lily Collins' fluffy brows, dewy cheeks, and mauve eyes.
Sustainable and Eco-Conscious Ceremonies
One positive takeaway from the 2020 pandemic is society's heightened awareness of sustainability. Now more than ever, couples are finding ways to reduce their carbon footprint, cut back on unnecessary waste, and utilize eco-friendly alternatives. Holding outdoor ceremonies, going plastic-free, alternative engagement rings, locally sourced food, DIY elements, and eco-friendly party favors are a few things you can expect to see in 2021's environmentally responsible weddings.
After months of being cooped up and so many being forced to put their weddings on standby, 2021's betrothed are throwing traditional expectations out the window and doing things their own way. This year's trends are all about remixing societal norms and creating new and unique customs. With all the fun and unique twists that couples are putting on their nuptials today, it is no doubt one of the most exciting times to plan your wedding and tie the knot.