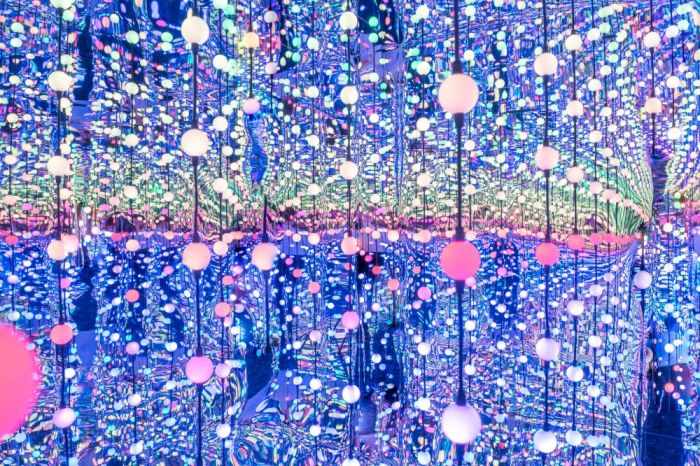 Dopamine Land is a brand new, multi-sensory immersive experience which has opened in the old Christies showroom in South Kensington. Billed asan interactive 'world of happiness', it is the perfect antidote to the gloomy state of current affairs. Dopamine Land, which is open to all ages, will transport visitors to a place of excitement and imagination, triggering a gentle release of the 'happy hormone' dopamine in each of the gallery spaces. Just as there are many different types of triggers for dopamine across all the senses, and the way in which individuals experience the effects of dopamine differ, so the experience has been designed to use a variety of types of spaces. Cutting edge technology, optical illusions, taste and sound effects are used in various combinations, and the experience boasts multiple different sensory rooms, each with different activities.
The journey begins in the Popcorn room, which is bound to be a crowd pleaser. Grab a bag of popcorn and flop into a bean bag whilst you watch projected images and cinematic audio: the experience evokes a cinematic, childish nostalgia. From there, visitors are invited to drift into Infinite Karma, in which light patterns shift in a meditative space. Other highlights on the journey include The Ground is Your Enemy, in which you feel as though you have entered a video game, and Pillow Fight! In which – as its name suggests, visitors can pick up a pillow and engage in a good old-fashioned pillow fight.
With nostalgia and imagination at the heart of the event, Dopamine Land is a happy day out for people of all ages and energy levels. I visited with my daughters, who are five and two. All three of us loved it, and want to go again to experience those dopamine highs.
Date: Booking through to July 3, 2022 Address: 79-85 Old Brompton Road SW7 3LD Website: dopaminelandexperience.com