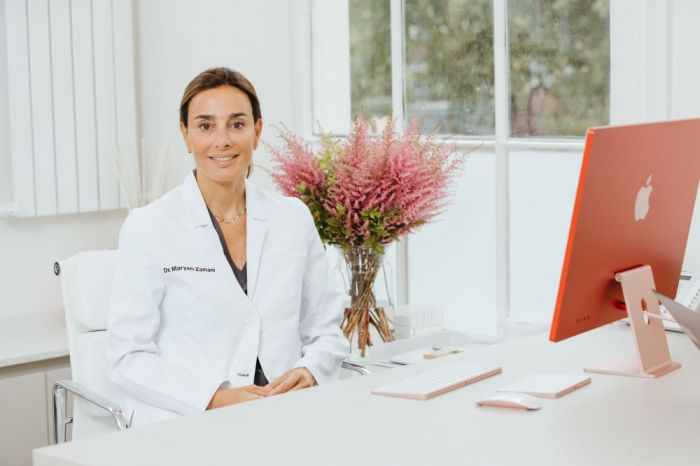 I had been dithering over the decision to get Botox (the brand name for botulinum toxin) for some time. Since entering my mid-thirties, I've become hyper aware of new lines making their unwelcome appearance on my forehead and around my eyes, but for the past few years I've been either pregnant or breastfeeding, and haven't therefore been able to undergo treatment. Another aspect of my reticence was uncertainty about which practitioner to pick. There is vast array of aestheticians in London, and I was paralyzed with indecision. I was given the name of Dr Maryam Zamani by a friend who has tried a variety of different clinics, and swears that Dr Zamani – a renowned oculoplastic surgeon and leading facial aesthetics doctor – is the best of the bunch.Dr Zamani's extensive medical training has equipped her with intricate knowledge of the face and its underlying structures, and her repertoire of treatments deliver the most natural results. Dr Zamani specializes in both surgical and non-surgical facial aesthetic procedures at her practice in London, and has acquired a loyal following both in the UK and the US thanks to her exceptionally subtle, 'less is more' approach, combined with her meticulous attention to detail.
So it was that I found myself, slightly trepidatious, at Dr Zamani's swish, CQC certified state-of-the-art medical facility on the King's Road. I am greeted warmly by the beaming receptionist, who ushers me into the gorgeously designed waiting room, and hands me an iPad with a concise personal detail and health questionnaire. Moments after completing it, Dr Zamani glides into the room, envelopes me with her radiant smile, and welcomes me warmly into her treatment room, which is spacious and bright, with a clean, minimalist aesthetic and warm pops of pink. She puts me at ease at once: I am not a fan of needles, and the notion of having a syringe plunged into my face has always made me feel queasy. She is quick to assuage my fears, however, and helps me to understand the process. 'When injected into muscle sitting under the skin, botulinum toxin blocks the release of the neurotransmitter acetylcholine', she explains. This, she continues, 'triggers a process called chemical denervation – that is, to relax muscles. Relaxed facial muscles move less, which means fewer wrinkles and lines are created in the skin'. Dr Zamani further explains the difference between the two types of line: static and dynamic. Botox softens dynamic lines that can than progress onto static lines.
Dr Zamani is also straightforward about the fact that botulinum toxin won't produce instant results. It's a slow-release medication, so it starts working approximately two weeks after it's injected, and will begin slowly to wear off from then. After between three and six months, it will have dissipated completely. Equally, Botox is not a magic panacea for wrinkles. Once static lines have formed, they can't be eradicated with Botox injections: they can be softened, but it's not possible to make them disappear forever. It's why the anti-ageing treatment is regarded as preventative: you need to start as the static lines appear.
Dr Zamani gestures me over to a comfortable chair-bed, on which I semi-recline whilst she administers the Botox. I am prepared for pain, but I find the treatment to be – whilst not completely discomfort free – nowhere near as unpleasant as I had feared. The procedure is remarkably quick, and as soon as it is over, I am free to go. Dr Zamani applies sun cream to my face, tells me not to do any exercise for the rest of the day, and to keep my head upright for at least the next couple of hours. As this is my first treatment, Dr Zamani asks me to return to the clinic a few weeks later for a follow-up appointment to check how the treatment has worked, and to assess whether I need any top up. There are some very tiny marks on my face, but they are barely discernible, and fade within hours of the treatment. There is no obvious, instantaneous change, but around five days later, I notice that the lines on my forehead have miraculously disappeared. Besides the almost magical erasure of the lines, I have found that – as a happy by-product of the treatment – my mood has improved, too. Research suggests that inhibiting certain facial expressions could improve psychological conditions, such as depression and anxiety. 'Emotions like fear, stress, and sadness tend to run through the glabellar muscle in your forehead' explains Zamani. 'When the muscles are relaxed, there's less opportunity for them to transmit negative emotions across the face, and in turn, solidify those emotions in the brain'.
Dr Zamani is an extraordinary individual: dynamic, bright, warm, and eager to achieve the very best outcomes for her patients. She is also the best advertisement for her own practice: her skin is incredible (thanks in part, she admits to having Botox two or three times a year, in addition to Dermamelan peels and IPL laser). In between treatments, Dr Zamani recommends the use of her eponymous award-winning and science-backed line of skincare – MZ Skin – which is performance-driven, and designed to be a perfect complement to her clinical work. Products in the line are all packed with anti-ageing ingredients such as retinol and antioxidants, all of which have been rigorously tested in clinical trials.
I am overwhelmingly impressed by the outcome of my treatment, and will be making biannual appointments for Botox at her fabulous Clinic: if you are considering Botox, I cannot recommend Dr Zamani highly enough.
Dr. Maryam Zamani
110-112 King's Road, London SW3 4TX
Phone: 020 3955 9700
Email: clinic@drmaryamzamani.com