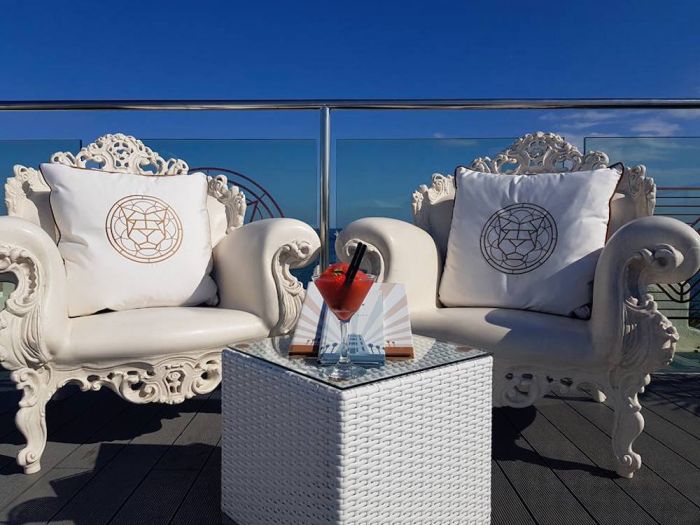 Photos Credit: Cheryl Anne Slater
When I found out that one of my favorite party hotels on Ibiza was now offering wellness packages I was intrigued and started imagining myself doing yoga around the pool instead of topping up my tan with a cocktail. Or maybe it was to be a combo of both—a bit of retox then detox—excellent!
For those who have not heard of Es Vive, it's a story of five good friends and long term Ibiza visitors—Jason Bull, Max Leverett, Jamie Kahn, Neil Dawson and Nick Reid—coming together and sharing a vision. In 2001 they were looking for a small, boutique hotel to buy. Their search for 'the one' stopped as soon as they laid eyes on the dilapidated hostel, sensing that it had huge potential to become the Ibiza institution that it is today.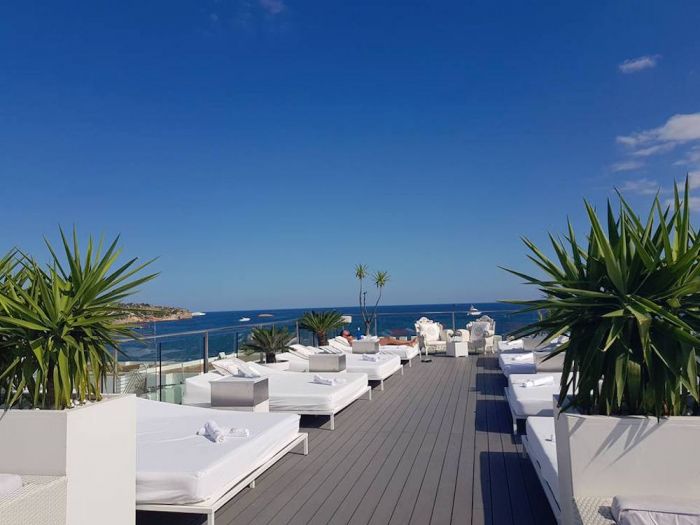 Arriving at the Es Vive in a taxi, one cannot miss the dazzling Miami-style white and turquoise building. Peeping through the hole of the iconic wooden gate whilst buzzing and waiting to be let in, I got a glimpse of the glamour. Once inside I feel like I had been transported to a place where only happy and smiling people exist. Even the palm trees seemed to dance to the Balearic beats of the the live DJ. After check-in I realized that the staff must have a lot to do with the all-around friendliness. It's like one big family that myself and my guest began to feel a part of very quickly!
Everything about the Art Deco, 1940s-inspired interior is plush, luxurious and comfortable. The hotel was crowned Europe's Best Hotel Interior and the Best Designed Hotel In Europe Under 200 Rooms at the International Property Awards this year, the industry equivalent of RIBA. The man responsible for the revamp is interior designer Sean Cochrane, who redesigned the inside in summer 2015 and gave Es Vive its new stylish and sophisticated look.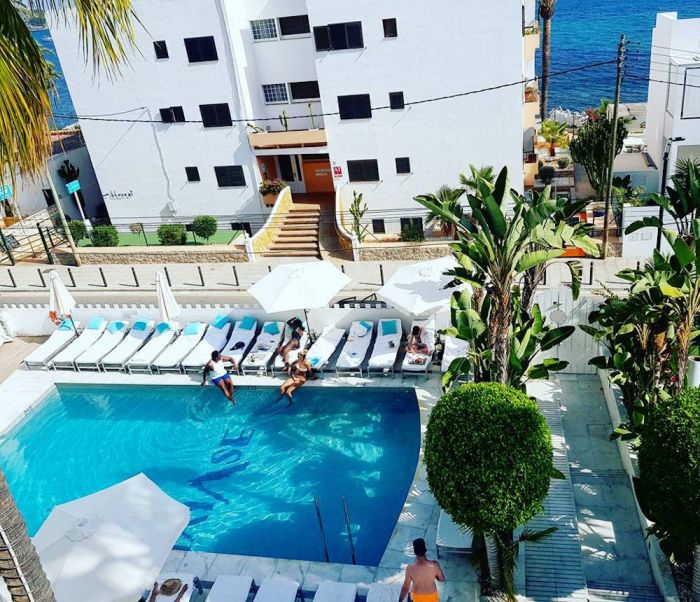 Our superior twin room was located on the third floor. Small but perfectly formed with beautiful furnishings and silk and velvet fabrics. There was a terrace overlooking the infamous pool with the hotels name painted on the bottom. You would think it's the kind of hotel that you would get no or little sleep at, but they've solved that problem by sound proofing the bedrooms and using black-out curtains, so taking a siesta at anytime was possible without disturbance.
What used to be the former nightclub inside the hotel is now a Swedish-style spa called Virtue. They've carefully chosen some excellent therapists and I was treated to a hydrating facial using Dr. Hauschka products which was divine, and left me glowing on the inside and out! There's a sauna, a steam room and a Jacuzzi which can only be booked privately. A great party prepper during the day to detox and relax in. Besides massages and treatments there's also waxing, manicures, pedicures, makeovers and hairdressing available.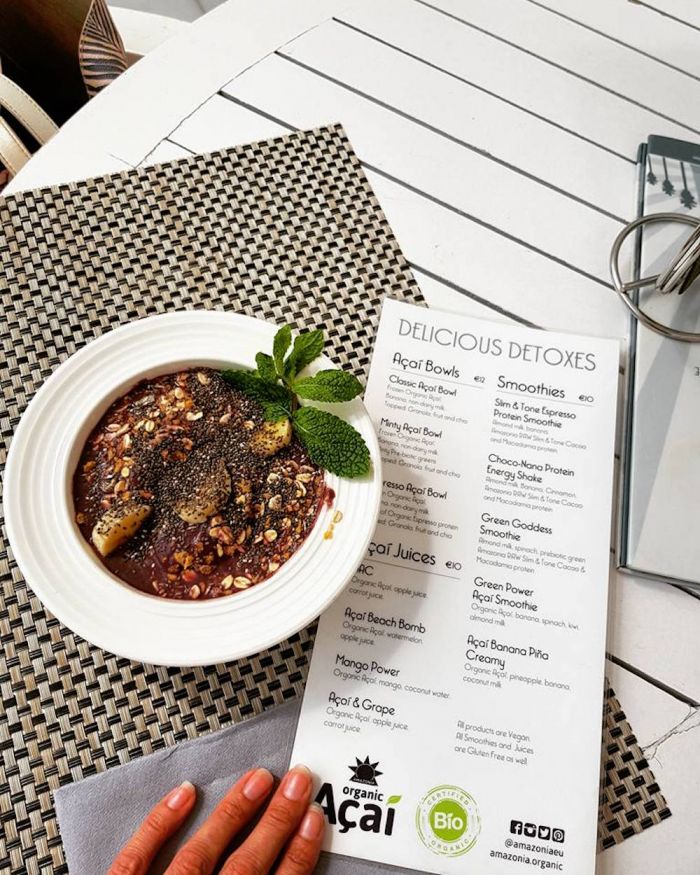 On the wellness menu there's the Virtue Escape package—almost fours hours at €220 (approx. $257 USD)—which includes a full body massage then a facial followed by a deluxe manicure and pedicure. While your nails are drying you are served a detox juice next to the pool.
We opted for the Wellness Weekdays package, which included two nights for myself and my travel partner, along with a complimentary full body massage and full access to the Virtue Spa wellness area. I even made it to the gym during our stay. Have to admit I was the only one in there! Daily yoga and pilates sessions can be booked privately.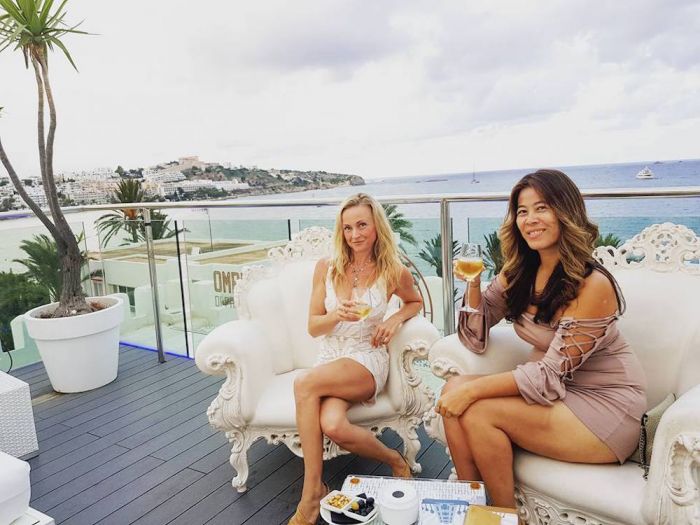 Post-spa treatment, I took to a delicious bowl of organic acai from the healthy menu at Deco restaurant. There's a dedicated smoothie and juice menu, and plenty of hearty-sounding salads. At breakfast (included with every booking type), there's a pick-me-up wheat grass shot on the table, Chia seed pudding and of course a glass of Prosecco on offer. Your choice; either way is guaranteed to give you a kick start to the day. We preferred to save our alcohol consumption for the evening and headed to the Sky Lounge every evening for a cocktail at sunset.
The roof terrace is the place to be; besides the 360-degree panoramic views across Ibiza and out to Formentera, there are huge white day beds to chill out on. As Ibiza's first and only Prosecco bar, in partnership with Ombra de Pantera, on Fridays they have introduced a bottomless Prosecco and sushi concept.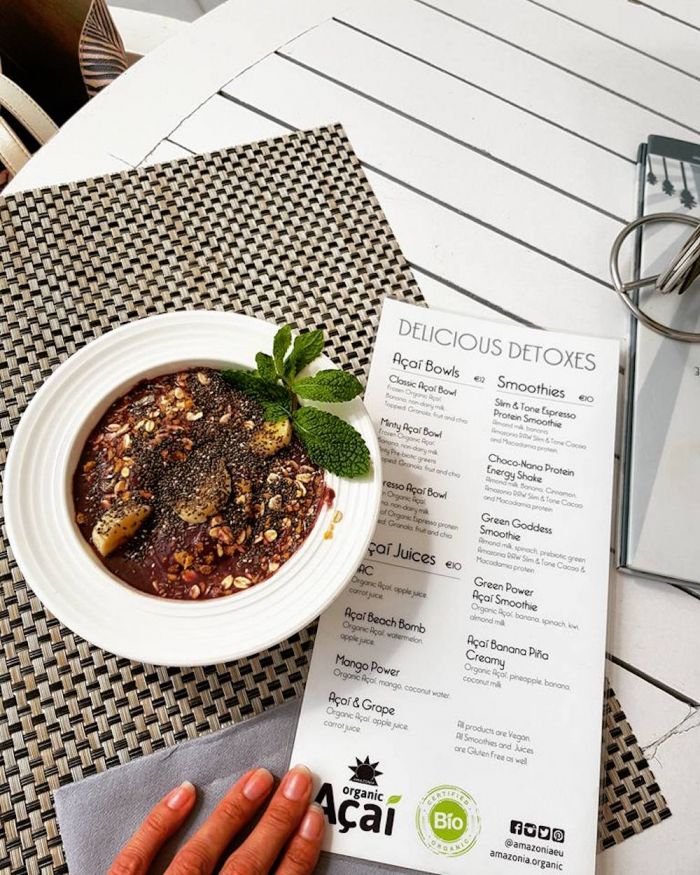 You can't beat the location, in Figueretas, directly opposite the sea and sandwiched between Ibiza town and Playa d'en Bossa. This hotel seems to have everything going for it, with a lot of heart and soul. It's no wonder Es Vive has such a good reputation, both from the hedonists and health enthusiasts.
Now you don't have to choose between a wellness or party holiday, you can have both. The wellness party is where it's at. Take me back!